Home » Graphic Design »
Line25 is reader supported. At no cost to you a commission from sponsors may be earned when a purchase is made via links on the site. Learn more
Designers often face the challenge of finding quality design assets and finding free images for commercial use is no exception. Royalty-free does not always mean there's no cost involved. When an image is free (no cost) and royalty-free, it means you can use the asset for commercial purposes without paying for it and having to give attribution or request permission. There are a lot of websites set up in this way, offering stock photos, vectors, and illustrations for free, but that's not always the case and not all are safe to use. So we are glad to provide this curated list of reputable sources to get you on the right track.
For a graphic designer, publisher, or web designer in need of top-quality images that can freely be used for commercial use, it would be wise to bookmark this page for future reference. Our list of stock image sources has been thoroughly researched so you can be assured that they are reputable and safe websites to download the images you need.
Regarding licensing, although many of these providers freely allow commercial use of the images, some may require attribution (giving the image owner/creator deserved credit) or a fee. Please read all licensing requirements before downloading your images.
20 Top Providers of Free Images For Commercial Use:
1. Envato Elements
Editors Choice
Envato is a top royalty-free stock image resource that offers unlimited digital downloads under their low monthly subscription. Literally, you can download thousands of assets with a 7-day free trial. Not only can you get images, but you'll have access to over 10+ million digital assets such as videos, music, templates, fonts, plugins, and more.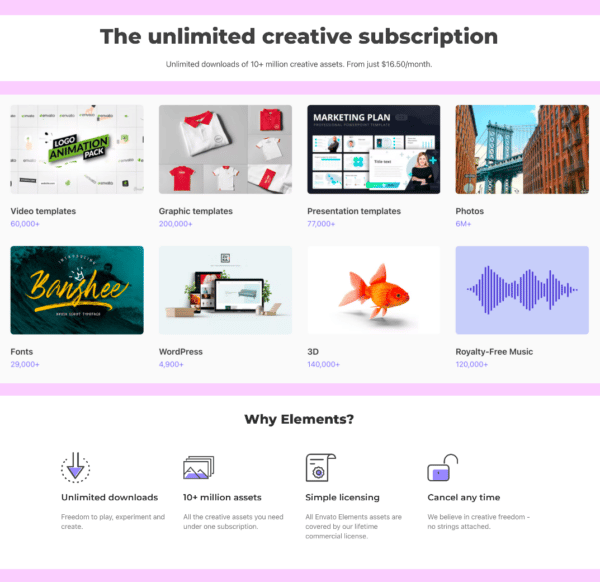 Envato Elements has a massive library of royalty-free images availed by authentic photographers. You can browse through them to get inspiration for your next project. Its pricing plan begins at $16.50 per month for individuals.
2. Adobe Stock
Adobe Stock is a go-to name for many advertising agencies. It has over 100 million media footage divided into 25 categories in different forms. In addition, it has a specially curated asset collection of fresh stock content that empowers graphic designers to create unique creatives that will stand out in the market. 
It's safe to say that most professionals use Adobe design software such as PhotoShop and now through the online app Creative Cloud. One great feature of this website is that Adobe Stock lets you preview watermarked images within your designs. They allow access, the license, and management directly within their popular design applications which can save a lot of time.
Note: All the stock images from Adobe are included with a Creative Cloud subscription.
3. Canva
Canva is the new 'it' for graphic designers who search for royalty-free images on the web. It has a library of millions of high-quality premium royalty-free images to choose from. For this, you only have to type keywords on the search bar, and it will bring you plenty of suitable options.
Canva is one of the most used and searched-for design programs online and has become a leader in DIY graphic design. They offer a good selection of stock images with a free account but offer many other great features and more royalty-free images with their premium account.
4. Shutterstock
Shutterstock is one of the most popular platforms for obtaining stock images online. Whether you require images for an ad campaign, vectors to create infographics, or footage and music for video production, Shutterstock has it all. It has a library of over 390 million images, 1 billion downloads, and over one million contributors. 
You can sort image results by type, orientation, color, and various categories, type the keyword on the search bar and see the results. Most likely you've seen Shutterstock since many platforms have partnered as affiliates with them to showcase additional images in the search results.
5. Deposit Photos
Graphic designers are often flooded with references from their clients and designers keep searching for relevant stock images on various websites. Deposit Photos enables you to reverse-search the image you want, and you will get tons of options for the same. This stock-image website has over 200 million stock photos, videos, vectors, music, and templates. Additionally, it adds over 170 k stock images every day. 
Depositphotos offers access to its high-quality stock footage bank at reasonable prices. For example, designers can get ten royalty-free stock images for $10 per month and 750 royalty-free stock images at $199, which means you pay $ 0.27 per image. Also, all your unused downloads get transferred to the next month for free. 
6. Pixlr
Pixlr, known for its free graphic design editor, gives you the option of acquiring high-quality stock images for various purposes such as website design, social media posts, print, and digital ads. It has a bank of captivating stock images in suitable sizes to fit your project. Graphic Designers looking for stock images per the brand theme, color, and style can apply their filters and get what they want. 
The good part about Pixlr is that it provides not only high-quality stock images but also gives a lot of free vector designs. According to its website, it is offering over 500,000 graphic design assets for free. This includes vectors, illustrations, icons, stock photos, and even stock videos. The search feature may not be as great as the other websites, but its volume of resources makes it a worthy bookmark for graphic designers.
7. Vecteezy
Vecteezy is amongst the top stock image websites which have a user-friendly interface. It shows what's trending on its pages for graphic designers to keep up with the trend. Another great feature of Vecteezy is simple licensing and fully guaranteed resources for personal or commercial use.
Designers from major top brands such as amazon, BBC, Microsoft, Facebook, Walt Disney, Google, McDonald's, and Dell use Vecteezy. 
8. iStock
iStock, by Getty Images, is a favorite stock footage bank for many graphic designers. Unlike other stock image websites, Istock claims to have original stock content created by creatives for creatives. In addition, it provides exclusive stock content at budgeted prices, which means you get the champagne taste on a beer budget.
Another great excellent feature of iStock is the Adobe plugin. It enables graphic designers to search for the right stock image without leaving Adobe's design software (Photoshop, Illustrator, Indesign). For all options on free commercial images from iStock, see their site FreeImages.com.
9. Burst by Shopify
Burst-Shopify is a vault of millions of powerful and appealing stock images that comes for free powered by Shopify. Graphic designers can use these royalty-free images for websites, blogs, social media ads, or marketing campaigns. 
Talking about licensing-It comes with Open Creative Commons Licensing Terms, which means graphic designers need not have to pay licensing fees or stick to editing restrictions. You also don't have to provide photo credit to the photographers. Shopify's Burst platform is a resource that can be a viable option.
10. Pixabay
While clients require designs at the drop of a hat, only graphic designers know how difficult it is to find perfect royalty-free images. Pixabay is a platform that allows you to download royalty-free images without asking you to sign up. You will have to sign-up only when you require images in heavy sizes or different sizes.  
Pixabay is a stock content library with more than 1.6 million photos and videos of various artists. It's Open Creative Common licensing Terms that allow users to use its products for any purpose.    
11. Pexels
Pexels.com is used by many graphic designers, students, and digital marketers to access royalty-free images. Pexels is the front runner in terms of availing free stock footage to worldwide users.
It works on CCO terms, so graphic designers can use royalty-free images without crediting their source. Pexels has a library of 3 million+ awesome high-resolution free images.
12. Unsplash
Unsplash is one of the largest communities of photographers uploading their work on one platform. Graphic Designers who are always searching for inspiration for their next project come down to Unsplash.
Unsplash has a collection of more than 4 million high-quality images for free. These royalty-free images can come in handy when the agency is a little tight on budget and time and has decided to depend entirely on the expertise of the graphic designer. Unsplash has a special section of royalty-free images covered under its license. These selected royalty-free images can be used for both personal and commercial use.
13. Negative Space
Negative Space started its operations with the unique idea of providing and building a community of photographers who remain out of space in photographs. In contrast, their photographs remain the focus of millions of graphic designers seeking inspiration.
Negative Space is a stock photography platform where graphic designers can find tons of high-quality pictures for designing purposes. Hence, these pictures can be used for commercial purposes without paying credit to their source, as these stock images are free and covered under the CCO license.
14. Flickr
Flickr is another prominent stock image bank with an extensive database of beautiful high-quality images. It has a library of billions of stock photos gathered from artists worldwide. 
One of the top features of Flickr is that it has a separate filter for acquiring licensed images. So that designers can go by these filters to search for their stock images. This feature has added additional functionality to the website.
15. Gratisography
Creative people constantly look for something unique to keep the brain juices flowing. While plenty of stock footage websites are available on the internet, one stock images website is developing its niche in the market. Gratisography is the one stock image website that calls itself unique, quirky, and rare. It sticks with a strict quality over quantity policy and has a specially curated collection of exciting royalty-free images available for free.
It gives a free-photo license on stock images so that you can use them for commercial campaigns. Moreover, it uploads a weekly new picture to update graphic designers with new content.
16. Reshot
Reshot is the newest player in the stock footage website market. It empowers graphic designers with its one-click downloads and commercial licenses. In addition, Reshot claims to have non-stocky authentic images for blogs, social media posts, and websites.  
Reshot's website has an intuitive interface that makes it easy for designers to get what they want. Hence, unlike other websites, you won't see a sea of royalty-free images on its homepage but a search bar with practical filters to search for the right stock image. In addition, there are about 25k high-resolution photos available with their commercial licenses. It also provides license information at the bottom of every selected image to notify users regarding its use which comes in handy. 
17. Freepik
Freepik has a broad collection of royalty-free stock images. You can go by keywords to search for the royalty-free images you require.
Additionally, you can apply filters from the panel on the left side to navigate your search by clicking on options suitable for your choice. For instance, you can apply age, gender, ethnicity, and color filters. The comprehensive filters of Freepik can help its users to narrow down their search and find what they want.   
18. Morguefile
As unique as its name, the Morgue File is a database of creatives that can be reused as a reference for commercial or personal purposes. As per its website, "A morgue file is a place to keep post-production materials for the use of reference — an inactive job file." 
Graphic designers can search over 4 million free photos from Morgue File's collections for inspiration. Graphic designers, illustrators, artists, or marketers can use this website for designing their projects.   
19. Death To The Stock Photo
As its name suggests, Death To The Stock Photo is on a mission to retire all the over-used stock image websites and give a platform to new artists. 
This royalty-free image website gives access to 100+ freshly produced images every month. So graphic designers who chewed on old stock photos can check out this website for fresh content. 
20. Alamy
Alamy is one of the oldest stock image platforms that work on the bank of Footage. It has a library of around 2 billion stock photos, vectors, and videos and adds 1 million fresh stock content every day from its contributors across 173 countries.
At this time Alamy doesn't have a subscription model to sell stock images but charges on demand. So, users have to pay for each product, but it gives the option to get more than one image and buy it.
Top 20 Providers of Free Images For Commercial Use:
While plenty of royalty-free images are readily available on the internet, professionals prefer using royalty-free stock images to keep their creatives standing out. The websites listed above will end your search for royalty-free images, allowed for commercial use, with high quality and resolution. Many websites fall into the premium category and charge heavily for the images. However, most of them provide a free trial or demo which you can use to download the images that you want and still have the free commercial use license.