Home » Articles »
Line25 is reader supported. At no cost to you a commission from sponsors may be earned when a purchase is made via links on the site. Learn more
Looking for some great Adobe Creative Cloud discounts? We have you covered, but let's clarify something first; What is common between Deadpool, Gone Girl, and The Terminator? Yes, not only were they blockbuster hits but also, they were all edited on Adobe Premiere Pro.
Adobe's products are most commonly used by professionals around the globe in digital marketing firms, graphic design agencies, web development companies, and editing rooms making Adobe products the most prevalent premium software available.
Gaining access to these incredible tools used to be done by paying for one at a time. Not anymore.
► Introducing: Adobe Creative Cloud
If you want to skip this post, you can use the green button below to see the current Adobe Creative Cloud discounts directly at Adobe's website:
Learn More →
This bundle package will include more than 20 creative desktop and mobile apps and, because prices change all the time, getting access to the current Adobe Creative Cloud discounts should not be overlooked.
Most professionals would agree that a single software is not sufficient to perform all tasks that fall under post-production. Instead, they require a set of tools to perform different functions with ease and efficiency.
Understanding this requirement, Adobe developed Creative Cloud to bring a one-stop solution to all needs of the design communities.
Companies like Adobe can change their promotions, discounts, and offers regularly. It's important to head over to their website to see those that are most current. Learn more →
What is

Adobe Creative Cloud

?
Adobe Creative Cloud is a subscription product that bundles together many of the top Adobe software applications. There are more than 20 Adobe apps available under one umbrella, or if we may say; in one Cloud.
In many countries, creative professionals use Adobe CC, reporting 26 million paid members in 2022 for photography, video, design, web, UX, and social media.
Apps Included In Adobe Creative Cloud – Part 1:
Premiere Pro: A

desktop video editing application that empowers video editors to produce impactful videos through its robust editing tools.

Premiere Rush:

A

 fun mobile and desktop video editing application that allows quick video editing tools. This application is the best for digital media professionals who require to edit short videos daily. You can record video clips on your phone, select clips and drag them to the timeline, adjust pace and audio, correct color, customize the title, and export it on social media. 

After Effects: An Adobe software that provides tools to create engaging motion graphics and visual effects for films and videos, most of the visual effects viewers see in films are edited on After Effects.
Photoshop: Photographers widely use Photoshop

 to edit images. It is an image-editing desktop application packed with powerful tools for photo editing, graphic design, web design, etc. 

Acrobat DC:

A

n application to read and edit PDF files. 

Adobe Bridge:

A

 file manager that helps organize creative assets as per labels, ratings, metadata, and keywords. 

Lightroom:

A

n application that helps in organizing and processing images. 

Lightroom Classic:

A

 desktop-based version of Adobe Lightroom.  

Adobe Audition:

A

n audio recording and editing software. This application is used for mixing, editing, and restoring audio content such as voice modulation, voiceovers, etc.

Media Encoder: 

Exporting a project is time-consuming; 

Adobe Media Encoder

 is an application that eases this process. It enables users to alter their file format and make basic changes in their names and location.  

Illustrator: A

 vector graphics software to design logos, icons, drawings, and illustrations.
Apps Included In Adobe Creative Cloud – Part 2:
InDesign:

A layout and page design software used by media houses to design page layouts for their publications.

Adobe XD:

A UI and UX design tool for designing websites and mobile application prototypes. This application can create wireframes, prototypes, and screen designs for digital products. 

Adobe Animate:

A 2D animation software to create animated characters and content for the users.

Dreamweaver:

A software to develop full-fledged websites. It empowers web designers with a comprehensive toolset to design, code, and manage websites and mobile content. 

Adobe Dimension:

A

 designing software for 3D animation. It helps make

 

3D models, materials, and lighting. 

InCopy:

A word processor that integrates with Adobe InDesign. It makes copywriters' and editors' jobs easy. They can style text, track changes, and make simple modifications simultaneously with designers working on the same document on InDesign.  

Character Animator:

A desktop application software that enables live motion tracking to move the 2D puppets created in Photoshop or Illustrator. 

Capture:

It

 empowers designers to capture real-time patterns, colors, and shapes and translate them into digital designs. 

Fresco: A drawing and painting application with AI-powered live brushes to make digital paintings and artworks.  

Photoshop Express:

A free image editing and collage-making mobile application for individuals not from the design industry. 

Photoshop Camera:

A

 photo editor to edit photographs and add quirky filters and effects. 

Adobe Aero:

An application that turns your content into augmented reality. So whatever 3D models or pictures you are working on in Photoshop or Illustrator, and you can transfer them to Aero. 

Adobe Scan:

A

n application that converts documents into high-quality PDFs. Its auto boundary detention gives perfect PDF documents in no time.  

Adobe Fill & Sign:

A

 time-saving application that helps you automatically fill, sign and send forms on mobile phones.
If you're not ready to make any commitment to Adobe's powerful design suite through the Creative Cloud, just take it for a test drive. When this post was originally published (February 2022), Adobe was offering this opportunity for you to see what it's all about and how you can create amazing and powerful designs through Adobe Creative Cloud without being charged for it.
Just like discounts, coupons, and special offers, free trials don't always stay around. It might be wise to take some time to look into all that you can get out of using Adobe products before any of these offers end and a free trial is a great start.
Learn More →
Adobe Creative Cloud Discounts
Adobe Creative Cloud has come with an exciting offer on Adobe stock. New and existing users can get a one-month free on an annual subscription to Adobe Stock. In addition, you will get free stock assets for free every month.
Students can avail themselves of Adobe Creative Cloud at a discounted price of $19.99 per month, a whopping 60% discount from 52.99 per month. 
Additional Benefits: 
Tutorials- Adobe CC provides free tutorials for students to learn from

Easy access from any device- Users can access their projects from any device

Free Templates- Students can use free templates to use in their projects 
Terms and conditions:
There are two pre-conditions required for this: 
(a) You should be above 13 years old and are eligible for a student discount.
(b) You should be enrolled in an accredited public or private university or college that grants degrees requiring not less than the equivalent of two years of full-time study. School students should be studying in an accredited public or private primary or secondary school providing full-time instruction. Those under home-schooling should come under state home-schooling regulations
How to prove your eligibility? 
Provide a school-issued email address at the time of purchase 

Prove your eligibility by presenting a school ID card, report card, transcript, or tuition bill or statement with your name, institution name, and current date.
Individuals can save up to 35% on Creative Cloud's entire collection with annual payments. You will get more than 20 desktop and mobile apps in this pack, including Photoshop, Illustrator, InDesign, Premiere Pro, and Acrobat.
For this, you will have to pay monthly $79.49 monthly. However, if you pay the annual subscription you'll save 35% which comes out to $52.99 per month.
Adobe Creative Cloud offers a package of Adobe Lightroom, Adobe Lightroom Classic, and Adobe Photoshop on desktop and iPad with 20GB of cloud storage at an annual plan of $ 9.99 per month- paid monthly or an annual prepaid plan of $ 119.88 a year. 
Additionally, you can add a one-month free trial of Adobe Stock and get up to 10 images for free with this plan. You can unsubscribe during your free trial or continue at $ 29.99 per month after your free trial ends.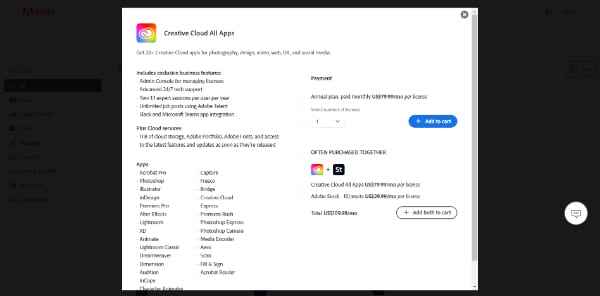 Advertisement agencies and production houses work on Adobe software to satisfy their design and editing needs. Adobe Creative Cloud offers its best value pack at $79.99 per month per license. 
In Addition, Adobe CC provides: 
A web-based management console to manage apps and products. 

Full-time technical support 

Creative Cloud libraries that enable your team to share projects across apps and devices

Advantages of sharing your posts on Behance 

Integrations with productivity apps to manage workflows such as Slack and Microsoft Teams. 
Teams who do not require a bundle of apps can also choose from its category and buy a single Adobe app at $ 33.99 per month.
6. Adobe Premiere Elements 2022 at $69.99/month
As of this publication, Adobe Creative Cloud is offering 30% off on adobe premiere elements 2022. So instead of paying $ 99.99, you will be paying $ 69.99. 
Noteworthy Features: 
Automated editing:

 It adjusts frames, fixes grainy footage, selects specific areas to add effects

Guided edits:

 Its AI guides you throughout the editing process 

Polished movies:

 Adobe Premiere 2022's instant movie feature will turn your raw footage into stunning movies in no time. Choose video clips, select a theme, and hit the 'Apply' button. 

Add text to video: 

You can create cute short videos for social media and add animated text to them. 

Elements Organization:

 When you import your video clips on Elements Organiser, it automatically applies smart tags on your clips for better organization. You can also turn your static thumbnails into GIFs. 
New Features:
Pick the perfect aspect ratio:

 Different social media platforms have different aspect ratios. Premiere Elements allows you to customize the aspect ratio of your video for different platforms. 

Auto-reframe your subject:

 This is another great feature for social media lovers. You can adjust or resize the frame of your videos on Premiere Elements. 

Add fun animated overlays:

 You can add exciting overlays to your videos to add a little animation to them.

Adjust shadows and highlights:

 Enhance your videos by adjusting shadows and highlights. This feature lets you reveal hidden elements lost due to poor light and camera settings. 

Compress video files for easy sharing:

 Files edited on software are pretty heavy in size; Photoshop Elements 2022 has a feature that enables you to compress video files and upload them on social media easily.
7. Photoshop Elements 2022 at $ 69.99/month
Users can save 30% on the purchase of Photoshop Elements 2022. Adobe Creative Cloud is availing it at $ 69.99. 
Noteworthy Features: 
Add moments to photos:

 You can now add moments to your photos. Add a picture, select enhance, and click on the moving photos option. You can add 2D and 3D effects to add a little animation to your picture.

Fine-tune face tilt, adjust facial features, and reduce camera shake: 

It is so easy to have a perfect photograph of your loved ones. Photoshop elements allow you to adjust faces or objects in your image with ease. You can also fix facial expressions and adjust a shaky picture in it.    

Some of the other fun features of Adobe sensei AI-powered Adobe Photoshop Elements are applying 

duotones, removing distractions, adding different backgrounds, and moving and scaling objects 

in your picture.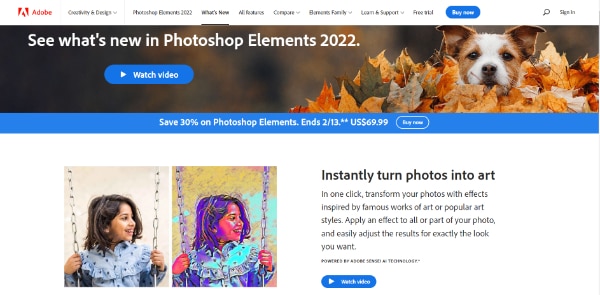 New Features: 
Turn photos into art:

 This feature enables users to turn their pictures into artwork with one click. It provides a variety of filters inspired by famous paintings. You can have fun with this feature as you can further edit your pictures in terms of colors and effects and turn them into personal masterpieces.

Moving overlays: 

You can animate your pictures by adding moving overlays to them.  

Warp:

 Turn your imagination into reality through its Warp feature. You need to choose a picture of your liking and add it to the image you want to fit it in. Then, you can either adjust it through its preset button or do it manually. 

Create perfect pet pics: 

Having perfect pet pictures of your furry best friend is so much essential. Adobe Photoshop Elements 2022 has added a new feature that lets you refine your pet pictures with cool tools like selecting and refining detailed edges like fur, fixing pet eye, and removing collars and leashes. 

Extend photo backgrounds: 

You can create panoramic visuals by extending photo backgrounds through this feature.

Add slideshows:

 Visual storytelling is much easier with its new feature. For example, users can now make slideshows with various slideshow styles using Adobe Photoshop Elements 2022.
8. Photoshop Elements 2022 + Premiere Elements 2022 save 33% 
Adobe Creative Cloud offers Photoshop Elements 2022 and Premiere Elements 2022 at a bumper discount of 33%. So instead of paying $149, you can help yourself with both at only $ 99.99. Additionally, students and teachers can get both applications only at $ 79.99.
Conclusion
A Creative Cloud membership is the most cost-effective bundle for getting access to the top Adobe products. As Adobe adds new features to its various applications from time to time you'll get immediate updates and continue to harness the power of design tools instantly.
After realizing all that's included with an Adobe Creative Cloud subscription and you're not sure if it's worth it, take advantage of the free trial offer. However, we might suggest that you grab the most suitable offer before it expires.
To Your Success!