Home » Freebies »
Line25 is reader supported. At no cost to you a commission from sponsors may be earned when a purchase is made via links on the site. Learn more
With the decreased participation in sports due to the pandemic, sports are slowly carving their way back. There has been a lot of interruption in sports, and hopefully, going forward, we will be able to make up for it. Apart from the standard sports competitions, we also have the Olympics this year, generating huge interest in sports. This interest will always transform in the form of the need for amazing sports design.
As designers, you must always be ready with the right resources to meet these demands. Starting from print media to social media, every platform would need well-designed posts to bring back sports interest in people. Therefore, it is advisable that you stock up your resources of sports assets to meet this new demand. To help you in this, we have curated 25 Amazing Free Sports Backgrounds that you can quickly use. 
This image is an amazing piece of photography and editing. The tennis ball is shown swirling and thereby creating a follow-through motion of water particles. Overall it gives a visual feel that the ball is the sun and the rest is the solar system. The photographer has done a very good job in the use of light and shadows. Because of the black background, this image can be easily used for posters or backgrounds of designs as per need.  
One of the most basic requirements for designers in the sports sector is showing two teams or individuals against each other. This amazing design can be downloaded for free from Freepik. It comes with open files, and hence you can easily customize the design to your needs. All you have to do is add the team logos or individuals. You can also change the background colors or add sports elements if needed based on your design requirement.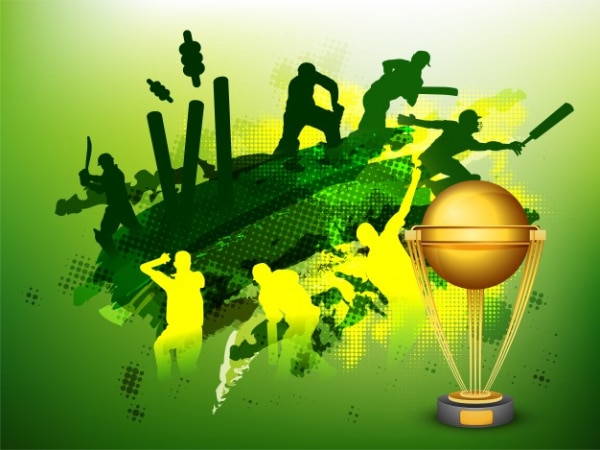 The cricket world cup is just around the corner. This stunning background can be very useful for designing anything related to the world cup or even any other cricket series. The image has a nice trophy on the side of it. It showcases different players in varied actions of batting, bowling, and fielding. The background is gradient, and using the layers tool in Photoshop; you can easily modify the colors of the design to match your need. 
While well-designed graphics have their charm, but they cannot beat real-life photographs. This is what happens with this amazing photograph of baseball ground. The photograph is taken from a good height to provide a wonderful view. The good part of the image is that there is a lot of dead space after the baseball ground. You can easily use this space to add the text or branding that you need for your design. 
Sometimes you may not need a heavy design or a detailed photograph for your design background. Sometimes you may want to just keep it simple. This is when this purple Volleyball net will be useful. As a high-resolution image, you can keep it as your wallpaper. At the same time, you can easily add layers on top of it, be it custom logos, typography, or normal text, and thereby use the background image for good use. 
If you are designing something common for a lot of sports like Olympics or commonwealth games, then such designs can be very useful. This image shows players in poses of varied sports like athletics, volleyball, basketball, etc. The design elements used along with the players are very basic, and you can change its color or shape as per need. There is a lot of blank space on the top that you can use to add headings or other details. 
Using a nice photograph and editing to make an amazing graphic can be a useful skill to learn in graphic designing. This image does something like that as it uses a woman practicing archery as the base image and edits it to make it surreal. The woman is standing on her hands and using her legs to shoot the arrow. The overall color composition is very good, and it has a stretchable background which allows you to use it anywhere as per need. 
Symmetry can be very important in photographs, and that is what can be seen in this image. Taken from a very good angle, the image captures the swimmer going forward with a lot of aggression. The shutter speed has been kept high, and hence you can see the water drops beside the swimmer. There is a good amount of space at the bottom and the top of the image, and hence you can use it to make a very good poster or a social media post.
When creativity meets sports, something like this image results. On the first look, you realize that the image is some blocks of free-flowing dreamy gradients. On a second look, you will realize that there is a basketball court in this image. It is very well disguised in the vibrant colors of the image. This background will make your life easy as it is ready to be used in any form of application, given its rich colors.  
Football is an easy sport and what makes it more special is that anyone can play it anywhere. This background image personifies this belief. It is a heartwarming photograph of two kids playing football in a rain-drenched field with a self-made goal post in the back. The photograph is well edited to make the kids stand out with a nice background. You can easily use this image by putting a good quote about sports or football on top of the image.  
Images with white studio backgrounds are always in demand, and the more you have of them, the better it is. This image is of a young woman in a running pose. The plain white background makes it very easy for you to use this image anywhere, be it with the background or be it with a transparent background. It can be best applied for website header images, social media posts, or other digital advertisements.  
Ice skating is a scenic sport in itself. And when this sport is captured in a beautiful photograph, it becomes a treasure to archive in your collections. This image uses the law of one-third, as you can see the skater in the third part of the image. The rest of the image is filled with white snow and the blue sky filled with clouds. You can quickly use this image by adding some nice typography or custom design on the white part on the left side. 
Racing-related backgrounds are hard to get. This background boasts of a nice checkered flag. The overall composition of this image is very attractive with the flag and the flowing gradient. There is a good amount of space on the right bottom corner of the image, which you can use for adding your branding or text. It can be creatively used for posters, magazine designs, and even website design. 
This beautifully captured photograph has a lot of applications. It can be easily used for sharing a motivational quote. Or it can also be seen as spending time with nature. From the sports perspective, you can use it for cycling or adventure sports. The blank space on the top of the image makes it easy for you to add your own text or branding. 
While all the images till now have been about normal sports, this background highlights the Paralympics. It seems to be a photograph captured in the Rio 2016 Summer Paralympics of a man sprinting his way ahead. There is a lot of inspiration value hidden in this image that you need not do much. You can add text on an overlaid layer or change it to a minimum to accentuate the impact of the photograph. 
This high-resolution image from Unsplash is a very handy image whenever your design brief requires you to use a nice sports-related background image with typography or custom design on it. The top shot plays nicely with the shadows of the runners. Half of the frame is empty and allows you to add or edit as per the design need. 
To get such well-designed backgrounds with their open files for free is a boon for designers. This image allows you to quickly showcase the statistics of the match. The good part is that it has already done the major hard work for you. All you need to do is change the text, add team logos and then build upon any kind of analysis that you want to give. Because it is editable, you can use the layers in After Effects or Photoshop to add fancy animation to it.
Only a few other sports derive the level of respect for athletes as boxing does. This amazing image captures a boxer in action. The black and white edit to the image, along with a hint of sepia, makes the image stand out. There is an ample amount of black space for you to add your custom text or branding. You can use it for website header images, social media posts, or printable posters. 
Captured beautifully against the sun, these volleyball players are a joy to watch. The sunset is well-edited to create a semi silhouette effect. The faces of the players are not seen, and hence you use this image wherever needed. Again there is a lot of empty space on the top where you can set up your own text. 
Water surfing is a highly adventurous sport, and capturing surfers in the middle of riding a wave can be a good background image. In this image, we see a surfer who has just got over a huge water wave. There is plenty of water in this with its characteristic blue and white. There is also a lot of empty space, which you can easily use for adding your custom design. 
Freepik provides a rich versus template to download for free for all sports designers. This template can be easily edited to change the color or composition and add elements to it. It is well suited for individual sports where you can show one person versus another one. 
This high-resolution image of an empty indoor basketball court can be very useful to showcase sports facilities. The image's overall lighting and color setup are very nice as it gets divided into three prominent colors. You can use either the brown or the cream background to superimpose your text.  
A visually appealing image of table tennis, this background is also a product of a studio photoshoot. The rackets and ball are nicely arranged, and a lot of space is left out for designers to work their magic. Turquoise blue is a good color, but you can alter it to fit your design. 
One of the less glamorous sports these days is badminton. But this sport can also be shown in a visually alluring way with the right set of designs. This background consisting of a badminton racket and cocks, is taken in a good set of green grass. You can extend the grass at the bottom and add your text if needed.
A good aerial view of a football field is something all designers must have in their collection. The photographer has taken a lot of care of symmetry in the photograph. In addition, the dark green color makes it easy for the designers to use this image as a background. 
Designing visually appealing sports designs is very important as it helps generate the right sentiment of passion and energy in the people. Therefore, as a designer, you should always have a good collection of such sports backgrounds and use them in the right manner to create beautiful designs.