20 Amazing Free Sports Design Assets for Designers
December 15, 2021

Line25 is reader supported. At no cost to you an affiliate commission may be earned when a purchase is made through various links on our site. Learn more

Designing for sports is always fun. There is a lot of bandwidth of creativity in it, and as a designer, you can come up with so many new concepts. Because sports themselves are filled with so much passion, you can build upon that energy and use it in your designs. Here we've compiled a list of 20 free sports design assets for designers like yourself.

>> Editors Note:  For some super high-quality sports assets like images, stock photos, and vectors, check out those over at Adobe Stock.

Because of digital media and an increasing number of sports events, there is also a rising need for high-quality sports designs. For this, designers rely heavily on getting good quality design assets to make their creatives better. Let's get started and take a look at the list.
Pin
One of the hardest design assets to find for free online is that of good webpage design. This free resource can fill up that deficit. The design is neat and simple. There is a place to position the logo. The base design contains four menu items in the header and a hamburger menu to further options. The hero image is also nicely set up, containing several sports illustrations. You can carry this design concept forward and finish creating the complete website quickly. 
Pin
Stock images for sports are hard to get. But what is needed is a stock image that can be used in a particular position with a specific purpose. This image, for example, is of a football placed on the green grass. The photos are well taken and capture the details of the ball and the ground. This image can be easily used for website headers or social media posts. In addition, there is ample dead space beside the football that can be used for setting up text.
Pin
This free-to-download and use sports mega icon set can be a lifesaver for designers. The pack contains over 100 icons depicting people playing almost all the present sports. Icons are something all designers need, be it for websites or for creating smart infographics. The icons are in the form of silhouettes, and that makes their application all the more easter. You can provide them with the color needed as per your design. Such resources which present solutions to multiple problems should always be downloaded and preserved by good designers.
Pin
Design assets are not just about fancy background images or well-designed vector files. One of the most searched design assets is fonts. For each creative, designers want to come up with highly creative fonts to make it fresh and unique. This SF Sports Night font family is free to download for personal use only and comes with eight variations. The weight of the font is big, and there is a line cutting through the upper part of the characters. This gives the font a unique character. You can easily use it for a variety of sports design applications. 
Pin
Creating a layout for broadcast can be a very challenging task, given that it includes so many elements. To help that task easier, we have included this amazing sports broadcast background design in the list. You can download the open file for free and edit as per need. It has a nice football stadium background. On top of it is the match facts layout. There is space to put the flag, the logo of the teams, team names, and all the information related to the match. You can edit the content to add the details you want to show.
Pin
Stunning! That is the reaction people will have to this image. The photograph is captured in mid-fight between two boxers. The photographer has done an amazing job by capturing the moment with such details. The background is completely blurred, leaving the focus on the two players. We can see one player about to land a good punch on the opponent's face. Because the image captures such good action, it can be used anywhere to suggest passion and motion like website headers, social media posts, or other mediums.
Pin
When we talked about infusing creativity into sports design, we meant this. This image is an amazingly designed graphic of a soccer player at sunset. Overall the image is heavily vectorized. The ball is made to represent the sun, and the palm trees suggest the beach setting. Heavy noise is given to the image to give it a vintage look or an old printed photograph. Such images can be very well used for print applications like postcards or posters. At the same time, it can be used for digital media also given that such retro designs are now in trend.
Pin
Friday Night Lights Font is the typeface most commonly used for sports in terms of team branding. You will see many college-level teams using this font or something similar in their overall design. This font style is free to download for personal use only. It is of display style with very heavyweight fonts. A peculiar roughness is provided within the fonts, which makes the fonts look more rugged and rough. The good part is that these fonts look really good on T-shirts or other merchandise and can be read from a distance.
Pin
The extensive use of illustrations is a rising trend in the graphic design sector. This vector provides one such good illustration related to sports and health. It has the word fitness written in bold, strong font style. Besides this, the word is spread several illustrations of people doing activities related to fitness. This includes sports, workouts, health, and more. You can download the vector file for free and either use the design with minor changes. Another option is that you can even extract out the illustrations to use them individually.
Pin
We now have a stock image related to fitness from an illustration related to fitness. This amazing photograph shows one man bending over to tie his shoelaces. The man is in the middle of his run. There are many finer details in this image, like his body muscles, the earphones, and the fancy shoes. This image can be very well used for website header images as there is good space beside the man to add your punchline or other design elements. Either way, this is a good image to have in the collection as you can use it without giving a thought to any sports or fitness-related design.  
Pin
College-level online sports magazines are now becoming increasingly common. Almost all good colleges have started maintaining such a web portal where all the details related to its sports activities can be showcased to internal and external stakeholders. This free-to-download and use HTML theme can be useful for designers looking to create such an online magazine. The code is very clean and supported with documentation. The base layout itself is well done, and you can quickly adapt it by adding your branding and content.
Pin
Time and again, you will need high-quality background images. This need not be in the form of stock images. Many times you will need vector backgrounds – for example, designing a broadcast layout or matching information layout from scratch. This free-to-use vector file is a well-designed football stadium. The ground is well-created, and the stadium is kept less detailed. Because it is a vector file, you can always change the colors, add or delete elements and reshape the whole background to meet your needs.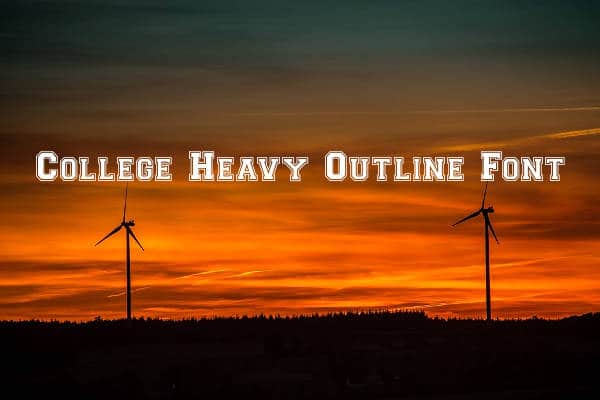 Pin
Another font similar to the Friday Night Light fonts is the Collegiate Heavy Outline font which is extensively used for sports designs. This is very similar to the font style used by Chicago Bulls and hence has a special brand recall to it. The font is free to download and use. Fundamental, it is displayed style font with a serif style as a base. A very thin outline runs across the characters that uplift the letters to make them look more prominent. The font only supports the upper case, but then it should only be used for team or player brandings and header designs.
Pin
This collection of sports silhouettes is far more detailed than the one included above. This is because it was more icon-based, while these silhouettes are far more detailed. The designer has attempted to include almost all the Olympic sports in this package. Some of them show a man while others show women, which provides good diversity. The vector file is free to download, and hence you can tweak these designs as per need. You can extract them individually and have a folder ready to use whenever you need a sports silhouette for your design.
Pin
High-quality stadium photographs are always in demand as they serve to be very good background images supporting the sport. This wide-angle photograph captures an entire baseball stadium with a live match going on. The angle of the photo is smartly set to coincide with the base. Because you can download a high-resolution version of this image for free, you can crop and use certain parts of it also. Otherwise, such an image can very well be used for backgrounds, website headers, or even digital media posts.
Pin
A unique but highly useful, this design asset is of backgrounds packs made out of different balls. One may argue that this is a design that is easy to create. Take a ball and repeat it in the pattern. But when you already get such designs online for free, why even make that effort. The pack contains four backgrounds with different sports, including rugby, volleyball, basketball, and tennis. This design can be edited, and hence you can change either the background image or the colors of the balls. You can get this printed and even use it as a creative sports gift wrapping paper.
Pin
The sports design assets collection would not be complete with this creative versus background. This is a design that you will be extensively needing if you are going to be creating designs for a match between players or individuals. The overall design is of a retro feel that is created through the type of colors used and the bars coming out from the center. While there are other standard backgrounds also available, but this one will catch the attention of viewers and can be used to infuse the fun element in the design.
Pin
Pristine white scenes and three people are skiing – that is what is captured in this stock image. The image is available for download in a high-resolution version. This image again is an in-action one and hence has a lot of potential energy in it. The good part of the image is that the three people are wearing jackets are very colorful. This provides the much-needed break in the white monotony in the image. This image can be easily used for background images in the design, website headers, and even for print media like brochures and flyers.
Pin
If you are looking for a smart and quick HTML theme to create a sports news portal online, this asset can be very helpful. The theme is free to download and use. The base layout is set nicely. This includes the menu, carousel slider, sidebar with banners and ads, and even the scope of a good user panel. There will be many good HTML and WordPress themes for sports-related websites, but it is good to add to the collection because this is free to use and comes with a readymade layout. 
Pin
Social media is buzzing with posts related to sports and fitness. With the rising concern about physical fitness, more and more content is being generated and consumed. This pack of social media posts is as per the latest design trends but has a good modern feel to them using concentric circles and parallel lines. There is a dedicated image holder which you can use to set up the image you want. The pack is free to download, edit and use. Though the base has content related to fitness, you can easily replace it with your sports-related content. 
We have tried to cover almost all the types of design assets that you may need to create high-quality, visually appealing, and unique sports designs. This blog has almost everything that designers will need, from website themes to social media posts to fonts, background images, and editable vectors.