22 Creative Typewriter Fonts For Your Collection
Home » Fonts »

June 23, 2021

Line25 is reader supported. At no cost to you an affiliate commission may be earned when a purchase is made through various links on our site. Learn more

Typewriter fonts are timeless, as they instantly evoke vintage vibes and make your design unique. Typewriters themselves are nothing but a vintage décor item, but the fonts live on.

Still, luckily we have got a beautiful font style out of it, and now it is considered as one of the distinct font styles with a number of varieties. Everyone must know typewriter font style from the courier fonts, and that's undoubtedly a classic one, but when you need extra drama and glow in the design, you need some new font style options.

Typewriter fonts are intense, classic, and raw; they convey a strong sense of history within every letter, and that's the charm of it. So to help you with your different creative needs, we have collected a bunch of awesome typewriter fonts. Let's check out these 22 unique, beautifully crafted, and versatile creative fonts.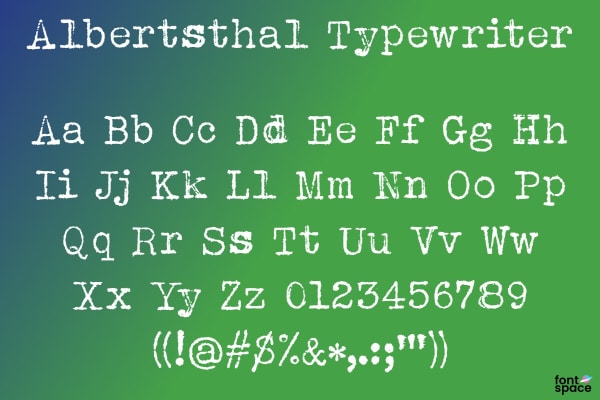 Pin
Albertsthal typewriter is a classic typewriter font style. It has that natural look of a typewriter-style with harsh strokes and faded ink. When you are collecting some good typewriter fonts, you need one basic and plain style as well to experiment with and use in multiple designs. So Albersthal typewriter is one of the clean and straightforward styles that you should have in your collection of typewriter fonts.
Pin
It is a beautiful, clean, and perfectly balanced font style. Letter gothic has equally spaced sans serif fonts with several variations. Originally this font style was designed for IBM, and then some upgrades happened in past years. Letter gothic is a modern version with a sleek and minimal look. You can use this typeface in many creative projects because it can fit into many criteria and requirements.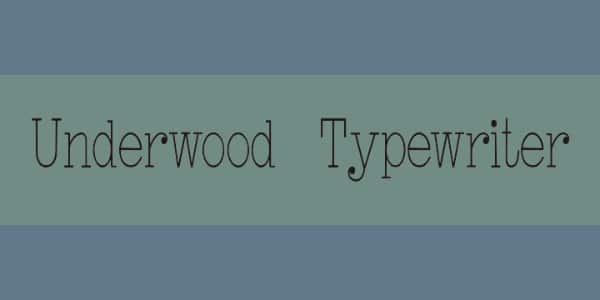 Pin
Underwood typewriter is a modern and classic font style that has an enchanting look in every font. It is minimal, composed, and very elegant. It has serif typewriter fonts with some curvy detailing to make it look more creative and appealing. When you want a soft and solid typeface for your creative design, you should surely consider something subtle but unique style fonts, just like an Underwood typewriter.
Pin
It's a unique and attractive typeface. With Happy Days, you get a fuzzy and glitchy font family where every character comes in lower and uppercase to meet your expectation. This font style is very contemporary, and it gives the authentic typewriter look as well. That is why happy days is one of the great typewriter fonts to have in a creative collection. You can use it to enhance your content or to create something different through your design.
Pin
Grandpas typewriter has a very decent and authentic approach to typewriter fonts. It has a vintage look with compact characters, which makes them perfect for many kinds of classic designs. If you are looking for a solid retro typewriter font style to make your vintage design complete, then Grandpas typewriter is your answer. With different exciting versions and a complete machine look, this is a must-have typewriter font style.

Pin
If you want typewriter fonts in a handwritten style, then Hand Typist is the best choice. It surely has typewriter fonts, but with little distorted characters, this typeface falls under a fusion category of typewriter and handwritten script. It is a delicate, creative, and playful font style. For various creative projects where you need a font style that elevate the content without overshadowing any element, you need a font style like Hand Typist.
Pin
Windflower is a beautiful font style with classic serif characters. You get a fantastic combination of bold and robust letters with delicate and curvy details. It is a modern typewriter style that has strong capital letters to make your posters, brochures, hoardings, and various creative designs look perfect. Windflower is a stylish font style that is smartly designed and well-executed. Your collection would be sparkling with a font family like windflower.
Pin
If you want relaxed and something unique for your design, then a screwed-up typewriter can be the best choice. This font style has interesting asymmetry in letters, and they all create a beautiful, whimsical look. You can see that each letter follows some different rules, and that's the unique part of this font style. Many creative projects can require unconventionally attractive font style, and that's when screwed-up typewriter can help.
Pin
Reflection typeface has a unique style to offer with compact serif fonts. Every letter has a reflection texture in the bottom part, and that's the unique characteristic of this font style. With reflecting characters, this typeface looks modern and bold. Basic serif typewriter fonts with the clean texture of reflection make this font style thoughtful and adaptable. Reflection typeface can do the job for designs where plain typewriter fonts are not required.
Pin
Perfect thoughts is a complete package of three different font styles that can boost your design's appearance and message. It has sincere, funky, and creative font styles with a classic typewriter look. And you can use it in your design to give a vintage and handwritten touch. It has some formal and some friendly fonts, which you can utilize in many designs. So overall, perfect thoughts can be an incredible choice if you want to get the maximum benefits out of a single download.
Pin
Uknownjack fonts have very subtle and sophisticated letters. These typewriter fonts have a clean design with some misprint texture, and that's the unique thing about this typeface. This font style has a rough design concept, yet it is very much compact and symmetrical. Uknownjack fonts can work with any smart designing concept where you need a solid font style that doesn't require much of work from your end.
Pin
Xerography is a very creative font style that has a unique negative spacing concept. Every font has balanced spacing and rectangular edges. You get a package of bold letters and characters with a beautiful negative spacing that can go along with any other color background. This special font category can work very well in unique designs. So Xerography is a wonderful typewriter font style that could make your collection adorn with great modern fonts.
Pin
It's a sleek, strong, and minimal font style that has beautiful serif letters. Jazznik has creative typewriter fonts in a playful look to make any modern design attractive. It is an ideal choice for children-related concepts and any youthful design. When you want to create a modern and appealing look with typewriter fonts, you can use Jazznik font style. It is undoubtedly an amazing handwritten style of typewriter typeface to have in a collection.
Pin
This font style has a vintage typewriter theme with minor detailing of lines. It is a bold and neat typeface that got modern essence as well to make the text part highlighted in a design. The intelligent lining of light is creating a beautiful illusion of embossed letters. Silvery Tarjey font style is surely a creative font style specially designed for innovative concepts to carry multiple modern and vintage style roles in a design.
Pin
This style is a classic and simplistic font style. With many unique projects, you need a typewriter font style with enough scope of creativity, and for that, you probably want to use something like 2011 slimtype. This typeface has slab serif style and typewriter as two different styles. You get slim and minimal letters with many interesting characters. 2011 slimtype is a timeless font style that you would be happy to have in your collection.
Pin
When your design seeks something retro style in fonts with a unique modern touch, you can try Cuomotype regular. It is a bold font style with the perfect vintage theme to complement any retro design. With distressed typewriter fonts and rounded edges, your design can have a powerful and nostalgic combination at the same time. So choosing Cuomotype regular font style for a creative collection can turn out to be a smart choice.
Pin
Lieberuth is a beautiful hand-crafted typeface that has creative letters and other characters. The fun and quirky side of this font style can help you to elevate your eye-catchy designs. Lieberuth has four different weights, and it is a complete package of amazing organic fonts. It's classic, modern, and curvy, which makes it perfect for creative elements seekers. You can use this fascinating typeface in your flyers, invitations, and banners or collect it for your personal collection.
Pin
Postmark typewriter is an elegant font style that holds a solid vintage base with some texture. It comes in two different weights as regular and rough. And you get 110-113 glyphs in this font style. Postmark typewriter has unique strokes and characteristics; therefore, it can make an excellent font style for headings, news, and articles. It would be best to collect it for your innovative concepts because this vintage font style can never go out of style.
Pin
With negative spacing and abstract texture typewriter, grunge font style gives a unique modern look. It is unconventional and bold to fit certain kinds of designs. Every letter follows a creative negative spacing theme, and they are all under rough texture to complete the typewriter look. When you want to add some contemporary version of typewriter style in your collection, you should consider going for typewriter grunge.
Pin
For a vital vintage font style requirement, you need classic and professional styles like traveling typewriter. You can see rough fonts with skewed strokes, and they all are creating a clean and sophisticated font style. Whether it's for long articles or eye-catchy headings traveling typewriter-style can work well with both. So have it in your collection and use this versatile typeface for various unique projects.
Pin
This excellent font style is one of the must-have font styles for creative professionals. Classica serif offers amazing serif fonts with hatched textures. And you get 110 glyphs in pencil hatching theme. It looks unique and fresh, and that's why this typewriter font style looks vintage but extraordinary at the same time. Whether you decide it for standard content projects or innovative designing concepts, Classica can take care of all.
Pin
Type right font style satisfies both the technology craze and vintage charm requirement. You can turn to something like Type Right when you need to find a font style that talks about retro-style videos, films, or nostalgic games. This font style has a unique glitch texture in every letter, which creates an interesting blurry effect. Type Right is a lovely typeface that shows nostalgic and fresh colors.
If you are looking for a cool vintage font style for your particular design, then choosing an excellent typewriter font style would be a brilliant idea. Creative artists worldwide constantly raise the bars of standard font styles, and if you think typewriter font style has limited scope, then the above-mentioned font styles can definitely break the glass for you.
These typefaces are beautiful and unique in their own ways. They all can make your different designs look sophisticated yet modern. Vintage is not the only color for typewriter font styles; trendy and vibrant can also be possible shades and that you can clearly see in this list.
So make some space for unconventional ideas and choose some of your favorite typewriter font styles to include in your collection for complimenting a number of creative projects.