24 Creative Asian Fonts for Designers to Download
November 18, 2021

Line25 is reader supported. At no cost to you an affiliate commission may be earned when a purchase is made through various links on our site. Learn more

Various font designs are in the market that represents a whole different era, culture, or personality. For professional designers, it's essential to keep some high-quality typefaces in the collection to place the content in the right tone for any creative project. If we talk about Asian fonts, there are plenty of creative designs that reflect a unique Asian essence in their characters. Usually, Asian fonts have sharp and natural strokes to connect the authentic calligraphy art of Asian culture to modern font requirements.

If you are looking for some great Asian fonts for your next cultural project, then this post will be very helpful. Our experts have curated a fantastic list of Asian fonts for designers. These 24 creative Asian fonts are professionally designed and have a very innovative approach to fit any design idea. So let's go through the list and understand each font in detail.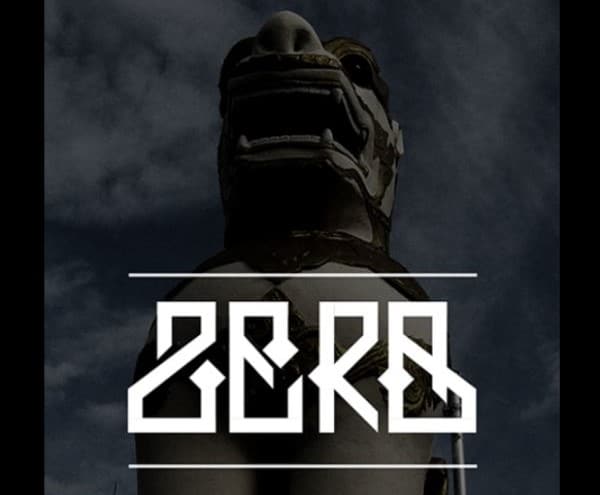 Pin
Zerb is an excellent font style professionally designed and made available for free. This style offers very strong, straight, and systematic fonts that give a unique essence of the Asian fonts. You get a sharply constructed font style with irregular sans serifs to use in your bold and attractive designs. Two versions like regular and inline Zerb typeface offer uppercase letters and numerals for professional and personal use.
Pin
This beautiful font style has a Japanese design concept, and it provides excellent creative features. Samurai typeface has a wonderful combination of a stencil, serif, and sans serif format. It's a great-looking font style perfectly created for label designs. If you want a modern Asian font style with adaptive nature, then this can be a great choice. You get five unique versions and valuable characters to use in your creative projects.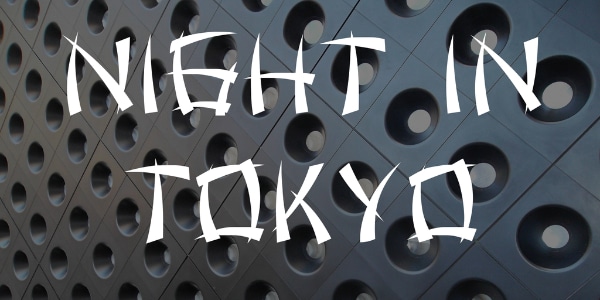 Pin
For eye catchy banners, posters, ads, logos, and other vital designs for any restaurant or game's branding purposes, this typeface can be a brilliant choice. Night in the Tokyo font family has very clean, sharp, and disciplined fonts that reflect handwritten style in an Asian look. The pointed curves and edges give this font style an eccentric appearance that can work for your sports, energetic, modern, and bold designs.
Pin
Ming Imperial font is a handwritten style of Chinese letters. This typeface has 175 glyphs and 238 characters for designers who are looking for a complete Chinese font package for their particular project. It is a beautifully designed font style with seamless brush strokes, which makes it a very natural-looking design.
Script designs in Asian font styles give an authentic calligraphy look that might be useful in multiple creative designs. Khiara has thin and elegant brush strokes with sleek and minimal design. You get uppercase and lowercase letters with numerals and other useful symbols. Overall, Khiara is a lovely typeface that can help you with various invitations, business cards, ads, greetings cards, and other beautiful designs.
Pin
Almost Japanese Smooth typeface is a unique and playful style that gives a very real Japanese look. The casual design with specific detailings to give you a perfect Asian look is a fantastic idea behind this font style. Various designs related to children's books, stationery, funny concepts, animated videos, and other fanciful projects can definitely use this typeface if you want to try an Asian style fonts.
Pin
Nippon Tech will be a great choice if you want to use an Asian font style for your modern and tech project. This innovative typeface has an Asian look composed of tech themes. You get clean, stylish, and bold fonts with stencil format to make an attractive-looking design overall; it's a tremendous futuristic design with eight versatile weights for your modern and innovative design ideas.
Pin
This is another script font style in the Asian typeface category. It has beautiful handwritten script concepts and contrast strokes to give natural Asian calligraphy style fonts. With Goatskin Brush Font, you get uppercase and lowercase letters with other valid characters if you are looking for an excellent adaptive Asian style font. It is a raw, bold, and elegant typeface to use in creative but straightforward projects
Pin
Sakura Town is a rough brush style typeface that holds a very interesting traditional essence of Asian font designs. It is a professionally crafted font style to provide you a perfect solution for your Japanese-themed restaurant, magazine, videos, ads, books, handcrafted products, etc. You get systematic letters, numerals, and symbols that have bold and rustic brush strokes. Overall it is an exotic Japanese font style for professional and inspiring projects.
Pin
Wasabi is a unique font style in this collection that has a flexible and modern look to help you in multiple designs and subjects. It has creative stencil-type fonts with a combination of bold and thin strokes. In addition, this font style has a specific design that gives multiple looks, including Asian and general. So overall, a great font style if you want a multipurpose and good quality font design for your projects.
Pin
Takoyaki font design has sharp and clean strokes in a beautiful handwritten script format to represent a unique look of Asian styles. This single format font style can be a terrific choice for your blogs, restaurant branding, catalogs, cover pages, or ads related to some fun and creative Asian culture projects. Moreover, this font style is adaptive, so you can use it in various other designs as well if you want to experiment and see great combinations.
Pin
A special action and fitness genre is also associated with Asian culture, and this specific font style is a reflection of such things. Fujimaru has bold and natural brush storks with smooth ends making it attractive, impactful, and creative. If you are looking for an extraordinary and adaptive font style with creative characters, punctuations, and symbols for your action, games, sports, horror, and other intense projects, then this could be the best one.
Pin
This complete package of Asian fonts is important to complete this collection. With Source Han Serif, you get a superfamily package that is way ahead of any ordinary font family. You get serif style with a large number of glyphs in Chinese, Japanese and Korean letters. This professionally designed font family can be a great savior if you want the basic design of all Asian languages. Especially if you are working on Asian culture and related projects, then you should definitely get this font package for your content segment.
Pin
Samurai Cab Co font family has two beautiful versions such as bold and outline. The entire theme of this font style is rounded and sans serif. Thus, you get a beautifully designed font style that has a realistic Asian look if you want high resembles of that culture in your title or other content. It is a simple, versatile, and attractive font family for creative minds working on various exciting projects.
Pin
With Assassin Ninja font, you get slightly slanted bold fonts with beautiful brush style. An eccentric look of this typeface can be a fantastic help in your Asian projects. If you are designing an action, fantasy, or entertainment-based creation, then Assassin Ninja might take the responsibility very well for the content. It is a bold, practical, and flexible font style to save in the collection for various creative objectives.
Pin
This smartly designed clean and attractive font style has a beautiful fusion of oriental and contemporary look. Anneyong Haseyo is a complete typeface with Asian characteristics. The fonts are seamless, sharp, and bold to adapt any design category and concept. In addition, you get uppercase and lowercase letters with valuable numerals and symbols. It's a sophisticated, beautiful, and powerful font style for your multiple designs.
Pin
Some short random strokes in the font are a crucial part of Asian font styles. With this Chinese Asian Style, you can have an authentic oriental look in your contemporary designs. It has beautiful handwritten script-style fonts with bold and short strokes. Moreover, the roughness is smartly illustrated with elegance in this typeface. So overall, a superb edition in this Asian font style collection for aspiring designers.
Pin
Japperneese typeface is a fantastic modern font style that gives you an optimum hangul look. It has a robust Asian format and artistic design, which can be used in many innovative designs. In addition, this font style has two weights and other useful characters to help you with your headings and subtexts. Japperneese typeface is definitely an exciting and complex style that might not work with every design, but it's worth it for your collection or inspiration.
This display font has elegant and sophisticated characters specially designed for Asian designs and innovative projects. Sumdumgoi typeface has a brilliant calligraphy look with bold and soft strokes. This smooth and eye-catchy font style can be an excellent choice for banners, logos, ads, T-shirt designs, and various other essential designs. So try this remarkable and versatile font design to make your design stand out.
Pin
Takasimura is a professionally designed Japanese calligraphy that holds an Asian theme but has excellent readability for international levels. This font style has sleek and creative strokes that make it very elegant and bold at the same time. You get more than thirteen weights and all the valuable characters from this typeface. The offered alternates and ligatures can also help your creative ideas. So overall, a good balanced, traditional, and innovative font style is what you get from this download.
Pin
This Japanese calligraphy font has artistic strokes and a natural look if you are working on a Japanese-themed restaurant branding design. The bold and rough strokes can also help you with many powerful, intense, and thoughtful design ideas. It has a traditional and modern feeling with the raw essence of Japanese culture. So try this professional typeface and include it in your various creative and attractive posters, cover pages, and logos.
Pin
A very beautiful Asian font style with a royal look is what you get from this download. Kingthings Conundrum typeface has unique hand-drawn letters with bold and natural strokes to present a traditional royal image. In addition, this font style's casual design and small details make it very attractive and appropriate for the Asian theme. You get two sets of uppercase letters with horizontal and vertical directions to complete this classy royal font package.
Pin
Gunji font is a good quality Chinese brush style that offers beautifully designed uppercase letters, numerals, symbols, punctuations, ligatures, and multilingual support. It is a fresh, subtle, and flexible font style that can make your Asian design perfect with its brilliant oriental look.
This heavy calligraphy typeface has a clean and fancy design to give a beautiful Asian font. The brush strokes are bold, crisp, and subtle, which makes this typeface versatile for any design category. It can help you in multiple solid, elegant, modern, and classy general or Asian categories designs.
Japanese and Chinese characters have a unique stiff design that was executed by calligraphy brushes in ancient history. So, in other words, calligraphy brushes play a significant role while taking inspiration from Asian fonts. We have tried to include various styles, themes, and designs in our collection to give you the best package of Asian typefaces.
These fonts are smart, bold, sharp, and creative for any designer looking for amazing Asian fonts. You can use these font styles in multiple designs to make logos, banners, business cards, ads, cover pages, and many more. We have mentioned all the necessary information in this collection so that you can choose the ideal font as per your requirements. These fonts are perfect for collecting, taking inspiration from, or directly using in the projects. So benefit your creative ideas from this beautiful collection of Asian fonts.