28 Free Stone and Rock Textures for your Collection
September 27, 2021

Line25 is reader supported. At no cost to you an affiliate commission may be earned when a purchase is made through various links on our site. Learn more

Some excellent stone and tile textures can be very helpful for related industries like architecture, material, interior, trading, mining, and geology. There can be an end number of purposes, and you may need different stone textures for every new project. You can find some fantastic textures online created by various artists and taken as a professional shot. But to make that process shorter and narrow down your search range, we have curated this assorted list of beautiful stone textures.

These 28 stone textures have unique styles and look to elevate any creative design. You can download any texture for free and save it in your collection for future projects as well. Some modern designing tricks can quickly turn your design into a masterpiece with the help of a good texture. This collection of stone textures can help any professional with any objective, be it for stationery, marketing, packaging, or portfolio.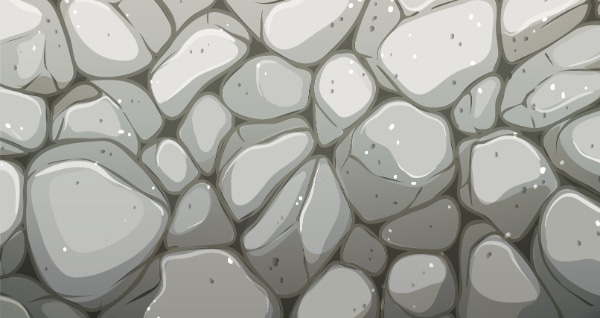 Pin
It is a beautiful vector texture of grey stones. The detailed illustration with elegant colors this image gives a very professional and attractive look. You can download this for free and make interesting design concepts by using it as your background or any primary design element.
Pin
This rough and realistic texture of the stone wall looks very subtle and strong. It can make a great background for architecture, construction, industrial, and some related research designs. It is a high-quality image with natural brown wall showcasing the seamless texture of stone arrangement.
Pin
This stunning background has a crystal stone image with beautiful purple color. You can download this for free and save it in your collection to make creative designs related to stone, jewelry, luxury, and many fancy concepts. It has a realistic texture and beautiful gradient that makes the whole image elegant and shiny.
Pin
It is a fantastic texture of uneven surface in a beautiful combination of blue and grey color. This texture is adaptive and attractive to support a number of designs. Your banners, cover pages, business cards, websites, etc., can look amazing with this marble texture. So overall, it is a unique design to collect and use in creative concepts.
Pin
This muddy texture has natural color and an intense pattern. It is a bumpy wall with a unique clay texture that can make some awesome creative backgrounds for various designs. You can download this for free and use it in your ceramic, craft, industrial, and many exciting designs.
Pin
It is a gorgeous background of pebble texture. You get amazing colorful pebbles with a natural and subtle look. It is surely a multipurpose background holding an adaptive color pallet and design. Bright and realistic colors make this texture unique, and the most recommended one to have in your collection. You can use this image in many elegant, creative, glamorous, and impressive designs.
Pin
It is a clean and sophisticated stone wall containing perfectly crafted stones in a wall. The texture is disciplined and seamless, which can be a perfect choice for making a solid background and banner design element for websites, presentations, and cover pages. In addition, it has eye catchy grey color and smart style.
Pin
This basic and rough texture is a perfect background to have in your collection. It is realistic brown color background giving you a subtle marble texture and adaptive look. It can be used in an end number of designs where you need a rough and grained texture as your significant design element.
Pin
This exquisite vector texture is a beautiful image for systematic and innovative designs. It has a checked printed vector design providing a very clean bricks pattern. The overall look is flexible, neutral, and geometrical. So save it in yoru collection for free and make some cool designs related to stones, bricks, constructions, interior, and various other products.
Pin
Black is the most adaptive color for designers. And this black texture of a rough and rocky surface is an excellent image to save in your design asset folder. It has a powerful look on the black surface, making it a nice and essential texture for your many creative projects. So overall, it is one of the most recommended textures in the black backgrounds category.
Pin
This is also a very natural and good-quality stone texture image. If you want to use a realistic stone pattern in your banners, websites, stationeries, or other designs, this one is a great choice. It is a compact, clean and adaptive texture design professionally design to fulfill your various creative needs.
Pin
With this aesthetic texture of the stone wall, you can make various powerful and professional projects to use for branding, marketing, and designing. It has a dual color tone of natural yellow and grey colors. It is a creative, unique, and very sophisticated texture with brilliant geometric design and a stylish color pallet. So try to use it in your designs to make a solid impression.
Pin
This vibrant-colored stone texture looks fascinating and interesting. It has a realistic stone arrangement with a whimsical color combination. The saturated and sharp blue and yellow hues give this image a very exciting touch. Moreover, you can download this for free and use it in your creative projects however you like. So make the best use of it and explore your art skills.
Pin
It is an effective green marble texture for various stones, tiles, marbles, and related brick designs. In addition, this texture holds a unique abstract pattern fused with soft green and white color combinations. So with this high-quality marble texture, you can quickly build some extraordinary presentations, banners, hoardings, and ads for your professional needs.
Pin
With this realistic texture, you get a cracked pattern of the white surface. The natural rough surface of this image is the perfect design element for various stone, industrial, construction, educational and promotional designs. So have this high-quality design in your collection and bring a fantastic white texture for your next project.
Pin
It's a supernatural black texture of a beautiful lowland location. The rock pattern is solid, sharp, and very impactful. It has a volcanic rock look and matt black texture, which makes it a unique texture background. Your collection can have a robust black texture like this for your multiple personal and professional projects.
Pin
With this soft and clean texture, you can make an excellent background image for your multiple products and business-related designs. It offers you a great organized texture of small white pebbles. Moreover, you get this rich-looking high-quality texture for free. So it's nice to have such great looking texture in the collection if you always want to give a versatile design output.
Pin
It is a good quality texture showcasing a rough pavement surface. The neutral brown color gives a natural look, and the seamless pavement design makes it look even more flawless. With this image, you can give a nice organized texture to your designs and successfully deliver your professional projects.
Pin
It has gigantic pink rocks with a solid realistic look. You get lovely pink hues in this image and a rocky surface for your brands dealing with stone, tiles, marbles, and masonry. It is a complex pattern of rocky walls to add a different element to your design—so overall, a great texture to save in the collection and utilize in numerous innovative ways.
Pin
Finding a suitable stone texture can be a little difficult if you want to give an aged look to your design. But with this old slimy stone wall texture, you can give a perfect old look to your designs. It is a dark, intense, and seamless stone wall background that can work well for some unique and profound design concepts.
Pin
This one is another vector illustration of a stone surface. It has a basic grey color scheme and randomly arranged blunt stone pieces. With this creative texture, you can make some fantastic design elements to take your output to another level. So grab this vector image for free and use it whenever you need a basic and robust stone texture.
Pin
It is a beautiful flat texture of a stone wall. You get a completely realistic look and colorful pattern that can help you with various professional tasks. The overall composition is immaculate and disciplined, and that's why it's a nice texture to save in your collection.
Pin
With this unique texture, you get an authentic feeling of stone texture. It is a basic, straightforward, and professional-looking texture with a rock surface. You can save this for free and use it in a number of designs because it has a very subtle and adaptive nature.
Pin
It is a pretty intense, old, and firm texture of a brick wall. You get various colors of dark red shade and a geometric pattern of a brick wall. Overall this texture is a great quality image with a stunning and robust look.
Pin
It is a beautiful black texture with small and attractive stone embellishment. It looks creative, stylish, and very flexible to make a part of any solid design concept. You can develop various design elements with this texture and deliver innovative results.
Pin
If you are looking for a beautiful stone texture in a vector format, then this can be a great choice. It has a brown color pallet and symmetrical stone texture to help you with multiple creative designs. So add this to your collection for free and use it as a robust background to do some cool projects.
Pin
With this rough marble texture, you get a beautiful color pallet and bumpy look. You can easily use this texture to make creative banners, hoardings, ads, packaging designs, and t-shirt prints. It is a high-quality image and realistic texture that would help you if you save it in your collection.
Pin
You get a perfectly synced geometrical background with this download that also offers you a unique and eye-catchy stone texture. It has a flat surface showcasing colorful stones arranged beautifully. So benefit your attractive designs with this background and save this texture in your collection.
So to make your base rock-solid and make your design productive, you can choose anyone or more than one stone textures from this collection. This professionally crafted and creatively listed collection has great textures holding a variety of themes. All the files are available for a free and high-quality look.
These textures can help any professional working in any industry, but mainly they can support architecture, interior design, construction, and geology-related projects. You can make great ads, banners, logos, cover pages, business cards, catalogs, portfolios, and brochures with the help of these solid textures. It has a rough, intense, attractive, and edgy look in all the choices. So make your collection profound with this premium range of textures and showcase your skills more dynamically.