Home » Fonts »
Line25 is reader supported. At no cost to you a commission from sponsors may be earned when a purchase is made via links on the site. Learn more
Free tattoo fonts are all over the web, but we are glad to provide our readers with a hand-picked selection to quickly reference.
Tattoo fonts are not very common in design and are usually more niche-oriented. However, they are versatile and can be used in various types of designs, from logos and prints to even web designs, if used properly.
Whether you have a project for a tattoo parlor, a vintage business or just to create a special logo or tattoo design, these best freebie tattoo fonts will definitely help you. Plus, these tattoo fonts are also free to download. Click on their titles and go directly to the download pages.
We have selected only the best tattoo fonts we could find. There are hundreds of tattoo typefaces available online for use in your projects and even though many of them are free to download and use, only a small part of them are beautiful and high quality.
In this list, you will find a nice typography selection consisting of sans-serif or serif styles, lowercase, uppercase, various sizes, and more. These fonts have multiple uses, as they can be used for headlines in newspapers, magazines, posters, presentations, logos, and more.
BEST TATTOO FONTS – UNLIMITED DOWNLOADS: Millions of Design Assets by Envato!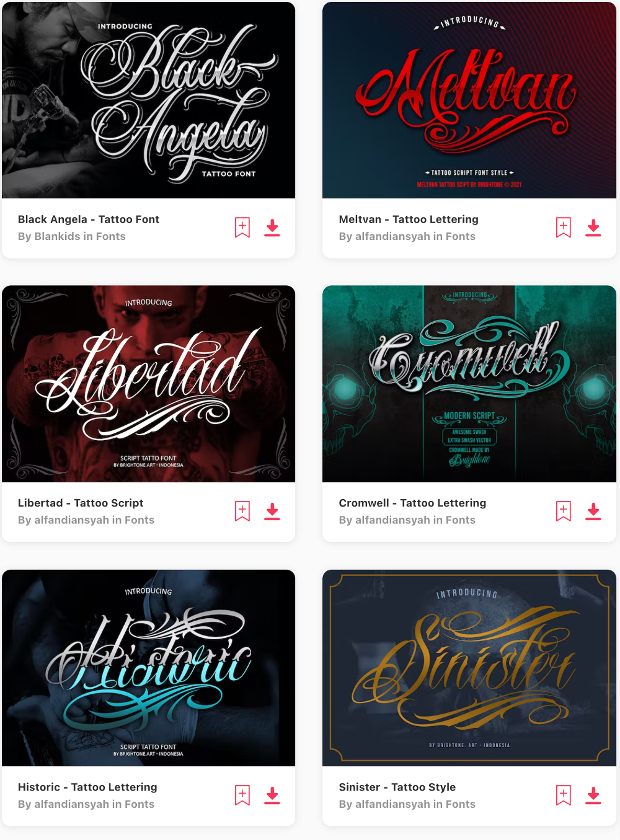 Download as many Tattoo Fonts as you desire from Envato Elements, a premier provider of top-quality design assets that are available for immediate downloads such as graphics, images, icons, illustrations, audio clips, videos, themes, plugins, and millions of other items.
Start now, download as many items as you want, and a commercial license is included. The other good news is… it costs less than $0.55 cents a day.
DOWNLOAD NOW
These typefaces may include one or several font styles. For instance, there can be regular, lightweight, bold, italic, etc. versions of the same font. This allows you to use the same font in different situations.
These free tattoo fonts have unique designs that will definitely make a strong statement when using them in your artwork and are perfect for both print and digital projects.
The Best Free Tattoo Fonts
Take a look at some really cool free tattoo fonts and let us know if you think we missed some good ones in the comment section below!
American Brewery Rough is a perfect font for a vintage poster or even a logo. It can easily be integrated into all sorts of creative projects which makes it a great asset to have in your collection.
The Angel Tears font is one of the best tattoo fonts you'll find on the internet. The lettering is nice, especially the capital letters. This outstanding font has a wonderful design that will be perfect for various projects.
Angilla Tattoo is a free-to-use font in personal projects but you can also check the link to the premium version. This is a perfect tattoo font for ink lovers out there!  Download and use this font in your current or future projects.
This is a unique typeface that you can integrate into various designs. Antlers is yet another awesome font that has its inspiration in tattoos. You can use this tattoo font in your personal projects only.
Check out the Blessed Day font which is free for personal use. It is a tattoo font that also looks handwritten. It can be used in many creative ways and it is perfect for a poster project.
Have a look at Brother Tattoo and find out if this is the one you have been looking for. The lettering is also nice and the preview photo is a good example of how you could use it in your designs.
Here is an amazing font that has a creative design. Canterbury is yet another tattoo font that can be used in all sorts of projects and can come in really handy if you are working on a thematic poster, logo, and not only!
Delinquente might be just the font you had in mind, and if the preview photo didn't convince you then have a look at its details and see how nicely is each letter designed. Follow the link and download this tattoo font for your own designs.
Here you have another beautiful typeface that you can use in your current or upcoming designs. And if you liked the previous example then you might also like this one! Feathergraphy is a great font to have in your freebies collection.
Ink In the Meat is yet another cool font that can't miss from your freebies arsenal. You can easily download and use this lovely typeface in your current or upcoming projects. Check out this creative serif tattoo font and see if this is the one you were looking for.
Typography is a very important part of a design and adding custom fonts can really make a difference! This handmade tattoo font creation uses select combinations of sketches for each letter that will definitely spark your imagination.
Los Angeles tattoo font is much more different than the previous examples which were more round, some even closer to handwriting or highly decorated. The lettering is rectangular and can be integrated into logos and all sorts of creative projects.
Mardian might be just the tattoo font for your project. Check out this cool font and use it in your personal projects. This font is very easy to use and maybe just what your project needs.
You might also want to have a look at the Original Gangsta font. It is a great font for an ink lover and it might be a great asset to your collection.
If you were looking for a prison tattoo font this might just be the one you had in mind. This font is very easy to use in any program that uses text.
Reditum is a tattoo font that can easily be integrated into all sorts of creative projects such as posters, large typography in web design, and much more. This is yet another good example of a tattoo font that can be perfectly integrated into posters and other creative projects.
Serval is a tattoo font with a unique letting design. It is definitely worth having a closer look at this font which is free to use for personal projects. If you also fell for this awesome tattoo font, there's a link for the commercial version of it.
This font is inspired by Nepali Devanagari Sanskrit script and can be a great asset to your collection. Have a look at this unique tattoo font and find out how many ways you can use it in your personal projects!
Teitheas is yet another cool tattoo font that ink lovers can appreciate. Check it out and have a closer look at the way each letter is designed and decorated and use it in your creative projects.
Hello Sailor is a thin tattoo font that can be a great asset in your collection. You can easily integrate this font into creative projects, especially in posters.
Tattoo Shop is just the font you need to make an awesome vintage poster! It is definitely worth having this tattoo font in your freebie's arsenal.
This font comes in both bold and regular versions and both look just as good. They can come in really handy and improve the way your projects look.
CM Tattoo Dragon is a really cool font that ink lovers will adore. It can be easily integrated into creative projects and web design projects.
Last but not least, Death in the Shadow is yet another cool tattoo font that will come in really handy and improve the way your projects look, making them more appealing. Find out how many ways this example can be used to make awesome tattoo-inspired designs.