25 Detailed Tutorials for Coding Up Your Web Designs
Add to Flipboard Magazine.
One of the best ways to get into web design is to learn the process of transforming your Photoshop concept into a fully working coded website. Luckily there are various handy tutorials from across the web that document the process of writing a site with HTML and CSS in a step by step guide. This post pulls together the best PSD to HTML conversion tutorials to help you along your way to becoming a CSS master.
Webtint show you how to build this awesome web concept, great practice for anyone who doesn't really know XHTML and CSS, and a great introduction for beginners.
Build a Sleek Portfolio Site from Scratch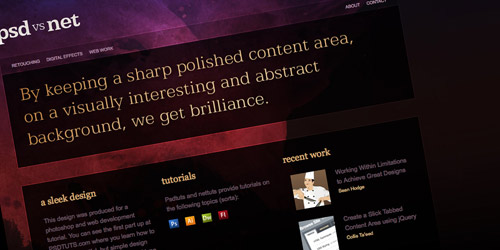 Collis Ta'eed shows us how to transform a PSD website design into a complete site build with clean HTML and CSS.
This excellent introduction from NETTUTS shows some handy tips for building a website with next generation HTML5 and CSS3 techniques.
Design and code your first website in simple, easy steps with this tutorial from NETTUTS. Written for the beginner with top notch standards compliant code.
This tutorial I wrote for NET Magazine shows the process of building a simple single page portfolio site from visual concepts to complete working design.
This tutorial from PSDVibe shows us how to code a corporate WordPress style design into XHTML and CSS.
Learn how to design and build an awesome dark and sleek website concept with this tutorial from web design blog, Six Revisions.
Develop a bright and fresh website design, and code the concept into XHTML and CSS with this step by step guide.
See the process of converting a Design Lab TV styled website layout into XHTML and CSS with this tutorial from PSDVibe.
The Design Lab: PSD Conversion
Create a fictional web design studio website with another great tutorial from HV Designs.
Follow this extensive tutorial by Sean Hodge to see the whole process of not only creating a site in XHTML and CSS, but continuing on to building into the Drupal platform.
Learn how to analyse a website layout to find the best way of coding it with this tutorial from Erratic Wisdom.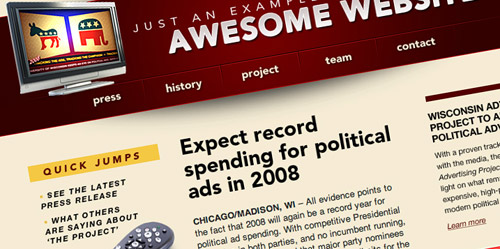 Follow Chris Coyier's excellent three part video screencast tutorial to discover how to convert a Photoshop website concept into a fully functioning website.
Converting a Design From PSD to HTML
Jeffrey Way offers great advice in this easy to follow video series on how to convert a design from PSD to HTML.
Create a site from scratch with this four part series on how to convert a website from PSD to fully CSS based HTML pages.
Learn some handy tips and techniques for developing websites with CSS with this step by step guide from Subcide.
Chris Coyier offers more quality advice and covers the process of creating another complete website in this video tutorial series.
Export images from your PSD document and learn how to put them into practice along with some HTML and CSS coding with this tutorial from Blog.SpoonGraphics.
How to Convert a PSD to XHTML
Jeffrey Way offers more helpful insights with another quality video tutorial. This time build an events website template with CSS and XHTML.
From PSD to HTML, Building a Set of Website Designs Step by Step
See the entire process of getting from PSD to completed HTML website in this awesome tutorial from Collis Ta'eed. Spare a few hours for this massive tutorial!
Don't forget the Photoshop mockup to XHTML/CSS tutorial right here on Line25. Follow the steps to building a website for a fictional design studio.