4-Point Checklist to Choose Your Coding Agency or Web Dev Team
December 26, 2019

Line25 is reader supported. At no cost to you an affiliate commission may be earned when a purchase is made through various links on our site. Learn more

Designers, in particular, are sometimes faced with the dilemma of not knowing who to turn to for the vital development work. Taking advantage or the 4-point checklist presented here, places web designers and design agencies in a position to select a highly qualified development agency and avoid potential development problems.

Step 1. Research the agency's online presence, paying particular attention to their portfolio and testimonials.

Their portfolios show what these agencies are capable of doing. Testimonials give credence to how well they do it. Happy clients are an indication of quality workmanship and prompt and on-time product delivery. Check the website for case studies that indicate a strong and transparent collaborative presence. If you like what you see, it's time to contact the agency.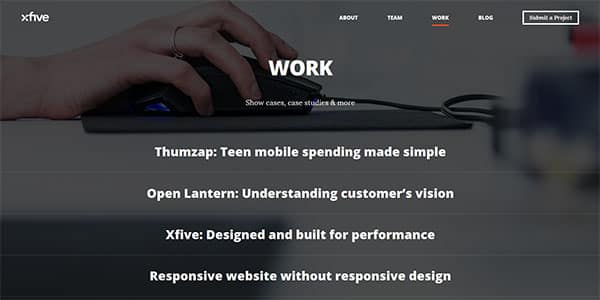 Pin
A good example is Xfive ,an agency that has more than 10 years of experience. Here is their take on transparency:
"We believe that being fair and transparent on every stage of the project brings the best results. It's one of the main reasons that over 80% of our clients return to us with another project, and many of them are long-term partners" says COO Milosz Bazela.
Step 2: Set your specific criteria.
Take a second look at the size and/or complexity of your project, and ask yourself if you need the services of mid-level coders, or a team of talented, highly-experienced professionals. You may prefer a developer who uses a solid, tried and true approach, or you may be looking for a team that has acquired a reputation for following the latest technological trends and using the most up-to-date and innovative coding techniques.
The latest trends and techniques often go well beyond writing clean, structured code. They also address communications, collaboration, and the sharing of ideas. What you want to look for, is a development agency that understands your way of seeing things and will help you reach your project's objective.
As Milosz explains:
"It is always important to find a proper balance between hype and reliability. Our developers are opened to new technologies; they love to learn new things, as to stand still, is to move back. However, not every technology that is getting hype is proper to real customer's needs. It's our job to find the right solution, that will be both cost effective on one hand and right for the project's size on the other."
Step 3: Make a shortlist and compare.
Pin
You naturally want to choose the best, most serious coding agency to take on your project. You want assurances that your deadlines will be met, and within a budget agreeable to you. Determine the developer's approach to keeping you in the loop, including consulting practices that are upfront and indicate a willingness to offer useful advice. Avoid the services of "yes" men.
Make certain the coding agency takes a professional approach, has an understanding of where you are coming from, is willing to share its methods and procedures with you, and regards the working relationship with you as a partnership.
Joseph Kurian from 249 Labs, a company that can boast of 20 years of experience in the digital sector, has this to say:
"After receiving excellent referrals, I spoke to 3 development companies.  After exhaustive research and conversations my comfort level was most with Pawel, Xfive's Project Producer.  He understood exactly what my vision for Open Lantern was, he understood how his team could help deliver what I needed, and he had excellent communication skills. In addition, he's a good guy and very easy to talk to. Based on the competence the team showed and the favorable pricing, we decided to go with a smooth transition from design to development and I knew that Xfive would be the right partner for 249Labs & Open Lantern."
Step 4: Pay attention to every detail to understand how you will be treated as a client.
Pin
From the time you've first initiated contact, until the last report is in your hands, pay close attention to how the development agency is treating you. As a client, you have every right to expect prompt, personal attention. If that is not the treatment you are receiving, it's time to look elsewhere.
A list of things a bad web design agency can be guilty of can be lengthy, but here are some of the more common warning signs you want to watch out for:
Distance yourself from an agency that is slow to return your calls or respond to your emails, or ignores them all together. Questions you may have, or information you wish to relate, that is not acknowledged or responded to can have a devastating impact on deadlines, end-product quality, or both.
Other warning signs include not being kept up-to-date with feedback. A development team may have the best of intentions, but may be poorly organized. You may not know what they are doing. Worse yet, they may not fully know either. Make certain the project managers understand precisely what you want and is keeping you fully informed – at all times.
As an example, how does Xfive handle their starting point with a start-up?
"It's always good to have a brief and a documentation, but let's be honest, it's not always possible to have such a clearly defined scope. Of course the more precise a customer is, the more we can focus only on project management and development, and be cost and time effective. But we can always advise best solutions based on our experience with variety of projects of different sizes and complexity.
For startups, we usually suggest an "agile" approach and encourage customers to cooperate with our team as much as possible. Of course, Xfive's developers and PMs are a part of the team, but it is the customer who has his own vision of the innovative product/service that he wants to introduce to the market. That's why defining the scope and the size of the project is an important part of the whole process" says Xfive'sCOO, MiloszBazela.
Your Checklist Revisited
Pin
The assumption is that, due to a lack of in-house talent and expertise, you have decided to outsource the development effort. This is usually a wise decision, and is where the checklist, summarized here,enters the picture:
Carefully research development agencies' online presence, paying particular attention to their portfolios, testimonials, and case studies. Make a point of looking for transparency in their operations.
Review your development criteria to help you locate an agency that has the appropriate skills to take on your project, whether it is large or small, simple or complex.
When you contact an agency, look for a professional approach on their part, and for a team that will work with you up-front, understand your line of thinking, and work with you as a partner.
As you begin negotiations, pay close attention to how you are being treated. If it's not what you have a right to expect – go elsewhere.
About Xfive
Pin
The Xfive team has provided outsource web development services for digital, design, and creative agencies and startups over the past decade.
Xfive cares deeply about partnerships. Instead of treating you as just another customer, they serve as an extension to your design team; providing their quality expertise to your organization. Xfive partners have included Microsoft, Fox, Twitter, eBay, and other web big brands.
Xfive has offices in Australia (HQ), North America, and Europe, so time zones are never an issue. Front-end, Back-end, CMS, ecommerce, Mobile, or you name it, Xfive does it.
Xfive works to a 24-workflow, so once your project is underway it will be completed in short order. Since coding is done the highest standards, changes and maintenance are a breeze. Xfive's Quality Assurance team, one of the best in the industry, makes sure of that.