Home » Articles »
Line25 is reader supported. At no cost to you a commission from sponsors may be earned when a purchase is made via links on the site. Learn more
Icons are a necessity when building a website or an app. They're used practically everywhere and for different reasons. Some designers use them for aesthetic reasons, while others use them for more practical ones. The hamburger menu icon, for example, is up to a certain point used for practical reasons, thanks to its familiarity.
There are other icons, though, that are used to beautify a website. Most websites with minimalist design make good use of icons, by enriching the layout without cluttering it.
Icons are a small and efficient way to add a certain vibe to a website and they come in various shapes, sizes, and styles. For example, there are some that are small illustrations with beautiful details that can bring color to your design.
If you are a web or UI designer, chances are you'll need some icons to use in your projects. What if they would be free to use, would that make it better? Of course, it would.
Okay, let's get started with our handpicked list of 30 free icon sets to download and use for your designs.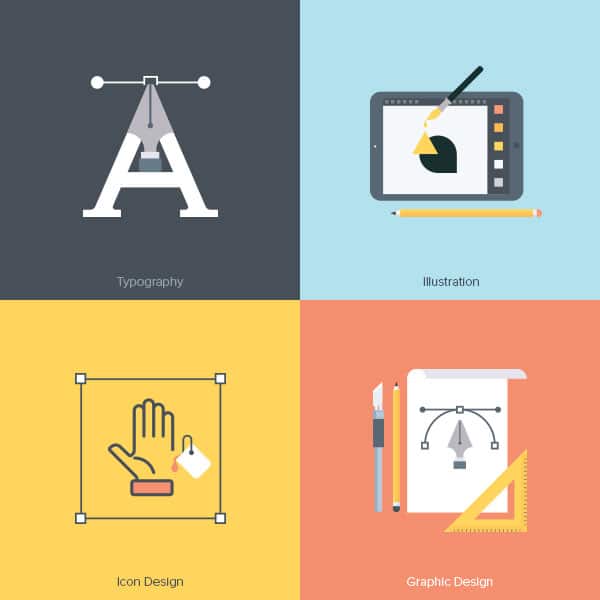 Let's start off with a collection of 16 flat icons with awesome details that would make a nice addition to your design inventory.
Here we present you a PSD file with nice, simple icons that you can download for free in your projects. This is again another set of outlined icons, with thin lines and lovely details.
This is a great set of detailed icons with a nice touch of color that you can download as .ai or .psd files. These beautiful outline icons can be used in any kind of project, from web design to creating apps and admin dashboards.
We suggest you add this useful icon pack to your design inventory. It contains 32 icons with a very bold, thick look.
We also recommend grabbing this awesome set of 70 icons. These are simple 32px line icons with a square look. These come in just one color, but you can easily customize them and color them any way you want.
This is a very special set of icons with lots of details and angled lines that you can use in your projects. This may be a small set, but it's truly unique!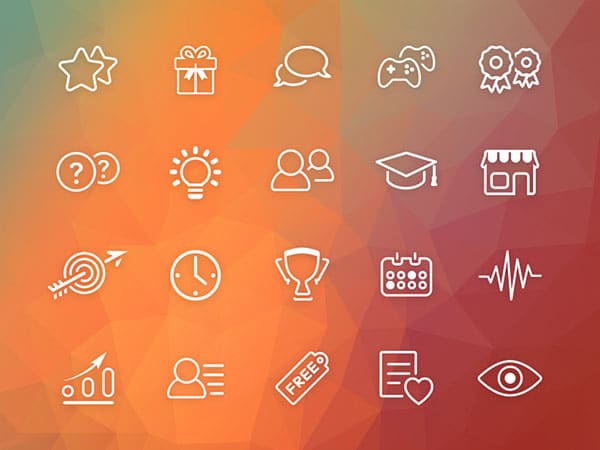 Here you have a completely free PSD file with various icons that you can use for your present and future projects. Use these icons for dashboard designs, gamification, web design, and more!
We recommend downloading this set of 50 flat-round icons to keep in your design inventory. These icons are fully-scalable and customizable.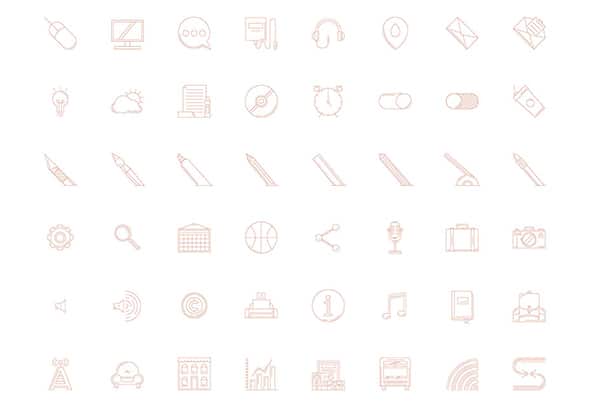 This is a very smooth and simple icon pack made with careful, thin lines. Available as .eps and .ai files that are both CS5–CC friendly.
We also like this cool pack of round icons, available in 2 color palettes and 10 color variations. use these beautiful icons for your flat design projects.
Here's a huge, absolutely awesome pack of 200 icons with very smooth, thin lines. We think you'll find almost anything you're looking for here, so keep it in your design library.
Here's another great example of a free icon pack that you can use for both personal or commercial projects. These are again outline icons with really simple designs.
Here we have a cool, modern set of icons that use thick lines for the overall design and thin lines for subtle details. Definitely worth downloading.
Here you have a set of 96 icons available in two weights. You can download them as .ai files.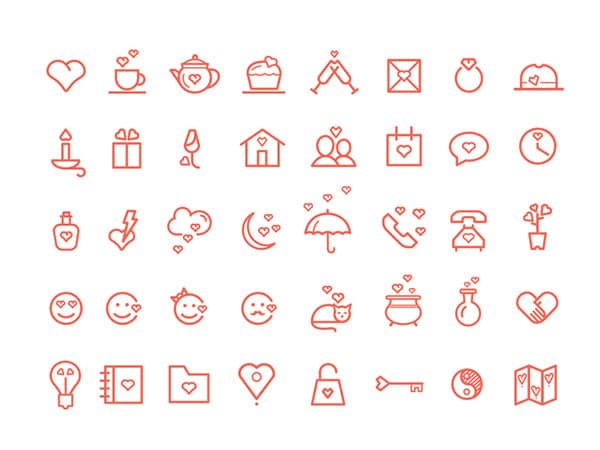 This romantic-themed set of icons has a sharp look and nice details that will give a professional look to your designs.
This is a free set of awesome line icons that come in various formats such as SVG, AI, EPS, PNG. You are more than welcome to use in your current or future projects.
Here is an awesome bunch of icons that will definitely make your tourism-inspired design projects look more professional.
This is a great set of 100 icons to use for your design projects that may be inspired by cooking, recipes or kitchens.
This is a very nice collection of icons with cool, tasteful color combinations to use in your designs.
This is another great set that contains more than 180 icons with a nice, modern touch and classy colors.
Here's an amazing set of icons created with banking design projects in mind. It has great colors and nice, sharp lines.