Home » Inspiration »
Line25 is reader supported. At no cost to you a commission from sponsors may be earned when a purchase is made via links on the site. Learn more
Icons can be a wonderful asset to convey a particular message in a simple yet effective way. And that's why designers always try to create and collect helpful icons to deliver solid projects with minimal effort. Here we have curated this collection of 20 highly creative icon sets for designers to collect and use for their unique purposes.
Any professional or personal project can achieve a completely new charm with the help of the proper icon set. There are various types available in the icons, and you can choose as per your idea and objective.
However, you get multiple creative choices for inspiration or make your design attractive with the below-listed collection. They all are adaptive, professionally designed, and multipurpose icons so that your commercial and important projects can get the best creative element in the composition. So let's understand the details and check out the collection.
Viro has 20 beautiful icons of a general category, and it holds a clean and impressive design. The colors, theme, and shape of this set are in a beautiful composition to give you creative and realistic icons. The light direction and line icon design make it unique and innovative to use in multiple designs. This icon collection can help in various apps and websites where UI and regular icons are needed. So a great icon set for creative inspiration and practical use.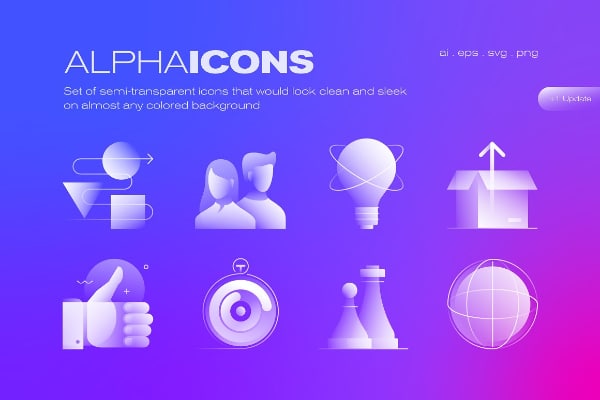 It is a high-quality icon set that provides strong versatility and creative details. The seamless gradient effect gives beautiful transparency that emerges into a unique glass look. All the icons are carefully designed for various uses. You get more than 100 icons divided into business, marketing, finance, studio, sports, tech, concepts, and family packs. Overall this extended pack of semi-transparent icons is a fantastic set to collect and utilize in many creative designs.
This attractive and crisp animal icon set has a flat design, robust structure, and minimal look. You get 80 animal icons from this collection, and they all are available for free. From bear to snake and spider to pelican, this set of icons has all the major animals, birds, and fish to help you with your creative needs. It is a bright, bold, and adaptive icon set that can support your multiple creative projects and objectives.
You get twelve beautiful icons from this collection representing various objects of writing and communication. This set of icons has a unique vintage and artistic design that you can use in some good creative projects. In addition, the circle and artistic strokes in this collection make it very natural and attractive. So overall, it is an excellent quality icon set offering PSD, png, and ai files that you can use in various creative print and web designs.
A colorful, detailed, and versatile icon set is what you get from this download. It is an editable vector file consisting of twenty useful and creative icons set with an exciting art and craft theme. For engaging ads, posters, web pages, banners, and stationeries, this icon set can be very helpful. It is well designed and adaptive icon set that gives you various attractive and high-quality art icon designs.
This fabulous icon set has unique creative features to offer, which can help designers with a large number of designs. You get line art icons of multiple categories with so many beautiful color combinations. It has a smooth gradient effect in the design, and the best part is you can customize the colors as per your preferences. So you can create multiple beautiful gradient icons from this collection and make your design more dynamic and effective.
This creative set of social media icons have a creative stamp design with a natural look. You get twenty useful social media icons for your artistic designs where you need a unique element like a stamp or sketch to use. For amazing experiments and creative concepts, stamp icons are interesting assets to incorporate. So overall, it's a wonderful social media icon pack to collect.
This free PSD file offers you four beautifully crafted icons related to cosmos, astronauts, and space. It is a small icon set that can be used in large size of designs for better presentation. All the icons have a unique animated style and comic theme to help your creative and fun projects related to space, astronauts, and UFOs. It is a professional and clean-looking design for various modern purposes.
If you are looking for hand-drawn icons for your personal or professional design, then this collection has the best icons to offer. You get 157 hand-drawn icons effective and innovative website or app design. All the icons have bright colors and realistic strokes to give you a nice quality natural hand-crafted icon set. In addition, it has multiple file formats for better and more efficient use. So overall Freehand icons are one of the wonderful hand-drawn icons set to save and include in your projects.
Lumina is another clean and sophisticated icon collection that offers professionally designed hexagon icons with systematic shadow patterns and line art. It is a modern, versatile, and unique design to use for many elegant and fresh design concepts. This collection gives you 32 commercially valuable icons in PSD and ai files. So you get a perfect icon set with creative freedom from this download.
It is one of the most beautiful and creative icon sets. This collection has the artistic design of animal illustrations. Moreover, the calligraphic pattern makes this set even more elegant and attractive. You can use these 40 animal illustrations in various logos, business cards, greeting cards, invitations, and other elegant designs. This animal flourishes icons and brush stamp collection are highly innovative and attractive to make any design stand out from the ordinary methods because of its hand-crafted look.
For minimal and striking travel designs, you may need a cool travel icon pack like this. It has 50 colorful icons for various travel-related symbols. The design is simple, adaptive, and modern with a combination of flat and line art concepts. You can use this comprehensive collection of travel icons for your unique travel banners, ads, websites, landing pages, and various other useful designs. Overall it's a fun, creative, and lightweight icon set with customization as well.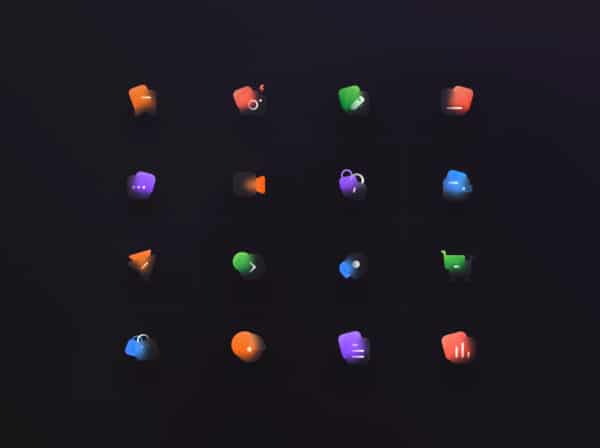 The glass pattern is one of the latest trends in icon design. So if you want to add some highly attractive glass icons to your creative project, then this one can be a perfect choice. It has a realistic look and frosted glass theme with every icon for your websites and professional presentations. The translucent design and seamless pattern of this icon set are the actual charms of this collection. So try this fantastic modern icon set to attract the audience and deliver your message creatively.
One of the most exciting icons set in this collection is this Crypto 3D icon set volume 2. It has amazing quality 3D icons related to cryptocurrency for your extraordinary projects. Many business designs can use this collection effectively to stand out from the competition. It has 21 high-resolution icons with three different angles, editable files, and 63 transparent PNG files. So, in other words, this cool crypto collection is a perfect design asset to collect for various smart and engaging designs.
This collection has 36 hand-drawn icons of the school and student categories. All the icons have a natural design and a unique vintage look. For many comic and creative designs, this collection can be helpful. And because it comes in an editable vector file, you can adjust the design as well if you like. This drawing style icon set looks very straightforward and realistic, making it a good design asset for inspiration and practical use.
This unique collection of social media icons offers you 14 useful social media symbols in a creative grunge look. This set comes in an editable Photoshop file that holds fourteen systematic layers for you to make necessary changes. The Grunge look makes this set of icons look rusty, vintage, and attractive for some thoughtful projects. You can download this professional set of icons for free and use them in your creative banners, ads, websites, T-shirt designs, and many more fun designs.
This simplistic set of icons is highly creative and useful for strong and eye-catchy designs. This can be an excellent inspiration for designers trying to make a good icon design with minimal effort. It has 100 icons of multiple categories, and they all are in a single-line format. Overall this collection is seamless, adaptive, and thoughtful to make various exciting designs look more effortless and attractive.
Chalk drawing is another type of hand-drawn pattern, and this beautiful collection has 20 natural-looking chalk drawing icons in an editable PSD file. You can download this exciting set of icons for free and elevate your designs. It has a unique hand-drawn texture with some basic and valuable icons for various websites and application designs. So try these high-quality icons for your creative and playful designs.
Business proposals, presentations, videos, and websites may need some creative infographics to portray the message and brand more clearly. With this cute set of icons, you can make many business designs and connect with your audience effectively. It has minimal, comical, and casual icons of different characters and actions. Moreover, you can have this icon set for free. So grab this incredible deal of creative icons and upgrade your designs.
This one is an extraordinary set of icons for various social media apps. You get an extensive range of 74 popular apps and ten beautiful silver shades from this collection. This pack allows you to make your creative look with different silver textures and your design looks enticing and creative with shining social media icons. Different sizes, shades, and features are available in this set to offer you incredible creative freedom and accessibility for better and more exciting results.
Final Thoughts
Using icons in the application, website, or any other graphic design can save a lot of effort and energy that you can invest in some other creativity. Designing a unique set of icons may need some research and trend analysis which you can get from this post.
With the above-listed icon sets, you can enhance your creativity and develop a solid professional design. We have included different styles, themes, and designs in this collection to help maximum designers with their multiple projects.
These highly creative icon sets can come in handy for your innovative concepts and messages. We have described each set with all the necessary detail for you to understand the design perfectly. Some icon sets are available for free, and some are paid assets, so check out the information thoroughly and choose one or more creative icon sets for your collection or ongoing professional and personal project.