18 Highly Creative Postcard Mockups for Designers
Home » Articles »
Line25 is reader supported. At no cost to you a commission from sponsors may be earned when a purchase is made via links on the site. Learn more
If you think postcards are an outdated instrument of communication, then you need to change your perspective. Apart from the fact that digital communication mediums have taken a large portion of the market, postcards are still used to showcase love, affection, and concern in greater depth.
This classical tool has more meaning and respect in people's minds. And that's why companies like to use direct mails as a part of their marketing strategy or employee programs. Postcard designs can come in handy for multiple purposes and for different people. If you are a professional designer or anyone without any solid designing knowledge looking for some awesome premade postcard mockups, then you are reading a perfect post.
We have curated this list with some of the most unique and beautiful postcard mockups to help various people with their personal or professional needs. So let's start the list and check out every design.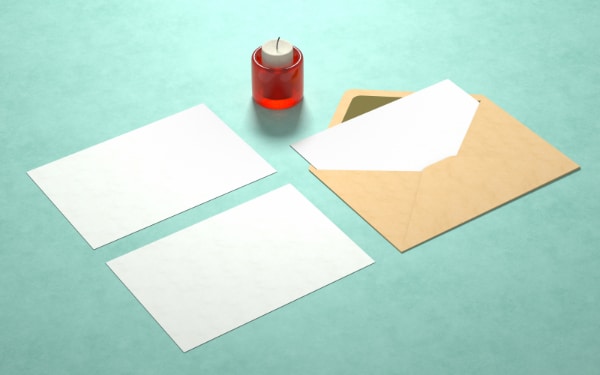 Pin
This PSD file has a very decent and flexible design. This postcard has bright colors and a versatile theme to allow a number of experiments and design ideas. You can download this mockup for free and edit it as per your preferences. It comes in a well-managed layered document where every object is customizable. Whether it's for a presentation, portfolio, or client request, this mockup can make an excellent postcard design to present for the actual print.
Pin
This high-quality postcard mockup is available for free and comes in a PSD format. You can download and access all the layers to customize this design as per your choice. It has an elegant and modern look with a unique angle. Mockup helps to present your design from different angles to give a more realistic perspective. Therefore this mockup can be very helpful to showcase your postcard design in a folded postcard style. The angle and whole composition are desirable and professional. So download this for free and use it to display your best talent.
Pin
This excellent pack of papers and envelope mockups can be very useful for designers who are working on a large design project or belonging to the cards and envelope design category. This set has 54 papers and 178 envelope mockups. They all are beautifully designed with a natural setup and realistic scenes. You can utilize this pack in multiple projects and for multiple purposes. Every mockup is very classy and unique. So try this set to present your various designs and projects.
Pin
It's a clean and fun mockup design. You get many exciting features in this design, and they all help you develop a realistic presentation of your design. It has six fully layered PSD files with 15 background textures. Every design is creative and provides a photorealistic look. You can customize this and add exciting elements to see what can suit your design the best. The colors are very vibrant and playful—overall, a great deal to present a postcard design with an attractive, realistic presentation.
Pin
This one is a unique and casual mockup set. It has two different setups, and they both are easy to customize. This mockup is a PSD file, and it consists of smart objects for your convenience. The natural look and straightforward angle help your design to look clear and elegant. In addition, it looks very professional and realistic, which makes it perfect for client presentations and portfolios. Your postcard design can surely look beautiful in this mockup set with different looks.
Pin
A simple and sleek design of mockups like this one can really help your design to stand out. You get five amazingly designed mockups with different positions to present your work smartly. Moreover, it offers five PSD files with organized layers and deep customization, Where each object and background can be customized as per your requirements. Overall, this one-page mockup set is a brilliant option if you are looking for a clean and comfortable design for your postcard design representation.
Pin
A photorealistic mockup of a natural setup and an eco-friendly theme is what you get from this download. It has a recycled paper envelope that offers a bit of vintage feel and leaves in the background on a white surface. The overall composition is very fresh and natural. You can easily edit this mockup and insert your postcard design to get a seamless and realistic display design. This mockup is attractive and versatile for many types of designs, so try this for free and see how well your postcard design can look on an actual setup.
Pin
It has a good package of multiple mockups, which can help your design look professional and more stylish. With the size of 5X7, you get nine PSD files fully layered and fully customizable to get your desired design. It has different positions, angles, and compositions in this set, and they all are effortless to customize. This mockup set can be very helpful to show multiple postcard designs from multiple natural angles, be it for a professional presentation or personal gallery.
Pin
It is a beautiful postcard mockup with a premium design. You can download this for free and use it for your personal need. This mockup has a floating postcard design with subtle and smooth colors. The overall theme is minimal and classy, which makes it very attractive. The floating style makes this mockup realistic and animated to add a creative element to your display. You can easily customize this PSD file with its layers and give your design a photorealistic appearance without any hard work.
Pin
If you are looking for a stylish photoshop file for a postcard mockup with a natural appearance, then this one is a great choice. It has basic composition and natural quality design. Moreover, you can customize this comfortably and create a quick presentation of your postcard design. With simple steps, you can get a solid postcard design as well if you want to use it as a premade template. So have this in your collection, or try this for a smart presentation.
Pin
This is another classy postcard mockup available for free. With this customizable mockup, you can put your design and see how it can look on the actual print. It has a basic paper style and two different poses, and all objects are systematic layers. The pastel background makes this mockup very attractive and decent. Your postcard design can look eye catchy and sincere in your presentation if you choose this postcard mockup. More or less, this mockup design is perfect for almost every style and color, which makes it easily adaptive.
Pin
This mockup has neutral and subtle colors with a realistic effect to help you with your presentation. You can get a real outlook of your postcard design before it gets printed. If you want to add your postcard design smartly to your portfolio, this mockup can also be the best choice. It has natural shadows in the design, which gives a more 3D look to it. So try this professionally crafted mockup design and make a solid display for your creative postcard design. It can be very helpful for multiple purposes as well, so it's a very beneficial deal in every aspect.
Pin
Its basic, clean, and versatile mockup design. You get an envelope and postcard together to display your design better. If you have designed an envelope as well or just want to add some branding to the envelope, you can easily do that. It is an entirely customizable mockup with brilliant composition. The colors are attractive, and it looks very realistic. The editing process might not take a very long time, so it can come in handy if you want a quick display of your design to show other people before you send it for printing. So have this versatile mockup design for envelopes, postcards, invitations, or any other branding accessory.
Pin
This mockup design has a neutral and effortless theme. You can edit the PSD file through its smart object layer and customize it as per your preference. This mockup has postcard and envelope design in its composition, so if you have an envelope design or logo as well, you can create a complete picture of your postcard design. With a natural look and essential elements, this mockup can be very helpful for professionals who want to present their design in a solid realistic manner.
Pin
This mockup comes with full support and guidance to make your customization easy and effective. The design is unique and realistic; it offers an A6-size flyer and postcard mockup on a platform with realistic shadows. You can customize everything with its well-organized layered document. This versatile mockup can be very useful to showcase postcards, flyers, calendars, or many other designs. It looks professional and natural, and it provides unlimited customization opportunities to develop this as per your creative needs.
Pin
You get both a portrait and landscape version in this postcard. It is a creative, modern, and very sophisticated mockup design. The best part is, this Christmas mockup design can help you with many designs like greeting cards, postcards, and invitation design displays. And it is a high-quality mockup with deep customization features. The wooden background and black color theme make it attractive and charming. However, you can change that as well if you want to create something completely different. Overall this mockup is flexible, rich looking, and very useful for multiple professional and personal purposes.
Pin
Modern designs in professional etiquette are very subtle and minimal, which may require a mockup like this. This mockup can adapt any postcard design with sincerity and elegance through its silent colors and premium quality file. The pink envelope and letter mockup have perfect dimensions for postcards. You can customize this within a few steps and create perfect branding stationery for upcoming holidays or any special occasion. Your design can look very stylish and faithful with this mockup, so try this and make the best presentation.
Pin
With this mockup set, you get five PSD files with unique and attractive postcard mockup designs. They all have different poses and backgrounds. You get all the elements in separated layers, which provide easy and effective customization. You can change the background, colors, and angles if you like as per your design. This mockup gives a realistic look to your postcard design with shadows and movable objects to get a closer idea before finalizing and printing. Overall it is a fantastic mockup set with multiple compositions to use for any vital design work.
Mockups are a fantastic solution to develop something creative without any hassle and time. You can quickly put your design or elements in the mockup file and download the professional-looking design.
With the help of the above-listed mockups, you can swiftly make the changes and present your customized postcard design with easy steps. We have added different styles, colors, and themes to our list to provide the most exquisite collection for people with creative taste. Some are colorful and modern, whereas some are minimal and classic.
You can find out what you need as per your design and pick the most suitable mockup to have a fantastic outlook. Whether it's for personal needs or professional purposes, these mockups can benefit anyone with or without profound designing experience. We have mentioned all the requirements and file types as well so that you can check and access them easily.