20 Best Shopify Apps to Increase Sales and Conversions
If you're using Shopify to sell online, then you surely must know about the Shopify apps store. Shopify has a dedicated section where app developers have created extensions for Shopify stores that allow you to significantly improve both your eCommerce store's functionality and sales. There are Shopify apps available for a multitude of purposes – from increasing sales by keeping potential customers longer on your site, to optimizing conversions, upsell apps, support apps and many others. There are both free Shopify apps and premium ones available at the app store. Some even require you to pay monthly fees to keep them on your Shopify website.
We've rounded up a collection of 20 best Shopify apps will be extremely useful to you. This hand-picked collection of 20 Shopify applications will ultimately help you increase sales and conversions and will result in a more profitable Shopify store. Integrate them into your Shopify website to significantly improve your sales and to make your eCommerce website more profitable and user friendly.
In this roundup you will find best Shopify apps for adding elements such as shipping bar, announcement windows, optimizing your images, coupon pop-up windows, sales countdowns and much more.
If you've previously purchased or installed a free shopify theme from the Shopify's official theme store, you are probably already used to top notch quality and customizable, mobile-friendly design of your eCommerce website. The apps featured in this roundup also have customizable designs and are fully responsive so that they will display perfectly on any device. Browse through all of these must have Shopify apps and integrate them into your Shopify websites to make them look more professional.
Shopify Sales Pop
Sales pop is a great Shopify application that will definitely help you improve your sales. This app has a fully responsive design that will adapt perfectly to any screen size. Some of its featured include real-time customer notifications when someone makes a purchase on your website, which has been proven to increase conversion rates. After all, people tend to repeat what others are doing, and if they see others are purchasing from your eCommerce store, they will too. Shopify Sales Pop app helps to make your online store appear busy, which is a good thing for online shoppers. The added bonus is that Shopify Sales Pop app is extremely easy to install, with just a single click. It is also very light in code and doesn't slow down your online store.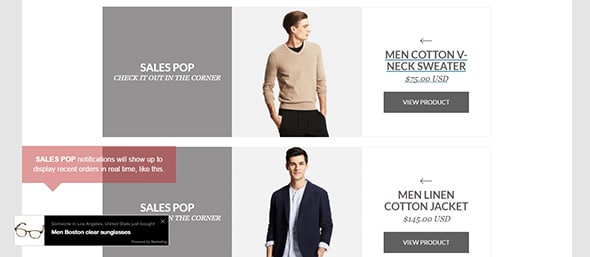 Pin
Free Shipping Bar by Hextom
In the age of Amazon, we're all very much used to free shipping being offered with any online purchase. Even if the shipping costs are built into the price, offering free shopping is still much better than charging for you. Free Shopping Bar by Hexton is an app for your Shopify store that will help you promote the fact that you offer free shipping. You can add a very useful shipping bar to your website to attract more customers and let them know how much they need to add to their cart in order to qualify for free shipping from your Shopify store. This Shopify app does not force its own branding and allows you to add an unbranded bar to your online store. One of its really useful features is the geo-targeting functionality. If your Shopify store sells merchandise to more than one country, you can add different shipping bars depending on the country. Shipping Bar a free Shopify application too, which is an added bonus.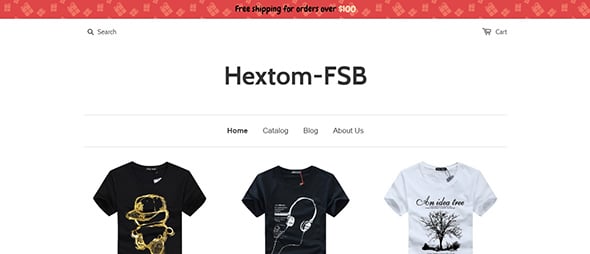 Pin
Quick Announcement Bar by Hextom
From the same company that brought you the Shipping Bar, Quick Announcement Bar is another extremely useful app for Shopify. It is particularly useful if your Shopify store offers special holiday sales or promotions. You can customize the Quick Announcement Bar app to display coupons for Christmas, New Year, Valentine's Day and all other major holidays. You can also add any other information to the Quick Announcement Bar Shopify app, such as when you release new products that you want to promote, promoting bundles of products and much more. With this free Shopify app, the possibilities are endless.

Pin
Better Coupon Box – Free Email Popups
Online shoppers love coupons. In fact, many people will search for coupons for a specific product they are about to buy just to see if they can get a discount on it before following through with the purchase. Pop-ups are an excellent way to attract more subscribers and to enhance your email list. This free Shopify app creates an editable coupon popup that is extremely customizable and will enable your shoppers to sign up for your email list to get a special coupon. This app gives you a great way to get and keep customers and bring recurring sales to your eCommerce store.
Pin
SEO Image Optimizer by Booster Apps
SEO Image Optimizer is an entirely free Shopify app that will help you optimize the images on your Shopify website. Why is this important? Because having optimized images will speed up your website and in turn not only help your online store rank better and have higher organic search visitors, but also will decrease your bounce rate. When a website loads too slowly, the visitor is likely to leave and check another search result. With the free SEO Image Optimizer Shopify app, this problem will be taken care. Moreover, with this free app for Shopify you will be able to bring more traffic to your Shopify website via Google Images because the app optimized your images for Google Images as well. Improve your traffic numbers and therefore the number of people that are viewing your products and buying from your eCommerce store. This Shopify app will help you make your products more visible across the Internet.
Pin
Quick View by Secomapp
This genius free Shopify application was specially created to improve customer experience and to significantly reduce the shopping time on your Shopify store. The basic idea is simple: your shoppers want a streamlined experience when they visit your online store. When they want to browse various products and possible purchase more than one item, they do not want to leave the search page whenever they click on a product that interests them. Quick View app for Shopify allows your customers to view a product they clicked on in a new window that's not full screen, and that opens within the same page as the page they are viewing. It functions like a lightbox pop-up, however its functionality is to allows visitors to quickly view a product and add it to cart if they are interested – all while still being on the general products view page, allowing them to keep shopping and to add more items to the cart. Secomapp's Quick View is a must-have Shopify app for your eCommerce website.
Pin
Shopify Happy Email
Here is another useful free Shopify application that you can easily integrate into your website. This allows you to automatically send a "thank you" notification via email to new customers. Why is this app good for all Shopify store owners? The first reason is building your brand presence. This Shopify app helps you connect with your customers in a personal way, and people generally remember that. Next time they need something, they will think of your online store before going elsewhere. Another benefit of using this free Shopify app is to make sure your customers are happy with their purchase. You can use this app to ask them to get in touch in case there are any questions or issues with whatever they've just purchased from your online store.
Pin
Web Browser Push Notifications by FirePush
Cart abandonment is a major problem that all Shopify store owners face. A customer may come to your online store, add products to cart, just to never complete their purchase. To solve this problem, FirePush app maker have created the Web Browser Push Notifications app for Shopify. This free Shopify app (with additional premium featured) can help you increase sales by as much as 30%, by transforming the abandoned carts into sure sales. With this Shopify app you can send reminders to your customers about items they have in cart at regular intervals, for example every 15 minutes or every half hour. In addition to solving the abandoned cart problem, this must have Shopify app allows you to send special offers to your eCommerce store visitors via push notifications.
Pin
Product Reviews Addon
Product reviews are something that can make or break your product sale. If there are no reviews, your online shoppers may not trust your product. If the reviews are bad, the visitors are unlikely to purchase. Increasing product reviews is tricky, as not many people want to spend their time just to review something they are perfectly happy with. Having the right way to ask for product reviews on your eCommerce store is exactly what this Shopify app does. This user-friendly Shopify app allows all Shopify store owners to send an email to their customers after they've completed a purchase, asking them to leave a review on your website. Simply asking for a review will make it much more likely that someone will leave a review, and making this process easy and hassle-free for your customers will make it even more likely that they will leave a review.  This Shopify app is essential for all online store owners who want to increase their sales and to boost their conversions from just a window-shopper to a paying customer by as much as 70%.
Pin
In this day and age, using social media to promote or support your Shopify store is a great way to engage with customers and increase both brand awareness and sales for your eCommerce website. If your business has a heavy Facebook presence and you use Facebook daily to communicate with potential or existing customers, you will want to look into using the Facebook Chat Shopify app by Zotabox. You can use this Shopify app to easily chat with your visitors via your Facebook account. This is a great way to offer support to potential or repeat customers who are browsing your website's products. Another added benefit of this Shopify app is you can get a closer look at each customer by viewing their Facebook profile while you chat with them.
Pin
Points, VIP, Referral Programs by Smile.io (Sweet Tooth)
If you are serious about building a strong repeat customer base for your Shopify store, you must look into the freemium Shopify app that has both free and premium versions. This app by Sweet Tooth allows you to create a points or rewards program for your customers. This is great because it encourages your shoppers to earn points or rewards by coming back to your eCommerce store and making additional purchases. This model is used by many major online retailers, so there's no reason why you should not use this Shopify app to do the same. Some of the things this app allows you to do include: giving your existing customers rewards by bringing referrals from their friends and family, give additional rewards by repeat interaction and sales from your online store, and much more.
Pin
Tracking & Delivery Updates by AfterShip
Because Shopify is used for eCommerce, shipping is a very big part of the process. Having a streamlined shipping process is exactly what this free Shopify app does. With this app by AfterShip, you are able to manage all of your shipping in one place by importing all of your data. Moreover, your customer scan track their shipments not from the shipper's page, but from your own, branded tracking page. This Shopify app also allows you to automatically keep the customers updated about shipping information via text messages and email notifications, thereby reducing support requests.
Pin
Photo Resize by Pixc
In case your Shopify store has images that are various sizes, you will benefit from the Photo Resize Shopify app by Pixc. This Shopify application can be installed in a single click and it lets you resize and also replace your product photos into a square shape. This is done automatically, without requiring any interaction on your part.
Pin
Personalizer – Targeted Recommendations by LimeSpot
Recommend various products to your customers, considering their basket size and conversion rate, all with the help of this Shopify application. Personalizer is a must have app for any Shopify store owner. With it, you can send personalized and extremely targeted shopping recommendations to each customer. These recommendations can include items that are usually bought together, allowing you to upsell each customer, items that the customer may / should like based on what they are viewing or have in their cart, related items to the product they are viewing, as well as popular items that you may want to promote to all shoppers. Personalizer Shopify app is free if it doesn't give you at least five times the monthly fee you pay for your Shopify store subscription.
Pin
Spin-a-Sale – Interactive Email Popup
Spin-a-Sale is a really creative Shopify app that offers a creative way to boost your email customer or potential customer list. It allows Shopify store owners to fully customize a pop that asks visitors to enter their email and sign up to receive product promotions or special offers. In return, the app offers everyone an interactive spinner wheel – a game, that will award a random prize which you can customize after they sign up. This unique Shopify app is something that all Shopify store owner should try to see how much it can increase their sales and earnings.
Pin
Image Optimizer – Image Compression and Optimization
Unoptimized images can slow down your Shopify store and result in increased bounce rate. They will also hurt your website's organic search engine presence. Optimized images are a must when it comes to online stores. Image Optimizer Shopify app allows you to compress your images so that they are smaller in size and load faster. Considering that Google (and possibly other search engines) use page loading time as a ranking factor, every Shopify store owner must use an image optimization app to make sure their eCommerce store has images that are fully optimized.
Pin
Loox – Photo Reviews
Photos of other people using your products is something that can significantly boost your Shopify store conversions and increase your sales. Loox Photo Reviews Shopify app allows you to display happy customer reviews that can include photos – something that will potentially motivate other visitors to purchase your products. The Loox app for Shopify allows you to automatically request reviews from your customers via email, and even to give discounts on future purchases if they decide to leave a review. You can even display in a gallery by using this app.
Pin
Easy Contact Form
Having a way to get in touch with you and to ask you both pre-sale and after-sale questions is something that all online shoppers expect to see from a professional Shopify store. This contact form can be easily achieved through the Easy Contact Form Shopify app. It has a fully editable and responsive design that will display perfectly on any screen size. This essential app for Shopify is also light in size so it will not slow down your site.
Pin
Sales Countdown Timer Bar
Adding a sales countdown timer bar can significantly increase your sales. Creating a sense of urgency for your online shoppers has been proving to increase conversions. This free to premium Shopify app includes customizable features that allow you to create a professional countdown timer, both fixed duration and scheduled, along with a design that you can easily customize as you please. Sales Countdown Timer Bar is a Shopify app that is fully responsive, so it will look great on mobile and desktop devices. We urge all Shopify store owners to try this app out to see how much they conversions will improve.
Pin