Home » Freebies »
Line25 is reader supported. At no cost to you a commission from sponsors may be earned when a purchase is made via links on the site. Learn more
Wondering where you can get free high-quality stock videos? The good news is that there are several great websites where you can download and use excellent quality stock video clips for free. There are many different uses for these types of videos and whether you are a web designer, developer, or individual in need of an assortment of stock videos, here's the place to start.
There's no question that video is one of the most powerful marketing tools out there today. It can be used to create engaging and informative content, drive traffic to your website, improve user engagement, and boost sales. There's no doubt that keeping the attention of users today with video content is the most engaging. After all, we all love to watch videos and on average spend about 103 minutes a day consuming them in the US alone.
However, producing a quality video can be expensive and time-consuming and so we've attempted to share 7 of the best free stock video websites available today. But first, let's look at how to get premium clips and footage for free and what you should be looking for.
Websites Offering Free Stock Videos Should Provide 5 Things
Being considered the best means that these companies must meet certain quality standards along with flexible licensing options. If they offer these 5 important elements, then you are sure to be in the right place for downloading free stock videos:
Both Free & Premium Options
Highest Quality (available in HD, Full HD, 4k resolution)
Royalty-Free Licenses (personal, commercial use, and no watermark)
Great Selection & Variety of Video Clips (multiple categories)
A Safe & Secure Website – (free From Malware & Viruses)
In this blog post, we'll introduce you to 7 of the safest and best websites offering amazing free stock video clips. So whether you're a seasoned pro or just starting out, these sites are sure to save you plenty of time and money.
Top Pick For Free Downloadable HD Stock Videos
Okay, if you're in a hurry and looking for our top recommendation, then (drumroll please) that would be Vecteezy.
Vecteezy is listed here as #1 in our list of 7 free stock video providers because we believe they offer the best selection along with the best licensing usage agreement. Also, we like their site design – It's user-friendly and easy to navigate with popular categories to choose from along with these additional great features:
Fresh Content – Vecteezy has a network of creators who are consistently adding new and fresh stock videos
Simple Licensing – For both commercial and personal use
Trusted Source – Designers from top brands like Amazon, Google, Facebook, and Microsoft have used Vecteezy
Top Quality For Free – They offer excellent quality stock videos, even in 4k, and high-resolution photos
Excellent Selection – We like the many options they offer in an easy-to-use layout on their website of top categories
Free Stock Video Websites With Amazing Footage
When it comes down to it, the best choice for you is what matters most. Take some time to see which one will best fit your needs from the list below. Also, please take a moment to comment below. Let's Go!
www.vecteezy.com
Vecteezy tops our list with an excellent combination of selection and quality. Millions of creative professionals turn to Vecteezy every month for 4K resolution stock videos, stock photos, and vector graphics. You'll find a combination of free and premium content here.
If you're looking specifically for free content, simply use the search filter to see only the resources with a free license and it will remove the premium content.
The video clips at Vecteezy are between five seconds and two minutes long. They offer an outstanding variety that includes:
Landscapes & Nature

Aerials

Cityscapes

Travel videos

Family videos

Business footage

Lifestyle videos, and more
The content available at Vecteezy is contributed by thousands of creators from around the world. Unlike most other free video sites, Vecteezy pays contributors for free downloads, which helps to increase the quality of content that's available at no cost to users.
Another reason why the content quality at Vecteezy is very high is that their team of experts manually reviews every submission. Even the free videos must meet certain standards in order to appear on the platform. This helps to prevent the site from being flooded with low-quality footage.
One under-appreciated way that Vecteezy stands out from many free video sites is that contributors are required to submit signed model and property releases if the footage includes recognizable people or places. This provides users with assurance that videos have not been uploaded without the model or property owner's consent. If signed releases have been submitted for a video, they are listed below the download button.
Vecteezy Logos & Trademarks
Along the same lines, Vecteezy does not allow logos or trademarks to appear in video content that's licensed for commercial use. For example, if a video shows someone using an iPhone and the Apple logo is visible, the video will be licensed for editorial use only. This helps to protect users from unwanted claims or lawsuits.
Overview Of Vecteezy Stock Video Licensing Agreement:
The free HD stock videos at Vecteezy can be used for both personal and commercial purposes. Attribution in the final credits is required by the free license. If you don't want to provide attribution, you can upgrade to a Pro plan for as little as $9 per month. While some other sites offer free footage that can be used without attribution, we feel that Vecteezy's review process, including the requirement for model and property releases, offsets the need to provide attribution.
www.freepik.com/videos
Freepik is fast becoming the go-to destination for all your creative needs. Founded in 2010 with a mission statement to feed the world with free graphic content, it has accomplished that and more, with free-to-use stock video footage and a trove of other design assets such as audio, images, vector designs, fonts, and much more for personal and commercial purposes. You really get the sense you have everything you need to create knock-out multimedia projects, all within this platform. 
Even searching for your desired content has been made as fluid as possible, with powerful search optimization and a structured catalog of the most desired content. You get the feeling it's constantly up to date, providing a coherent and relevant experience. 
All videos are quality checked and available in 4K and HD resolution, giving you the range needed to keep competitive while providing your audience with breathtaking color and smooth frame rates. You can also preview videos at lower quality, so no time is wasted. 
Overview Of Freepik Stock Video Licensing Agreement:
Free-to-use content will need attribution. However, premium users will benefit from premium content, no need for attribution, and a bunch of features that will streamline your workflow. 
The website's combination of other useful assets, such as graphic design elements and imagery, resonates well with contemporary filmmakers who need more than just stock footage to create high-quality content to engage with their audiences.
www.pixabay.com
Pixabay is very similar to Pexels, and it's also owned by Canva. While Pixabay offers a massive selection of free photos, the selection of free videos is much smaller.
Likewise, the quality of videos available at Pixabay is also not quite as good as what you'll find at the sites ranked higher on this list. There are some clips that are of excellent quality, but others are not as good. Overall, you'll need to wade through more low-quality videos to find what you're looking for.
You can browse videos in 20 different categories, or use the search filters for category and resolution to narrow down the results.
Overview Of Pixabay Stock Video Licensing Agreement:
Pixabay uses its own license for content, and it's very similar to the Pexels license. Resources can be used for personal or commercial projects without attribution, and with very few restrictions.
www.pexels.com
Pexels is one of the most popular websites for free stock photos and videos. The site was acquired by Canva a few years ago and has continued to grow. 
All of the content at Pexels is available for free, so you don't have to worry about the free videos being overshadowed by premium content. Like most of the other sites on this list, Pexels includes videos from a wide range of creative professionals. And as far as free resources go, the quality of the content at Pexels is generally quite high.
When you're searching at Pexels, you can use filters to narrow the results by content type (photos or videos), size (4K, full HD, and HD), and orientation. The design and layout of the site are very clean, which adds to the user-friendliness of the site.
The biggest downside of Pexels compared to Vecteezy, in our opinion, is that Pexels does not collect signed model and property releases from contributors. The creators have given their consent for the use of their videos, but there's no way to know for sure that models or property owners have agreed. Likewise, logos and trademarks appear in some of the videos.
Overview Of Pexels Stock Video Licensing Agreement:
The photos and video clips at Pexels are released under a Pexels license that allows for personal and commercial use without attribution. There are a few restrictions (for example, you can't upload the content to other stock sites), but the license allows for just about any type of commercial use.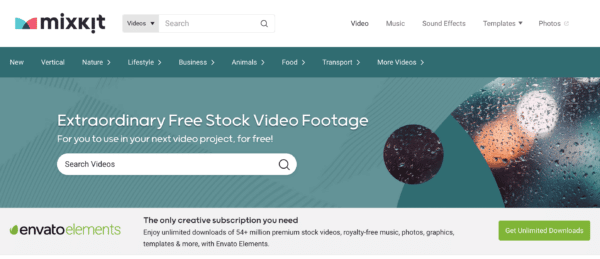 www.mixkit.co
Mixkit is an excellent resource for video creators, providing a nice selection of stock videos, stock music, sound effects, and video templates. While everything available at Mixkit is free, the site is owned by Envato, so you'll see a lot of promos for Envato Elements.
The quality of resources at Mixkit is outstanding. You won't find any low-quality videos, which is great if you're looking for a clip to use in a professional project. However, the selection is much smaller than what you'll find at Vecteezy or Pexels. 
Overall, Mixkit offers an excellent user experience. The design and layout are clean, and there are several search filters you can use to find exactly what you're looking for quickly.
Overview Of Mixkit Stock Video Licensing Agreement:
Each of the different content types offered at Mixkit comes with its own license, so be sure to check the details before using any of the resources (this general rule should apply to any free resource that you download online). The video license allows for use in personal and commercial projects without attribution and with only a few restrictions or limitations.
www.videvo.net
Videvo offers a large collection of free stock videos, music, sound effects, and templates for programs like After Effects, Premiere Pro, DaVinci Resolve, and Final Cut Pro. To go along with the large selection, the quality of most of the resources is also pretty good.
The user experience at Videvo is mostly positive. There are several search filters that help you to narrow down the search results and find what you're looking for. 
Overview Of Videvo Stock Video Licensing Agreement:
Probably the biggest drawback of Videvo is that the resources on the site may use one of several different licenses, so you need to pay extra attention to be sure that you understand the specific license for each video you want to use. In some cases, you'll be able to use the video without attribution, but most videos will require some sort of credit. If you don't want to provide credit/attribution, you can upgrade to a premium plan.
www.coverr.co
"Coverr" isn't quite as well known as some of the sites at the top of our list, but it's an excellent resource nonetheless. The selection of videos available at Coverr is smaller than many of the other sites because they keep tighter control over who is able to contribute content to the site. However, the quality of the videos available is generally very good.
Like Vecteezy, Coverr pays contributors even though the videos are offered for free, which helps to encourage professional videographers to join Coverr's team of contributors. 
Probably the most frustrating part of using Coverr is the frequency and location of Shutterstock ads you'll see on the site. When you search Coverr, the Shutterstock results almost overpower the free videos from Coverr.
Overview Of Coverr Stock Video Licensing Agreement:
The videos from Coverr can be used for personal or commercial purposes with no attribution required. However, Coverr specifically mentions that its license does not include the rights to use logos/trademarks and recognizable people. Depending on how you will be using the video, Coverr would suggest verifying if you need to get permission from the company owner or the individual.
Frequently Asked Questions
How can I use free stock videos?
There are several ways to use free stock videos and here are just a few methods:
Showcasing your product with a moving background
For developing an engaging and interesting tutorial
Overlaying text to share your special message such as a big sale to your readers
Create an advertisement with audio to place on social media platforms
Website homepage looping video background
Many people think you need to spend a lot of money on high-quality stock footage. However, that's not always the case. If you're looking for stock videos, free without a watermark embedded, and free of charge there are some choices.
The stock video sites listed here we believe to be the best websites for free stock video footage that meets quality premium standards, without paying a premium price. The details like selection, licensing, and optional upgrades are mentioned above.
Are free stock videos poor quality?
Keep in mind that if a stock video is considered free, it doesn't necessarily mean low or poor quality and so that's why our list below will filter through the sites you can trust, that will provide high-quality, free stock videos in addition to premium stock videos. Additionally, having fresh content along with multiple categories to choose from is something to look for when deciding on what site to get free stock video's from.
Conclusion
In summary, the websites listed are some excellent resources if you need quality stock video clips or footage and have a limited budget. The stock video providers on our list will provide you with clips that make your film, commercial, YouTube video, or social media video a standout success.
The goal of this post is to help our readers have a quick list to refer to when needed. It might be a good idea to bookmark this page now for future reference.
Again, for us here at Line25.com our top choice would be the #1 on this list which is Vecteezy.com. To recap, here's our list of the best 7 free stock video websites available today: