Home » Fonts »
Line25 is reader supported. At no cost to you a commission from sponsors may be earned when a purchase is made via links on the site. Learn more
Since the implementation of @font-face, web fonts have become a big deal in Web Design. It's not so long ago that Web Designers were limited to 5 or so "web safe fonts", but now the choice is vast. You can't go using any font in your designs though, you have to make sure the typeface you're using is licensed for web use. That's why I figured you might be interested in this latest deal from Design Cuts. At 99% off this offer is unmissable as it stands, but if you're a Web Designer, the free extended licensing and web fonts included might be right up your street.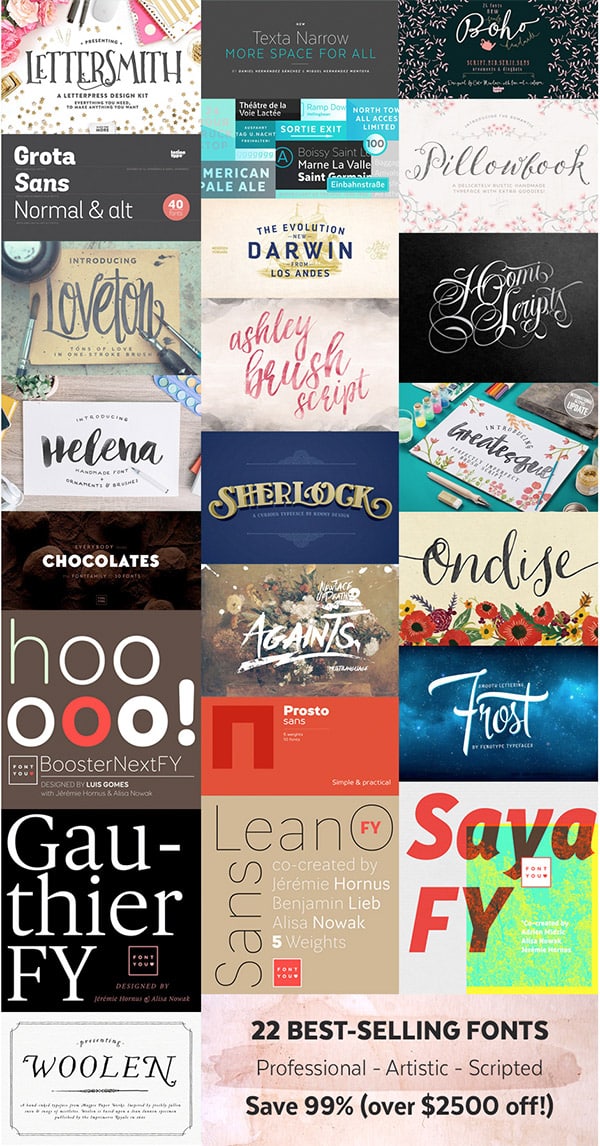 The collection contains a varied mix of clean, modern corporate fonts and artistic script fonts. The corporate style fonts are likely to be favoured by Web Designers for legible headlines and body copy, but I'd definitely recommend checking out the full list of artistic fonts. They could be the perfect option for grungy or rustic designs, or for your other print or branding work. Here's my suggestions of some of the fonts that might persuade you to grab this offer:
Texta Narrow

Texta Narrow is a contemporary sans-serif font that comes in 8 weights from thin to black, along with alt and italic versions. These preview graphics show just how beautiful it looks set alone on a flat coloured background.
Grota Sans
The bold stance of Grota Sans makes it a winner for headlines, but the 10 different weights also makes it worth considering for body copy where you're looking for a typeface with a little extra style.
Prosto Sans
Prosto Sans is one font that clearly cites websites and mobile applications as mediums it is optimized for. Its unique shapes and wide stance make it particularly suited to minimalistic designs where it can be the star of the show.
Booster Next FY
Rounded fonts have long been popular with web based companies since the explosion in the web 2.0 days. Booster Next FY is a friendly, round, sans-serif typeface with six weights. Due to its large width, this family offers a good legibility in all text sizes for Web and other Screen Applications.
Gauthier FY
Gauthier FY, in contrary to the fonts I've previewed so far, retains its serifs to give it a classy, old style appearance. A minimal web design with a pure focus on typography backed up with Gauthier would produce a beautifully sophisticated layout.
Extended Licensing & Web Fonts Included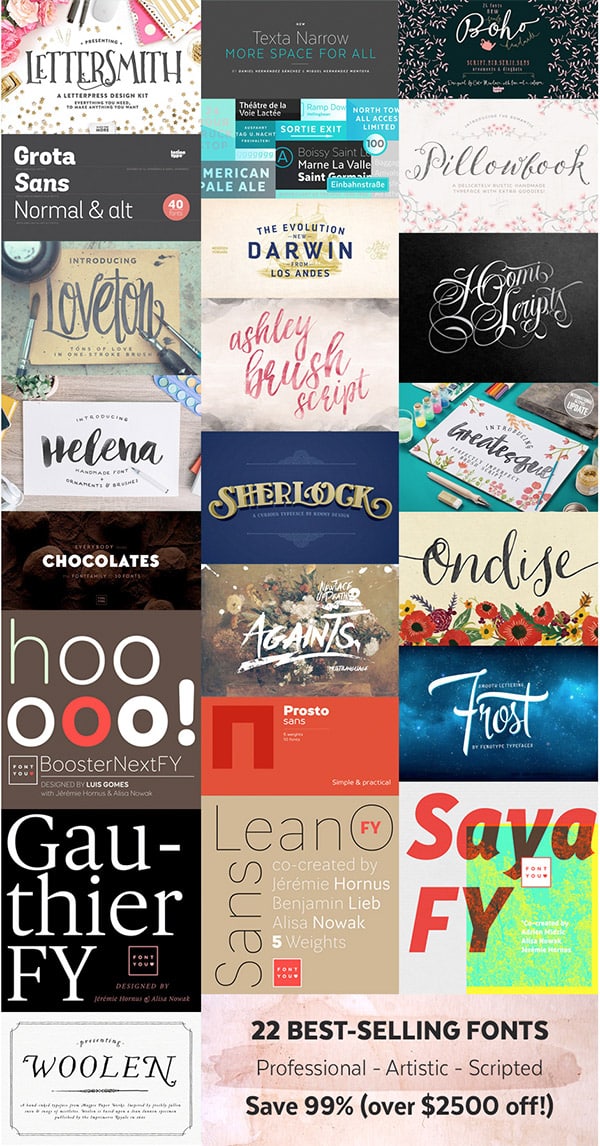 This new fonts bundle is a collection of 22 Professional and Artistic fonts, discounted by a massive 99%, which saves you over $2500! For $29, you receive 22 best selling font families along with extended licensing and web fonts for each typeface. This means you can use these fonts not only in commercial work for clients, you can also incorporate them into items you intend to sell, such as apps or themes, and use the web fonts in your website designs to create unique interfaces with stunning typography.