Website Building Tools You Should Try in 2019
Home » Articles »
Line25 is reader supported. At no cost to you a commission from sponsors may be earned when a purchase is made via links on the site. Learn more
Website builders are not new. But they have evolved through the years to become more powerful and more flexible. They are more efficient, and better able to meet the demands of new technologies. Today's website-building tools can help individuals, teams, and businesses. They help to build anything from a simple single page site to a large online store.
The current crop of new and improved website builders is very useful. It enables designers and businesses alike to create a website without a developer.
It can sometimes be a challenge to find the best product to fit your needs, especially if you're a beginner.
You can be relatively new to the game or you've been building websites for years. Either way, you'll find our recommendations helpful in your search for a website or page builder. It will be flexible, easy to use, efficient, and meets your needs.
Pin
Don't want to settle for anything less than the best website builder on the market? For WordPress users, it's Elementor. This WordPress website builder currently has more than 2 million active installs around the globe; it's especially popular in the UK, Europe, and the US.
The multiple reasons for Elementor's popularity can be summed up in one word: Efficiency. Everything is WYSIWYG, every design element is fully customizable; no coding needed.
Say goodbye to the headaches of working around a theme's limitations. Perhaps you've come close to fully transforming an idea into reality, but haven't quite been able to do so. That's history. Work your magic right from Elementor's design panel – here the options are endless. Design your own header & footer, create dynamic content, design a blog bit by bit with Blog Archive, integrate custom fields from WordPress, and more.
With Elementor, if you can imagine it, you can build it.
Pin
One of the advantages of an offline website builder is you can use it in any way you want to. You're not tied to any particular platform and you can host your site anywhere.
Mobirise is such a website-building tool. Since everything is drag and drop, it's an amazingly simple tool to work with. Your sites will be 100% mobile ready and super-fast. You can thank Google AMP/Bootstrap 4 framework for that.
No coding is required, and you're provided with plenty of design aids to work with, including more than 1,500 professionally-designed templates and blocks and a host of icons, fonts, and free images.
Mobirise is free for commercial and personal use, and over 1.5 million sites have already been created with this offline builder.
Pin
You can build any type of website with Portfoliobox (it's not theme-based) but this website builder really shows its stuff when used to create portfolio websites.
That's not surprising since it was created with photographers, artists, and other creative professionals in mind. It's so easy to work with than anyone can create an attractive, professional-looking website in a few short hours.
Three plans are available. The Free plan includes hosting of 10 pages, 10 products, and 30 images. It's ideal for small to medium-size portfolio sites, or to learn more about Portfoliobox prior to upgrading to the Pro plan with its hosting of an unlimited number of pages, products, and blog posts and 1,000 images. The Pro plan also includes a personalized domain, Google Analytics, and custom CSS/IS.
The Student Plan is free and features everything in the Pro plan except the domain. Portfoliobox's complete set of templates comes with each plan.
Pin
A modern and pleasing UI, full control of your design, state of the art elements and real-time frontend website building characterize the WP page builder. Everything is drag and drop, no developer or design skills are required, and WP Page Builder will be compatible with your themes.
Any page you create will be 100% responsive and mobile ready, and you can save your design blocks for future use.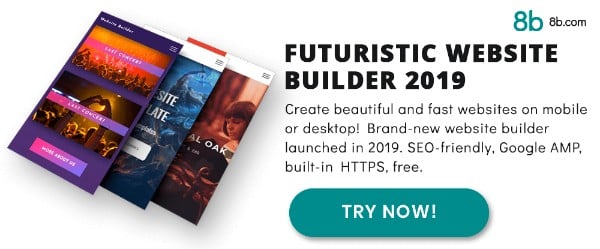 Pin
The 8b Website Builder is brand new, it features a slick, modern UI that's super simple to work with, and you can create your websites from your desktop or from any mobile device. The 8b builder is Google Amp-based so you can count on your site being super-fast and 100% mobile friendly.
Pin
Quix is the first responsive visual Joomla page builder and theme builder on the market. Use Quix to control every Joomla component, to design headers and footers, create forms and much more. Real-time SEO analysis is built into Quix, as is image optimization to ensure fast page ranking and loading.
All your work is done on the front end, and an excellent selection of fonts, icons, layouts, and design blocks is included. Save your time and money with Quix.
3 Key Tips for Building a Successful Website
1 – Make your site mobile responsive
Making your site responsive used to be just a recommendation before. But today, a majority of shoppers make purchases over their cellphones. Most of them use their smartphones while shopping to compare prices.
2 – Be sure to put your contact details in a place that is easy to find
People may want to contact you or your business. So, you need to put your contact information above the fold, or anywhere it can be easily located. If you have social media accounts, link to them in the header or footer for the same reason.
3 – Respect the need for fast page loading and a well-behaved website
A busy shopper will have little patience with a slow-loading site page. Or, a site that's buggy and does strange things, the wrong things, or does nothing at all. Most shoppers won't tolerate a slow loading page or a buggy website. They will seek out a competitor's site and may never return.
Make certain to keep your site updated and in tune so it runs smoothly. Videos and photos should be optimized for fast downloads. Make certain you're using a host that can adequately manage your site's bandwidth demands.
Conclusion
Finding just the right website builder that will meet all of your requirements can frequently be challenging. If only because there are so many to choose from. Finding the right one can be especially hard for a web designer who is just starting out. Novice designers may not always know what they should be looking for.
The purpose of this website building tools roundup is to help guide you in the right direction. We hope that it will make it much easier for you to find a top-quality website builder that meets all of your needs.