10 Best Mind Mapping Software Tools for Designers
Home » Articles »

September 07, 2020

Line25 is reader supported. At no cost to you an affiliate commission may be earned when a purchase is made through various links on our site. Learn more

When you want to represent ideas and concepts in a graphical or pictorial form, you use a mind map or mind mapping tools. Mind mapping tools allow a person to have visual thinking, which helps in organizing the information. These tools help you analyze, understand, recall, and work on new ideas and concepts. When you want to record your thoughts and concepts and form an association between them, use mind mapping tools. These ideas could be anything and could strike you out of nowhere. And such ideas could be anything, like logo design, building an application, or something else. This is where you will essentially require mind mapping tools.

This blog focuses on mind mapping tools focused on designers, which means that these tools are ideal for designers. Let us see each of them in detail.
Pin
Coggle is an online mind mapping web application available for free for the designers and professionals from other domains. It lets you create structures and mind maps while allowing you to make connections among them. You can also create a branching structure to organize the priority or the flow of the mind map and your thought process. The most significant benefit of this web application is, you can add your colleagues and friends to a group on this tool. They can also add the charts' ideas and thought processes to make them more comprehensive and understandable.
It also lets you track who else added what kind of details in the chart. Coggle also supports the addition of things like images, color specifications, and offers a feature to document history. It is also possible to revert to the point that would be a potential for error. You can take out the map in the form of PNG or PDF file formats, but since it is very pleasing to view the maps online on Coggle, people generally prefer the latter.
Pin
XMind comes in free and premium versions and is compatible with Windows, Mac, and Linux platforms. Since it is an open-source desktop application, it is easy and free to download and use it. If you opt for a premium version of the tool, you get a lot of benefits. Apart from assistance and the feature to import/export the files, there are other things too. One of the most significant parts of XMind is, it is perfectly compatible with MS Office tools. Hence it becomes easy to directly export the mind map in the MS Office applications where you can view, read, or make necessary changes. XMind also supports and deals with various types of media and also lets you use the option to include the Gantt chart in the mind map.
It also comes with ready to use templates which you can use while creating your mind map. You can make mind maps with different structures like a logic chart, tree chart, and more. XMind is known to organize the ideas systematically to make it articulate and informative. You can also present the information in the form of slides the way you do in the Microsoft PowerPoint presentation.
Pin
FreeMind is a free mind mapping software tool that works perfectly on Windows, Mac, Linux, and BeOS platforms. FreeMind is another open-source project that has been coded entirely in Java. Hence, it is practically executable on all the devices that use Java. FreeMind is popular because of its ability to streamline the ideas and organize them to make it more understandable and presentable. The cross-platform compatibility makes it one of the most widely used tools so far. It lets you add XML files to create and modify the tree structure of the mind map.
You can edit the structure by dragging and dropping files into the interface of the application. With a smart copy-paste tool, you can copy and paste HTML links, list the files, and textual format of the posted content. As it is made in Java and is compatible with various platforms, you can have data from different sources. You can also use JPEG, HTML, and PDF files with FreeMind, and it would still work correctly.
Pin
MindNode is made for Mac OS only, and hence it is a paid application. But there are various packages available to use the tool. But the application is simple yet elegant as well its functionalities. MindNode works perfectly on the iPad; hence you can work on the mind maps while moving around. The application is made so that it can be used on Apple mobiles and desktops. It also lets you export various formats, including the application FreeMind, that we talked about previously.
The user of MindNode can enter their thoughts, ideas, and concepts rapidly through a quick entry feature. He can jot down and thought that springs up and can organize it systematically later, to turn it into a brilliant concept. You don't have to write down the ideas in only textual form. It also allows using links, notes, images, and organized tasks. MindNode offers a feature called layout where you can organize the thoughts and ideas in a presentable and a visually pleasing form.
Pin
Bubbl.us is a free online web application based on Flash that enables you to create mind maps in a linear branching manner. You can save these mind maps online and export them to different file formats according to your requirement. Since it requires Flash player to work on mobile, it is not mobile compatible, which is the only drawback of this tool.
Since it is a tool available without any cost, you can use it for projects under a strict budget. The tool lets you write ideas, manage conferences, and share them with members. It enables you to discuss, collaborate, and develop ideas and concepts. Some users may think that since it is not a paid app, it would have fewer features. But the usability and the features it has to offer are countless and beneficial in a lot of ways. As Bubbl.us is a cloud-hosted tool, it can be accessed using the list of available browsers. Bubbl.us is made to suit small, medium, and enterprise business categories and verticals.
Pin
MindMeister is a premium web application that is compatible with work on smartphones as well as desktops. It offers a lot of features for both iOS and Android platforms. The subscription for MindMeister starts at $4.99 per month. It offers three types of subscription plans according to the feature set you need. The type of subscription plan you choose to take up decides what kind of file output support would be available. You can take up their free trial period to see if it suits and fits your requirements before you can subscribe to their paid plan.
MindMeister offers an online map editor that lets you create, share, and modify the browser's mind map. As it is a cloud-based web application, you don't have to get through the hassle of installing and maintaining the stand-alone application. You can also stylize the mind map with themes and different colors to make it look visually pleasing.
Pin
Mapul is similar to MindMeister, which is a browser-based web application. You can take up the subscription plan for $2.50 per month. Compared to others, Mapul pops out amongst all because it lets you draw a mind map in a hand-drawn format. The hand-drawn layout makes the mind maps more accessible to the users. Other mind mapping web applications offer a standard and a conservative approach, but Mapul is modern in its way. Mapul happens to be a modified and improved version of mapmyself.com.
You can access the platform using Silverlight plugins. If you want to see if Mapul suits your requirements, you can go to the mapmyself website and take a test drive. If you subscribe to its paid plan, you can access to unlimited maps and pictures. With Mapul, you get access to a lot of color options and background themes. You can export maps into JPG and SVG formats that you can share within your teams. When you can export mind maps into presentation format in MS Powerpoint, you can use it to run a presentation and collaborate with your team.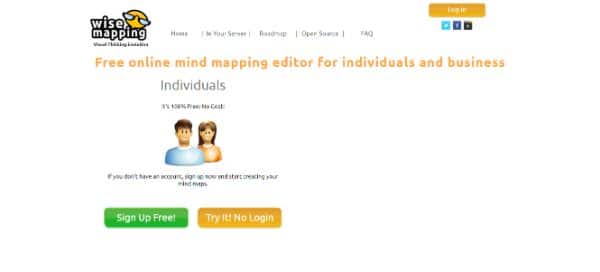 Pin
WiseMapping is another open-source web-based mind mapping tool that is based on HTML5. You can access this tool through its website or choose to install it on your web browser. This is the best option when you have to run closed intranets within the organization. Since it is an open-source-based on HTML5/SVG, your web developer can tweak its settings and tune it according to your needs. WiseMapping offers a lot of flexibility as it can work with all the modern browsers. Since it is open-source, there is no possibility of any leakage of your mind maps and other information.
It doesn't communicate your information to other applications hence making it a secure tool to use. The tool lets you use a drag and drop interface that enables you to work in the easiest way possible. You can move the objects around the interface and organize them in the way you deem fit. WiseMapping understands its users' privacy and offers a private workspace where they can create and maintain their mind maps. But if they choose to, they can share their mind maps with their team members. The shared maps can be allowed to view or modify according to the granted permissions.
Pin
Stormboard is a free mind mapping web-based application. The name Stormboard is another name of EdiStorm. It is an HTML5 based web application that offers a platform as well as device independence. The application relies heavily on collaboration and offers non-conservative output options like post-it notes. If you have a team of up to five members, you can use this tool for free. But if you are working with a team that has more than five members, you need to pay $5 or $10 per month according to the plan of your requirements.
The application lets all the team members write their ideas on the shared wall, accessed by other team members. This gives a space for a lot of brainstorming ideas to come through. To increase the creativity of the tool, it lets you post images for your reference as well as understanding. With the voting system, it is easy to see which idea is well-agreed for most team members. This can let you come up with the best idea that all the team members can agree upon collectively.
Pin
Wridea is a free web application for mind mapping that offers management of ideas and collaborative services. It has a different approach to the concept of the mind mapping tool. Wridea is not just a mind mapping tool strictly, yet it is a collection of various tools for you to come up with new concepts and fresh ideas. This tool offers a simple interface that you can access using browsers on your device. With a lot of collaboration and API integration, it becomes a flexible system to use. With unlimited idea pages and color schema, you can make mind maps that are visually appealing to the viewers. Wridea offers private/public options to let the users have a personal mind map. And the same user can allow others to access the mind map by inviting them and making the mind map public. This gives Wridea a lot of flexibility in its functionality.
Isn't it a great thing that now you can map your ideas to a computer system to keep in touch with the concept or not lose it again? These tools can be an excellent tool for designers when they are having leisure time, and an idea strikes them at that time. A mind mapping tool helps you when you want to make associations between concepts and ideas. Moreover, these associations can make you find better solutions to problems or come up with new yet practical concepts and ideas. This blog lets you explore the tools that designers and professionals from other fields can use and take advantage of them. You can always look up the tools here in this blog. Some of them are free, while others are paid. You can take up the tools that suit your requirement the best.