20 Best Prototyping and Testing Tools for UX Designers
Check out these outstanding UX prototyping and testing tools which will come in handy to any UX designer. These are very useful for creating professional web and app prototypes with interactive content, animations, and other features. These are highly functional tools can be used for various projects and the best thing is that there's no coding required.
You can use these UX prototyping tools to build stunning designs for desktop or mobile devices. Also, you can switch between various screens to make sure it will display perfectly on different screen sizes.
In this article, you'll discover useful prototyping and testing tools that will help you really improve your projects. It's always a good idea to see how your product behaves in different scenarios, before making it public. Moreover, testing tools are perfect for gathering constructive feedback. You can then use these UX tools to improve your design.
Neat, right?! Here they are!
This is an excellent prototyping tool which allows you to quickly build powerful designs. You can upload your own files, add transitions and animations, etc.
Silver comes in handy to effortlessly create live prototypes. You can build your personalized designs within your Sketch file. Here's how!
This is another great prototyping tool which you can use to turn your idea into something wonderful. You can do that in 4 simple steps: design, prototype, preview, and share.
You can use this platform to build any prototype for your projects. This includes desktop or mobile projects.
CanvasFlip -Free Prototyping and User Experience Testing Tool for iOS & Android Apps
This is a completely free prototyping and UX testing tool that you can use to build realistic prototypes in a few easy steps. This tool is perfect for both Android or iOS applications.
You can use your own sketches, mockups, wireframes, etc. to build prototypes. It's simple and fun. Here's how you can do that!
Use this professional tool to create powerful fully functional prototypes. You can also use it to launch usability tests and see how they behave in real time.
Here you have an amazing prototyping tool which you can use to put your idea to the test. Create your project and see how it behaves in various situations.
You can use this prototyping tools to make your idea happen. Turn them into interactive prototypes that you can showcase on any device and get feedback.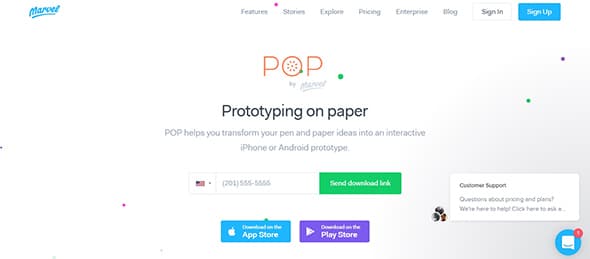 This is another great prototyping tool that you can use for various Android or iOS applications. You can easily collaborate with your team with stunning results.
Axure is a complex tool which includes various functions: prototypes, specs, diagrams. Also, this tool doesn't require any coding.
This is an amazing tool which you can use to create animated prototypes with fully functional features.
Follow the link below to see what this wonderful tool can do for your projects.
This tool comes in handy for various situations, for instance, to gather feedback for your landing pages. You simply need to add a landing page, and you'll get your results via email.
This is an excellent testing tool which you can use very easy and with great results. Follow this link and find out all about it.
This is a quick and accessible user testing tool which includes impressions from real users.
By using this testing tool you'll get access to professional software testers, get premium features, and more.
This tool includes multiple features that will surely come in handy to any designer. Follow the link below and see what's all about.
You can use this UX testing tool to see how users react to your products. You can perform this test easily and without any hassle.
Here you have an excellent UX research platform which you can use to gather constructive feedback.