Home » Articles »
Line25 is reader supported. At no cost to you a commission from sponsors may be earned when a purchase is made via links on the site. Learn more
New and different design and development tools are always readily available for use by you or your agency, as are practical tips and opportunities for skillset improvement through learning. The right combination of resources and tools can mean greater productivity, a better use of your time, more free time, and higher income.
The resources and tools you see here are among the best on the market; but to put them to their best use generally involves more than reading user manuals or keeping up with the latest design trends.
What you do for a living is knowledge-based. Continual education can be a major career-enhancing driver, as well as a means of meeting your short- and long-term goals and objectives. With that in mind, we will start things off by recommending two excellent learning sources.
The author, a young entrepreneur, shares his experiences with you. He relates the techniques he used to go from low pay to a six-figure income. You'll learn the importance of getting inside the head of your client, how to create a killer proposal, and a host of other tips and tricks.
This is an excellent read for anyone just starting out in freelancing.
Responsive Web Design with HTML5 and CSS3
This book not only gives you the ins and outs of learning how to use HTML5 and CSS3, but more importantly, it shows you the techniques you need to create fully responsive websites as opposed to creating one for mobile and one for larger displays. The author teaches you how to build websites that are "future-proof".
All the key approaches to create and maintain a modern responsive design are laid out, with each chapter serving as a stand-alone learning experience.
Freebies
Design Freebies by Visual Hierarchy
Freebies should not be overlooked, or viewed as low-quality items. Visual Hierarchy has assembled a selection of 200+ free, top quality items for you to pick and choose from.
Check out the variety of free fonts, business card templates, store mockups, and a host of other design aids and ideas. They're just waiting to be put to good use.
iOS 9 Complete UI PSDs for iPhone 6 and 6 Plus
This iOS 9 UI is good for iPhone5 as well. The iOS9 PSD has a host of new elements that you won't find in the previous version. 3D touch and spotlight search are but a couple of the new features, and the number of screens included in this kit should give you everything you need.
Prototyping Tools
Proto.io is a favorite with web and mobile app designers, ranging from freelancers, to digital agencies, to large companies such as ESPN and Disney. Proto.io is a prototyping and collaboration tool. With it, you can put together high-fidelity, interactive prototypes in no time, and without needing a single line of code.
Once your prototype is complete, or even while it is still in work, you can share your design with project stakeholders in real time. This is an ideal solution for mobile app developers, whether they are working with iOS, Android, or Windows.
PowerMockup is the ideal prototyping toolkit for PowerPoint users. Creating a mockup or wireframe involves nothing more that selecting shapes and icons from PowerMockup's library, and moving them over to a PowerPoint slide. Having done that, you can let PowerPoint's animation and slideshow features do the rest.
If you wish, you can add your own shapes to the library, and share them with others. If you're a PowerPoint user, download a free trial copy and give it a try.
Design to Code Services
Take any standard format design file, send it off to the PSDgator team, and they will convert it to hand-coded, pixel-perfect, W3C compliant HTML5/CSS3. Their specialties include mobile responsive design, PSD conversion to WordPress, PSD to newsletter, and eCommerce applications. PSDgator will also take care of whatever existing site re-slicing and recoding you may be in need of.
You can expect fast delivery at competitive prices, plus there are several discount packages available, along with 24/7 support. The green gator offers a free consultation and review of your project prior to coding.
If you need a reliable coding partner, PSD2HTML® will suit you best. It is the top choice for design, digital and marketing agencies. PSD2HTML® is a leading front-end development company with 11 years of experience and hundreds of thousands of successful projects. Besides, they treat agencies with a special level of service which includes being responsive to them and communicating effectively.
So what are you waiting for? Let PSD2HTML® leverage your team.
Ace-high markup and sleek JS effects are the main components of a bulletproof website.
And the guys from The Site Slinger understand this better than anybody else in the whole wild world. This results-driven team of pros can handle everything from PSD and Sketch to HTML, PSD to email, Bootstrap, to different CMS solutions such as WordPress, Magento, Joomla, Drupal, and Shopify.
All you need is a design to get started. Submit it along with the requirements, and The Site Slinger will take care of the rest. If you are ready to rock the web dev world, The Site Slinger site is just what you are looking for.
Multipurpose WordPress Themes
If popularity counted, Be Theme should be your choice. If size mattered, that would also be the case. Be Theme is the biggest WP them of all, it's easy to use, and it's packed with powerful features. What it's best known for however is its 210+ (and counting) pre-built websites that make building one awesome website after another a snap. Browse Be's selection of modern designs; you'll be impressed!
Introduce Cornerstone, most likely the most innovative front-end page builder to ever hit the market. Add the Stacks system, an outstanding set of designs, and as a result, you have ThemeForest's fastest-selling WP theme of all time, X Theme.
In addition, this popular theme comes with 20 premium plugins. These plugins are kept up to date, and can be instantly downloaded at any time. This, what may well be the ultimate theme, is well worth looking into.
eCommerce WordPress Themes
Shopkeeper is an excellent choice for building an online store. This theme was specifically created for use with the WooCommerce plugin, and it was designed with modern-day eCommerce functionality in mind.
It is also an ideal solution for anyone in need of an easy-to-use portfolio or blog-building tool. This pixel-perfect, fully-responsive theme has everything you need to build an online store and start selling.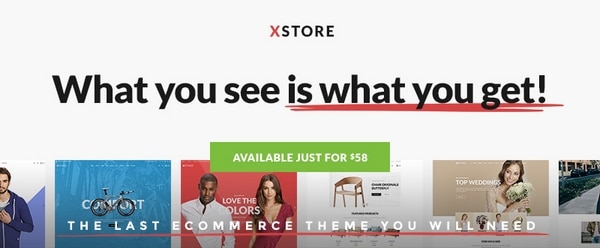 XStore is a new eCommerce theme with a selection of minimalist product page layouts that simply rocks. If you're looking for the ultimate in modern single product page designs, as well as stunning home page layouts, XStore is the right choice.
The many special effects available contribute much to the user experience, and the theme as a whole encourages the use of modern, minimalist designs. XStore's blog and portfolio options are two other areas in which this theme really delivers.
Website Builders and Platforms
Webydo is an all-in-one platform enabling designers to create pixel-perfect, responsive websites, while at the same time providing web hosting, project management capabilities and advanced business features. Key highlights include client billing, advanced SEO capabilities and White Label branding.
By choosing Webydo, you are buying into a streamlined web design process that will give you 100% creative control of your projects from the very beginning up until you hand over the site with Webydo's built-in CMS.
You can also expect excellent service from Webydo's "Customer Success" team. They are there to help you devise a business model that is designed to drive more business and generate more client referrals.
XPRS by IM Creator has soared in popularity since its launch. The new builder offers free, responsive, and ecommerce ready websites. Add apps, widgets, your own code, and use a pop-up builder to pop messages and collect emails based on users' behavior.
XPRS websites, since not built with a drag & drop interface, tend to rank much higher in search engines. IM Creator is one of the few website builders using their own platform to power their website.
If you're a web designer consider their white label solution and use XPRS under your own brand to build an unlimited amount of websites for just $350 per year. Get control over billing, clients, websites, features & support. Sign up for free.
WordPress Plugins
If you work with big data, and you are charged with the responsibility of presenting straightforward, easy-to-digest analyses of the data online, you will love what wpDataTables offers.
This will be especially true in those cases where you are working with huge amounts of data while under a tight deadline, or you've been given a moment's notice to present a table or a graph. This WordPress plugin, enables you to highlight, in different colors, key data categories or ranges. Data management suddenly became much easier.
Now in its 9th year of existence, the All in One SEO Pack is the most downloaded WordPress plugin, with nearly 30 million uses. Its multiple useful features include XML Sitemap support, Google Analytics support, support for CMS-style WordPress installations, SEO integration for eCommerce sites, and much more.
This plugin is free, and it works out of the box. A Pro version is available.
Stock Images
PhotoSpin Royalty Free Stock Images and Subscriptions
If having access to a huge selection of royalty-free stock images will help your projects to move ahead at a less hectic pace, and you require nothing less than high-resolution photos and graphics up to 17 inches long, and vector files, you'll like PhotoSpin's offerings. This stock image resource has millions of images in stock.
Everything is nicely organized and categorized to save you time. Subscribe now, and save 20% on annual subscriptions. Promo code: BAW20.
Stockfresh has been in business for a good long time; long enough to build an inventory or several million premium stock images. There are several subscription plans to choose from, so all you have to do is find the one that will best serve your needs.
The images are affordably priced, and of exceptional quality. It costs nothing to sign up, and by doing so, you can browse the various categories within Stockfresh's huge inventory.
Collaboration and Task Management
InVision is the world's leading product design platform. It gives designers and design teams the power to prototype, review, refine, and user test web and mobile products – all without a single line of code. InVision is used to drive product design processes at leading Fortune 500 companies, including such names as Disney, IBM, Walmart, Apple, Verizon, and General Motors
A free Enterprise trial is yours for the asking. Just check their website.
Are you or your project team in need of a better way to communicate and collaborate, and a better way to keep your projects under control? Azendoo is the ideal solution to your project management shortcomings. It helps design and creative teams organize their tasks, collaborate in real time, track progress, and share design documentation.
Azendoo makes it much easier for you and your team to finish your design projects on time.
UX and UI
If your current test methods aren't giving you the metrics you need to base decisions on, or if you feel user experience testing is just too much trouble, time-consuming, and expensive, Loop11 is the solution you've been looking for.
Using this UX testing tool is the fastest way to get actionable design feedback on your prototypes, wireframes, and websites. There's no longer a need to choose between big data and user playback. With Loop11 you have both! Sign up for free to see what Loop11 can do for you.
Google Content Experiments includes three key features, a list of UX experiments, an experiment set-up wizard, and an individual experiment reporting function. You can, for example, test which version of a landing page offers the greatest improvement in conversions, by testing up to 10 versions at a time.
This analytics tool can be used for prototypes as well as finished products. Best of all, it's free.
Other Useful Tools
Vivaldi lets you customize the web to your liking. This web browser adapts to you; not the other way around, as is the case with most browsers. This browser's Quick Commands feature will be especially appealing to keyboard users, the tab stacks and tiling feature makes it easy to organize your tabs the way you want them. Vivaldi offers everything you ever wanted in the way of organizing your browsing activities.
Do you like super-fast web design tools? Coolers is a real time saver, that's both easy and fun to use. Visit the website, click on the Start the Generator button, and you'll see how quickly selecting the precise color you want to work with can be.
You can adjust the analog scale to find the right color, or just type in the hex code if you already know it; and you can save your color for later use.
Ending thoughts
If you've been in the web design business for any time at all, you know that your tool kit is never quite full. There's always something you don't have, or a tool that you would like to replace with something better.
That's the purpose of this selection of resources and tools. Each item in this list has been selected to make your work easier, save you time, and increase your income or improve your agency's bottom line. Everything here is easy to use or to work with, and you'll find more than one tool or resource that is a purely delight to use or have access to.