Home » Articles »
Line25 is reader supported. At no cost to you a commission from sponsors may be earned when a purchase is made via links on the site. Learn more
Time tracking and sending invoices are two essential business management practices; yet both activities take time away from your regular work. Web professionals, especially those starting new freelancing careers, often struggle with these activities, because they have not been schooled in business management techniques.
Even small business owners find that task management, billing, submitting quotations, and the like, can at times take up an inordinate amount of time.
A solution in both cases, is to invest in a robust, simple to work with, task management app. There's no shortage of these software solutions on the market; some of which perform other business management tasks as well.
If you want a tool that can perform these functions for you, and you don't want to have to go back to school to learn how to use it, give one or more of these top 10 invoicing and time tracking apps a trial run.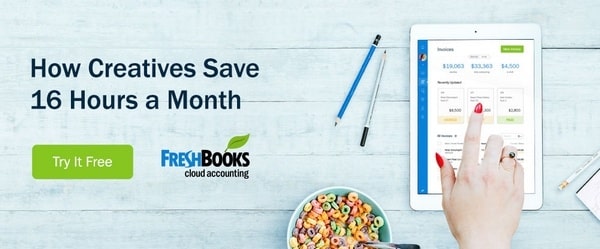 Yes, it is possible to save 16 or more hours a month, by investing in FreshBooks. This accounting and invoicing app was built especially for creatives and service-based small business owners; 10 million+ already use it! FreshBooks is cloud based, available on demand, and there's nothing for you to install
You don't have to be a numbers person to use this award-winning app. It's super-intuitive and easy to use. It will normally take you all of 30 seconds to send out a clean, professional-looking invoice. You can even incorporate your brand's logo and color scheme into your invoices.
With FreshBooks, you can receive payments online, instead of having to wait for a check in the mail; a feature your clients will love as much as you do. There are plenty of other cool features too, including the FreshBooks dashboard that gives you an up-to-date overview on how your business is doing.
You can also expect reward winning support. Your phone call will be answered promptly by a real live person; no menu, no elevator music.
Individual website designers and developers and teams love Timely, a time tracking app that not only tracks present tasks, but can take you back in time to refresh your memory on what you did yesterday, or a week ago Thursday. Timely's new feature, Memory, automatically tracks every file you work on, every website you visit, and every email you've sent via Gmail.
Memory also tracks what you've done in Trello, GitHub, Asana, Office 365/Outlook Calendar, and more; including the start and end times for each task you've performed, and the visits you've made. Everything is smartly organized in a timeline, which enables you to log your hours nearly twice as fast as you can with other time tracking tools.
Memory by Timely is the perfect way to see what you've accomplished, when you accomplished it, and how long it took. All that's necessary is to visit your timeline.
Futuramo Time Tracker is a free cloud-based time tracking app that provides an ideal task and time management solution for everyone from freelancers to large teams. Thanks to advanced statistics, you can track and analyze how you spend your time to improve productivity, avoid guesswork and making flawed estimates for forthcoming client projects.
With Futuramo Time Tracker, you can search for time tracking results by client, date range, and project. Some of the helpful features include manual time recording, offline tracking and an option to replay a chosen task. This app's overview board and custom timesheet views make it possible to keep taps on multiple projects.
          Timing is a native Mac time tracker. Everything about this app was designed to help you track time and projects quickly and efficiently. For example, instead of making you track time manually, Timing automatically tracks what you have been working on. It then categorizes your activities, and presents what you did, and when you did it, in an easy-to-follow timeline.
You can add new projects at any time. To assign time to them, simply drag and drop your activities onto the appropriate projects, letting Timing do the rest.
          Elorus is an online invoicing and billing app that has several features you won't often find in software falling within this category. There's the private client portal, which allows you to invite your clients to log into and review their transactions, download invoices, or make payments.
Elorus also automates your expense management processes, monitors your cash flow, and gives you an overview of your business's performance over a designated length of time. This app provides an ideal invoice and billing solution for freelancers and small to medium-size businesses.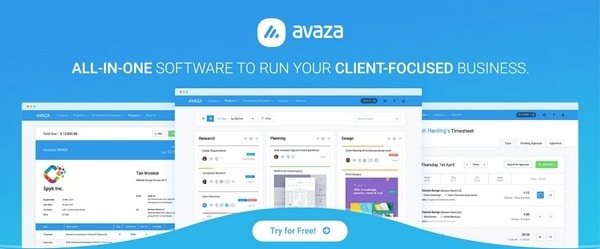 Avaza is an all-in-one online project management app that automates your time tracking and expense reporting activities, and enables you to create invoices in seconds. This powerful app also helps you manage your project tasks and files, and makes it easy for you to coordinate and collaborate tasks and issues with team members and clients.
Avaza's creators must have done something right, because it's currently being used by 15,000+ businesses worldwide. In addition, you can integrate Avaza with more than 500 popular apps, including Trello, Basecamp, Dropbox, MailChimp, and Slack.
ClickTime – Easy Online Timesheets
          ClickTime is a useful app that you can use to manage your project costs and track expenses to stay within budget, and thereby maximize your profitability. ClickTime's interactive dashboard helps you with your resource planning so you can better manage your billable vs. non-billable hours. You can customize this app's features to fit your business's unique time tracking requirements; which can be an essential step toward improving employee and team productivity.
          Paymo's advanced task management capabilities will help your team keep projects firmly under control from start to finish. It's so easy to plan, schedule, and track activities as well as work time.
This full-featured Project Management app has lots of cool features. Among them, we find app project templates. Also, the Visual Kanban Boards to help you eliminate bottlenecks, and its Gantt Charts are a treat. With Paymo, you can generate performance reports, issue invoices, and track expenses.
Free Invoice Generator by Hiveage comes in two flavors. The free version provides a fast and easy way to create PDF invoices. Just enter the details, including dates, line item links, and notes, and your invoice will be immediately delivered to your email address. You can also subscribe to Hiveage's more powerful account featuring online payments, subscription billing, and time and expense tracking.
If you find it a nightmare to bill your clients at month end, and you dread making late night phone calls asking staff to explain hours spent, Trigger can help. Trigger enables your team to track time, manage projects and invoice clients (direct to Xero) with one-click. You can also access management reports that help you stop over-servicing clients and stop losing money. Other features include a team schedule, calendar, timesheets and multiple integrations.
In Summary
If you need a time tracking app, several excellent ones are featured here. The same is true if it's invoice generating software you're looking for. In fact, you'll find a range or project management and business management solutions ready and waiting for you to examine up close or try out.
Whether you're a freelancer, web design/development team member, or a small business owner, there's something here for you.