Home » Articles »
Line25 is reader supported. At no cost to you a commission from sponsors may be earned when a purchase is made via links on the site. Learn more
If you are searching for new templates for your blog, this is the list you've been waiting for! Take a look at these high-quality, free Blogger templates that are guaranteed to offer great functionalities for your blog.
Blogging has an increasing popularity, especially now with content marketing taking over, so lots of new blogs appear each month. That is why the design of your blog is essential if your want to attract more people and stand out from the crowd. The templates from this article vary and are suitable for different types of niches. The themes can be used for news, magazines, health, sports, travel, food, fashion, portfolios, business, high-tech blogs and more.
Most of these free Blogger themes have responsive designs, which will make your blog fit perfectly on all types of devices. The themes have different styles and are easy to set up, no coding needed. Also, these free Blogger templates can be mostly used to setup blogs, but some of them can be easily adapted to online shops and even presentation websites for your company.
Here are 20 beautiful & free Blogger templates that will help you launch your blog right away!
Best Mag Blogger template is a 3D template which uses Portal websites, Gallery, Technology or Magazine blogs. This Blogger theme is fully SEO optimized. The layout is elegant, friendly and it has some great features for blogs.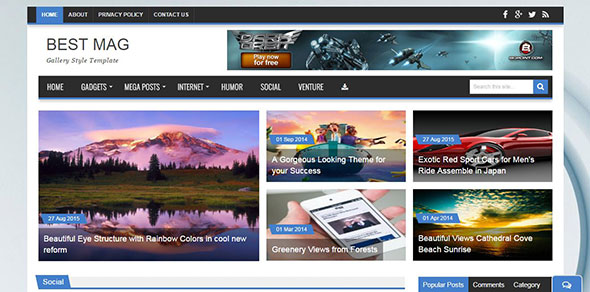 Astonish is a creative and modern Blogger template. It is completely responsive, in order to fit all types of display. This theme has a higher resolution and is fully optimized for all browsers.
MagtiMate is a clean and modern Blogger news/magazine template. It is fully responsive so that it fits any device. This theme has a minimalistic yet elegant design. MagtiMate Blogger template is best for news portals, magazines, newspapers, and travel websites.
Raintimes is a Blogger template with many advanced features that best suits news and magazines sites. This template is adaptable to your needs, with 7 shortcodes that help you install the template in no time.
 
StagoMag is completely responsive, it has a two columns Blogger layout and a four columns footer widget area. This Blogger template uses Google web fonts, mobile friendly navigation menus, related posts with thumbnails, a counter for social followers, social buttons, post share options, auto post summaries, font based icons and more.
 
Zippo is a Blogger template that has a template scheme in 12 different colors. This theme is user-friendly, every visitor can read the post they want. Take a look at this responsive Blogger template!
Technext is a magazine style Blogger template that has a lot of characteristics. This theme can be used for news, magazine, health, high-tech, fashion, travel, sports, business, and more. It is fully responsive and SEO optimized. Also, there is no coding experience needed.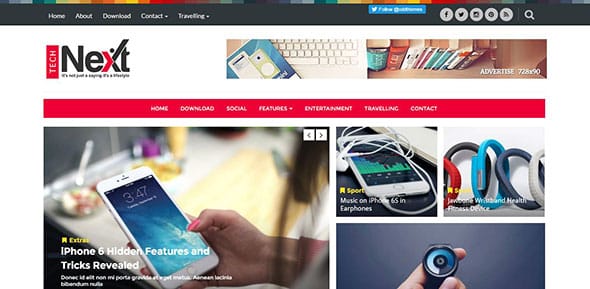 Blogstar is a clean and simple responsive template. This Blogger template is very fast to use and has a beautiful look which is ideal for blogs or magazines. Download this freebie and use it to create your personal blog in no time.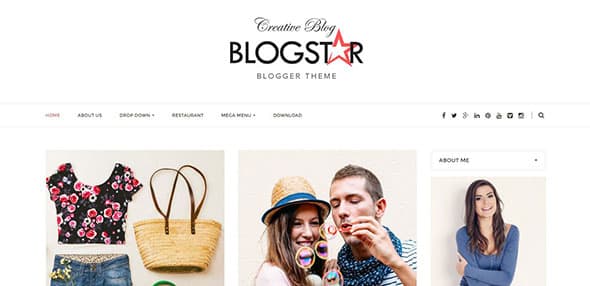 Celebro is a clean Blogger template designed for writers, journalists, and photographers. This freebie has lots of characteristics that are needed for a magazine based blog. This theme can be used for personal or business site and will keep your visitors entertained.
Cinema is a Blogger template that is great for any sort of cinema, movie promotion, theaters, blogs and movie communities. This theme has a banner section where you can display your ads and gain paid without changing your website design. It has a clean and modern look and it is perfect for video content.
CockTail is a nice Blogger theme  your needs and it runs great on any desktop or mobile devices. It has lots of built-in characteristics and it is compatible with almost all browsers. It is easy to customize and very easy to use. Also, it suits any type of business.
Fabulous is a responsive Blogger template that is user-friendly. It has a simple and clean look that suits a large number of areas. It is great for photographers and others who need portfolios to showcase their work
Flavour is a nice blog template with a minimalistic design. This theme is particularly created for personal bloggers but can be adapted to other types of blogs.
Jobs is a great template where you will find the quickest way to post a job. Adding a new a job can be as simple as writing a new post. This theme has an elegant design, it is SEO optimized and fully responsive.
LollyPop is a blog template with a neat design and flexible features. It is created for stylish bloggers and can be transformed into a professional magazine website. It uses the new CSS3, HTML5, jQuery, and other excellent features.
Max Blog is a responsive Blogger template with a beautiful design. It is a neat and professional news template that is exceptional for those who want to showcase their projects in a minimalistic and user-friendly style.
Pulse is a blog theme with a clean and modern magazine/blog theme. It is great for any fashion blogger, lifestyle expert, photographers or many other creative minds. It has awesome features like a sticky menu bar, featured post widget, recent post widgets, etc. Download this theme to get a gorgeous look for your blog.
Sora Style is a blog theme that has great SEO optimization. This template uses the newest technology like HTML5 & CSS3.It has a professional look and it is suitable for all types of blogs. Enjoy!
Toniq is a responsive blog template for anybody who wants to start a website. It has a clean and professional look and is great for newspapers, magazines, editorials, personal blogs, businesses, portfolios. etc.
Vanilia is a professional blog template for elegant blogs, portfolios, websites. It is 100% responsive, automatically adapting to any type of screen. It is user-friendly, it has an engaging color mixture and other great features.