Home » Articles »
Line25 is reader supported. At no cost to you a commission from sponsors may be earned when a purchase is made via links on the site. Learn more
CD/DVD mockups are essential for movies or albums cover designs, branding presentations or other similar types of artwork. These freebies are time-savers and they come with lots of beautiful features.
Using a CD/DVD mockup can be the best solution to showcase your graphics in a more realistic way, with just a few simple steps. Most of the mockups are created in Adobe Photoshop using smart layers. This makes them extremely easy to replace the smart object with your own design, change colors, shadows, etc.
There is a variety of free CD/DVD mockups you can download and customize. Take advantage of these freebies and use them to display your projects. The mockups from this article vary from simple and clean to very detailed with photorealistic. Add them to your design assets collection and use them to promote your work.
Take a look below at our hand-picked collection of 20 free CD/DVD mockups for you to download!
Digipack is a beautiful CD/DVD cover mockup created in Adobe Photoshop. It is a high-resolution mockup that uses smart objects and it is fully customizable.
Check out this PSD Xbox one disc case mockup! It comes in a beautiful green background and the shading gives it a more realistic look.
This mockup shows a nice perspective of a CD and CD case to give a better presentation for your design. The PSD file comes with a simple background and it is easily customizable.
This DVD case mockup is created in Adobe Photoshop from scratch. It is great to showcase your movie or music project. The top layer mimics a plastic case that gives the mockup a more realistic feel.
This CD cover mockup is designed in Adobe Photoshop with smart layers. This freebie has a clean and elegant design. It comes with a clean background and a beautiful blue shade. Check it out!
This Vinyl case mockup has a photorealistic look and it will be a great asset to your project. You can easily download and customize it to suit your design.
Take a look at this realistic looking DVD/CD cover mockup. The PSD file comes with two hi-res presentations of the same case. The details on this mockup are gorgeous and it all add up to a great presentation.
This DVD case mockup is a great asset to showcase and to promote your graphics. It uses some great textures and it is really easy to customize it for your design.
This is an awesome CD artwork mockup that can really be a nice asset for your project presentation. It was created in Adobe Photoshop and it is based on smart objects, so editing is very easy.  Download and enjoy!
This CD case mockup freebie can be a time-saver for your brand presentations. It is a photorealistic PSD mockup template with a clean design. Check it out!

This is a gorgeous free CD cover mockup created in Adobe Photoshop. It is easy to edit and to add your graphics. Both front sides of the CD and also the background are customizable so you can change colors, shading, etc.
This freebie comes with 3 DVD mockups with a nice, clean design. The templates are made in Adobe Photoshop, with smart layers that are easy to customize.
Check out this great group of paper CD cover mockups. Download this PSD file and just replace the smart objects with your own graphics. This freebie is great to present your movie, video, music, or other.
This PSD CD cover mockup is print ready and is fully customizable. You can easily change the layers to suit your own design and your work is done. Beautiful and easy to use!
This high-resolution CD case mockup is a PSD file with smart layers and is really easy to add your work. It comes with beautiful shades that give it an awesome 3d look. Add your design and enjoy!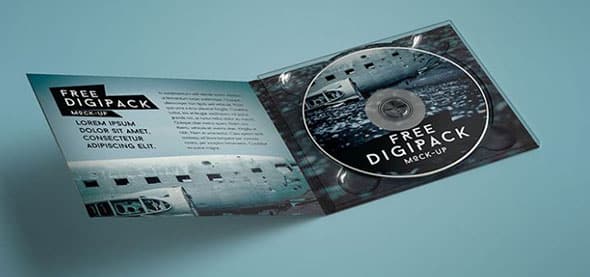 Here is a simple but very nice PSD DVD mockup. This freebie has a clean design with a few details all of which are fully customizable. The shading and the clean background give it an interesting look and make it a great asset for your projects.
Take a look at this gorgeous photorealistic CD and envelope mockup. The shadows, the details, and the colors give it a very realistic look that will definitely make your graphics stand out.
Here is a vinyl CD cover mockup with a clean and elegant look. This is file has the vinyl CD and the cover case separated so that you can use only one of them, or both. Check it out and add it to your design assets.
This is a great design of a DVD case mockup. It is created in Adobe Photoshop and has very beautiful colors and textures. The design of this freebie is very good, with great details for the case and a clean, simple background.
This slim CD case mockup is a nice freebie that will definitely add a nice look to your project. It is a PSD with smart layers that you can easily customize to fit your requirements. Enjoy!