20 Beautiful Wedding Website Templates & WordPress Themes
Home » Website Templates »

January 04, 2020

Line25 is reader supported. At no cost to you an affiliate commission may be earned when a purchase is made through various links on our site. Learn more

For every individual across the globe, their Wedding Day is extremely important. They value and cherish this day to the end of their lives. If you are working on creating a website for such a joyous celebration, you should ensure you have a beautiful, welcoming website that puts extra light on this beautiful and happy day. Keeping this in mind, you should check out our curated list of 20 beautiful wedding website templates and WordPress themes to draw inspiration from or to directly put them to use.

Following are 20 beautiful wedding website templates you can refer to for building your next wedding website:
Pin
As the name suggests, this WordPress template serves as a one-stop solution. It caters to all industries or subsets regarding the wedding. It comes with demos for specific segments of a wedding such as creating a site for the wedding day, wedding planner, wedding flowers, locations, and atelier also photographer. Each demo is designed to suit their respective segments, yet all the pages follow a similar soothing overall design language.
It provides you with a plethora of design options as per your needs and the type of business sector.
Pin
Wedding is a clean, modern Wordpress website template that can be used as one page or multi-page wedding theme. There are multiple demos, all with different features to have an array of choices to best suit your interests. There are several animations uses that the client gets to choose to use wherever they want to.
This theme can work well for depicting a romantic story or journey for wedding events, parties, and scheduling. The user can also create RSVP forms.
Pin
Wedding Day comes with two beautiful and elegant alternatives for the homepage. One comes with a gentle circular slider and an elegant full-width slider. The design is purpose-oriented, and it is best suitable for weddings and wedding planners' website.
There is a vast collection of pre-designed pages that can be used for many purposes such as wedding announcements, planning, countdown, photography, invitations, also the feature to add the wedding location on the map for easy navigation and accessibility.

The Aisle is a beautiful template for a wedding planner. With a vast collection of pre-designed home pages and inner pages as well it comes as an inclusive template and a one-stop solution for all wedding planners. The various inner pages available are wedding announcements, gallery pages, RSVP pages, and much more.
The theme comes with attractive customization options like drag and drop, woocommerce support, option to change colours and typography.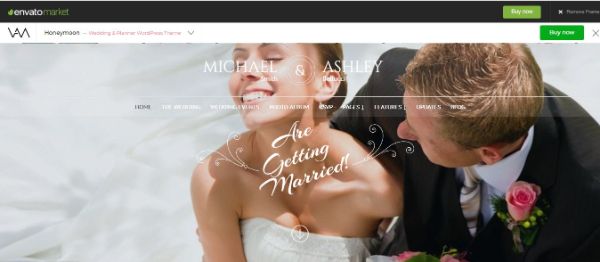 Pin
A beautiful template made for wedding planners. With purpose oriented design, this is one of the best templates to use if you do not know the program as this template requires zero programming skills. There is an excellent collection of pre-designed pages that are ready to use and also customizable to a great extent. There are pages like wedding announcements, countdown, gallery pages, RSVP, and many more.
Pin
This template is perfect for website planners. It has an elegant design that is packed with many templates. It is a highly customizable template, which requires no coding knowledge to operate and has many features like guestbook functionality, RSVP contact forms, and full-screen sliders with parallax effect, support for image/video sliders and much more.
Pin
Fleur is the optimal choice for any wedding planner.   It has a monochromatic colour theory with a little hint of close to vintage shade colours. This gives it a powerful visual appeal as it is different from most of the templates available. There is a high scope of customization as there are 13 homepage examples to choose from and a pre-designed collection of inner pages.
The template comes with 7 astonishing font sets to choose from, integration of twitter slider, and tons of small nifty animations throughout the page that allows for seamless user experience.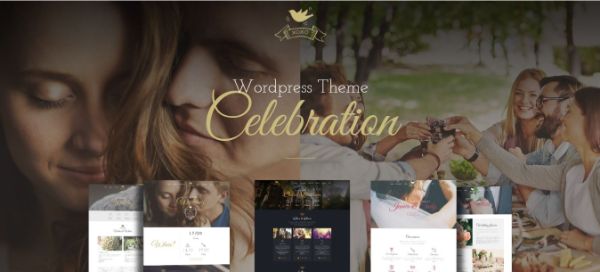 Pin
This theme stands out from the rest with one straightforward yet essential feature that it is a multilingual template which means it supports the content to be translated into multiple languages which is a great feature to have. The design is responsive and elegant, with beautiful image sliders which has support for small captions as well as drags and navigate, which accounts for excellent user experience.
There's support for music in the theme which allows the user to include a pleasant melody, which the visitors can listen to as they navigate through the website.
Pin
This template has a responsive layout which makes it look appealing on all devices. It has a minimal approach to designing and with the help of simple colour schemes, and custom web fonts, it gives an exquisite yet simple feel.
There are a decent amount of animations and transitions, which can be used on the entire website or dedicated spaces. Navigation is made simple by placing the essential breadcrumbs at the bottom right of the page as well.

This template is elegant and beautifully designed. With quick responsiveness, it follows a simple home page layout, where the breadcrumbs are placed on the left side of the page vertically and act as an index to navigate through the page. The smooth scrolling on the template provides for excellent user experience and ease of navigating through the website.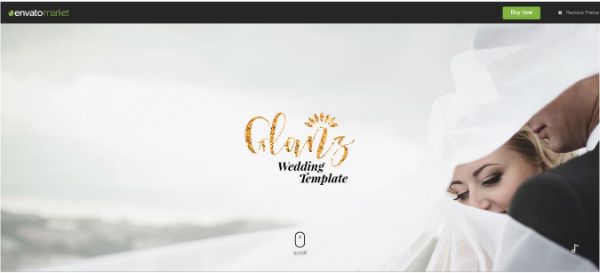 Pin
Glanz is a gorgeous single page site wedding template. It has a clean, flat and modern design. It comes with various options for design to choose from, each of which is unique in their way and visually appealing. All the given options are retina-ready, fully responsive, and have the feature to display unlimited pictures and slideshows. Each theme comes with a counter and an RSVP form.
The animation and visual effects use adds on to the richness of the user experience, and the use of creative typography also adds to the aesthetic value of this template.
Pin
Aimer is a fantastic wedding template for having a wedding countdown or creating a website for capturing and sharing meaningful moments. The design is exquisite, with the use of some fantastic typography and beautiful full-page banner images. The homepage includes the name of the bride and the groom. It has a  beautifully designed countdown in a way that it suits the aesthetics of the template.
For gallery you get two options in which you can view the images, both providing great layouts and nifty animations on scrolling mouse over them.  Each breadcrumb has minimum and compelling content with not much clutter which gives a clean and neat look to the template.

Vintage is a great responsive wedding template that comes with the flexibility of a fluid grid system that allows it to adjust to any environment, i.e., mobile, tablets, desktop. There is a great extent of freedom when it comes to customizing, as there are 10-page templates available, and 12 widget areas. This makes vintage the perfect website template if you have much content to accommodate.
The theme is visually true to its name; it provides a vintage feel which looks elegant and impressive.  It is packed with useful widgets like the countdown timer, nicely placed CTAs and a beautiful photo album.
Pin
GeekLove is a beautiful, clean, and minimalistic template. It is retina ready and looks visually appealing. It has an elegant design and beautiful features.  The main page comes with an image carousel and a small snippet about both the groom and the bride right underneath it.
There is a beautiful countdown widget with CTAs to go to the main ceremony and wedding party page. Navigating through this template is very user-friendly as at the end of each webpage it provides a button to move to the next page. The image gallery is beautiful, and the content layout is also easy on the eyes to follow through.
Pin
This website template is built for couples who want to build their wedding website. The design language of Wedding bells is responsive and adaptable which adjusts to all devices like tablets, desktops, mobiles.
The template layout has custom made pages for important segments like RSVP, Photo gallery, about the bridesmaid and the groomsmen's, the wedding location, and countdowns to the date of the event. You can even edit the overall colour theme of the page from the predefined range of beautiful colours.
Pin
Wedding event has a clean and elegant design for engagement, wedding, and other event purposes. The website looks clean, fashionable, and beautiful. The entire page has a full-size background image with casting over it that makes for a great design. The colour schematic is pleasing to the eyes, and it comes with multiple options for each web page and essential features like timelines that help show the journey of the couple to the visitors.
It also comes with some great icon packs that one can use for their website as per their requirements and 9 different colour schemes.
Pin
Union has a stylish minimalistic design approach. There are multiple options available for each section for the page, to best suit your style. The RSVP Forms are well built which requires the visitors or attendees of the wedding to talk about their meal preference, song requests, and all that they need which comes to the user in an email format.
It is easy to customize with variant page builder which cuts down on time taken to develop the enter site by a vast amount as well. Every effect can be manipulated, tested, and finalized in a click of a button.
Pin
One Love is a beautiful wedding template that serves many purposes. There are over 22 homepage designs included for different categories like personal wedding, wedding anniversaries, wedding planner, wedding planning agencies, blog, and anything to do with the wedding industry. The animations used on scrolling and moving the mouse of images are neat and add to the richness of the user experience while browsing these templates.
It has all the necessary widgets like an RSVP form, slideshows, countdown, and line timeline and photo gallery. It is easy to customize themes by changing the colors of the individual elements, using different fonts from 500+ Google web fonts.
Pin
PH stands for Phillip Hega, and it is a beautiful wedding template catered to serve as a personal portfolio for wedding photographers and agencies.  It has a neat and elegant design, with seamless integration of Instagram to divert traffic from the website to the photographer's Instagram handle.  The template allows high customization such as creating your typography logo, choosing the layouts of your portfolio. Also, there is an option to choose from 5 pre-designed gallery layouts.  One very important feature in this template is content security that disables people to right-click on images and text to prevent them from saving and downloading that image or stealing it.
Pin
Lilac is a beautiful template designed to cater to the needs of couples who wish to design their wedding website. It comes with unique sections and features such as event timeline, wedding countdown, location access, and a beautiful gallery. There's a seamless integration of Instagram, Twitter, and blogs for a holistic approach to spreading the word.
The template is very responsive and retina ready, which makes it look great on all devices such as desktops, mobiles, and tablets.
Wedding is an important chapter of anyone's life. Hence it is essential to keep in mind and make efforts towards delivering the best possible website to enhance and glorify their special day. Keeping this in mind, we have reached the end of our list of 20 beautiful wedding website templates you can look and refer to while designing your next wedding website.