Home » Articles »
Line25 is reader supported. At no cost to you a commission from sponsors may be earned when a purchase is made via links on the site. Learn more
Today's web design showcase features 25 cool websites from the apparel industry that all boast modern creative designs. Expect to find large photography, edgy designs, and unusual layouts!
We've noticed a lot of apparel companies being featured in web design galleries recently, which makes sense because these small indie companies are often run by creative designers, illustrators, and artists. They might be small companies compared to the mainstream high street stores, but the character of their online presence really makes them stand out.
These fashion sites have creative designs with unique features that will definitely get your attention. Also, you'll see a lot of pop up windows, with promotions or various information, all meant to increase the subscribers. Moreover, all of them include professional shops, with user-friendly features, which you can easily use to buy your desired products without any issues.
Here they are!
This is a stunning website with a professional look and neat features. It includes a store for luxury sneakers and shoes and an amazing design overall.
You can quickly get your visitors attention by showcasing a big message. This is a great example which includes a big sales message and a bright eye-catching background color.
A full-screen layout with a high-quality image can definitely make a statement. Also, the large heading and the shop button are displayed in a visible manner to make it more accessible.
This website has a simple design with a high-quality image, big logo design, grid items, and a stunning parallax effect between each section.
Sometimes, less is better! This is a great example of an amazing website design which starts with a simple black & white landing page. From here, you can choose your point of interest, choosing between the blog, the origin story, or the roll call.
This website includes a shop for leather items, shoes, bags, etc. The layout is fully responsive and it will adapt its size to perfectly fit any screen size.
From the first seconds, you are greeted by a pop-up window which gives you the opportunity to subscribe. The website has a fairly simple design with a white background on which each item is displayed in a clear field. The content is well-organized and everything is within reach. The designer used subtle animations and a creative loader which resembles the wave movement.
At first sight, this website seems to have a black & white design. However, when you hover over the images, they are brought to life, with the full-color mode.
This website was created specifically for sportswear for men, women, and children. The big images with engaging messages such as sale, or last call, peak the curiosity of the visitor, determining them to navigate further.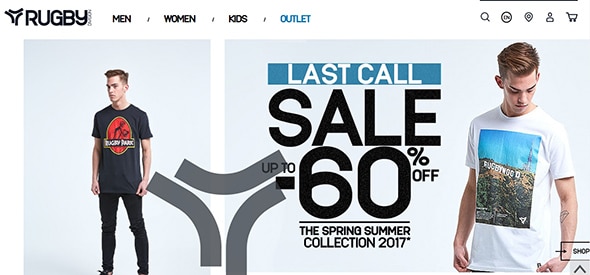 This website has a professional design with many neat features. These include parallax effect, beautiful typefaces, a magnifier which allows you to zoom in on any image to see more details, etc.
Full-screen images with a high-quality resolution are always a great idea to keep your users engaged. Also, the website has a fully responsive layout that will fit any screen size from any device you might be using.
Parallax effect, outstanding video backgrounds, big headings with engaging messages, these can all be found in this website's design. Big Carter can be used to create outstanding online stores which will keep your users interested.
This stunning online shop includes a full-screen t-shirt gallery which is well organized into a grid layout. Moreover, when hovered over, each item has a yellow overlay animated shape which also includes a title and a small description.
This is another gorgeous website design which includes many neat features that will keep your users engaged. The design is 100% responsive, making it display flawlessly on any device.
Eye-catching video background, fixed header design, neat animation effects, well-organized content, etc. All these can be found in this outstanding website design which was created to showcase various items such as backpacks, totes, and various accessories.
An eye-catching background image and a large title with an engaging message are all that you need to get your users interested in what you have to offer. Then, the usability, the overall design and the products that you offer make the difference between a simple visitor and a future client.
This sneaker shop includes neat features such as a fully responsive layout, high-quality images, beautiful fonts, animation effects, a creatively animated shopping cart icon, and more.
This website uses neon colors to get the attention of the users and to get the message across. The design also features a full-screen layout with high-quality images and a simple but effective menu design.
Check out this outstanding website design which includes a fully functional layout with an impressive design. This website was created to promote various t-shirts for men and women. Here's the full design!
This outstanding website has an user-friendly layout which includes a fixed header with a reachable menu, a well-organized layout with concise information, and more.
Myla is an outstanding website which was created as an online shop for luxury lingerie and nightwear. The website's design includes multiple sales, discounts, and other similar messages, to keep the users engaged.
This is another wonderful online store which includes multiple articles such as dresses, skirts, tops, etc. The layout has a well-organized design with neat features and a professional look.
This website showcases lots of designer clothing & accessories which were created for both men and women. You can create an account and keep track of your previous orders, save favorite items, and more.
Here's another example of a full-screen layout which covers all the space in your browser. Although it's a packed design with lots of elements, there's an order which keeps everything in place and easy to find.
Urban originals showcase handbags, clutches, wallets, etc. in a professional manner. The website has a fully responsive design which makes it accessible from any device.
Which of these apparel industry designs is your favorite, and why?