Home » WordPress Themes »
Line25 is reader supported. At no cost to you a commission from sponsors may be earned when a purchase is made via links on the site. Learn more
As a website designer, you have to be ready to create websites of any niche. Not always, a single web designer can know all sectors well. Building a theme website itself can be very difficult. The visualization needs to be as warming and comforting as possible. It has to feel safe and welcoming. Many different segments can fall under a WordPress theme that is geared towards children. Some of them are websites for babysitters, schools, art and craft classes, training centers and education-related websites. Hence, if you use a WordPress Theme that has a child-oriented design and functionality for your website, you'd have a basic framework of WordPress themes that are specifically made for children.
Moreover, it can also be a kids clothing store, healthcare or a daycare website. A critical aspect of creating a website for a services for children is to make it as genuine as possible. This can often be challenging.
Below are 20 WordPress Themes that you could greatly benefit from using when you are building a website that either offers products or services for children:
Miuizin is a Children-Oriented WordPress Theme that specializes in kids' apparel. Since it is an apparel website, it has the powerful WooCommerce plugin. WooCommerce eases the process of setting up an online store significantly. It has an Elementor page builder that allows the user to design the website without having to write code. This eliminates the need for experience in website designing or coding. As a result, even people who are initiating in designing can easily make their first website with Miuzin.
The theme comes with nifty features such as footer styles, blog pages and smooth transitions. Moreover, it has a parallax effect and layout customization options. There is support for all devices, cross-browser performance and retina screens. It is also ready for many powerful plugins.

Tabula is an excellent Children-Oriented WordPress Theme. It specializes in creating nifty first school experience websites. There are three demos and twelve home page variants to choose from. Since it has so many variants, you can mix-match different layouts and use the theme as it comes. However, if you wish to fine-tune and personalize further, it allows you to customize to a significant extent. The theme looks professional and appealing.
Tabula has all modern design trends and guidelines, making sure the user gets a smooth user experience. It is entirely mobile friendly and has support for cross-browser compatibility. The website loads fast and is retina ready. It has animations like parallax effects, countdown timer, Children-Oriented WordPress Theme and smooth transitions.
Bebio is an excellent Children-Oriented WordPress Theme focused on kindergartens and baby care services. The theme comes with all required inner pages and sample content for such services. It helps a designer create a website without wasting any time. Simply rearrange the elements available in the manner you like, and you are set. The theme comes with the Elementor Page Builder that eases the process even more. You need not have any knowledge for coding to customize this theme. Bebio also has capabilities of acting as an eCommerce store with five shop pages. There are many transition effects, parallax background effect, blog pages and optimization for SEO.

Pappory is a nifty, trendy and modern Children-Oriented WordPress Theme. It is built especially for being a kindergarten website. The theme has all the necessary elements for a kindergarten website. It makes use of all modern rules and regulations to ensure smooth user experience. The designing process is also user-friendly, that makes building and maintaining the website easy.
The theme has five creative home page variants. It is easy to install and implement. The theme has WPBakery page builder that allows visual customization of the theme. You need not have any coding skills or expertise to build with this theme.
Juno has a colorful eCommerce theme design. It is ideal for selling toys and gifts, baby clothing, kids fashion and any accessories store. The framework is strong and allows the user to have a highly functional website. It is fully responsive; hence can be viewed on any device with ease.  Many predesigned pages are inclusive of this theme. You have dedicated pages for main services, gallery, and news and store range. There is support for some premium plugins like Essential Grid and Visual Composer. Juno also supports WooCommerce, which makes setting up a store very easy.
Kids Care, as the name suggests a daycare Children-Oriented WordPress Theme. However, it can also be used for healthcare, education, training, toy stores and other such purposes. The theme comes with four skins. There is an endless possibility for customizing the header. Not only can you put your logo on this theme, but you can also place it where you like. The user panel is also highly customizable. The theme has three portfolio styles: grid, masonry and classic. For these three styles, there are fifteen variants available. Even for portfolio post, you can choose between full screen and standard.
BamBoo is a Children-Oriented WordPress Theme catered towards child care websites. It is suitable for nannies, professional nurses, daycare, babysitters, mom blogs and even educational purposes. The theme has the capability for WooCommerce and hence setting up a store with this theme is also super easy. It comes with premium plugins like Essential Grids, Revolution Slider, Visual Composer and PO Composer. Using these plugins enhances the website and makes customization easier. The theme is both SEO and Retina ready.
Little Birdes is an ideal Children-Oriented WordPress Theme for any website requirement regarding children. From daycares to preschools, kindergartens, craft school, education and nurseries, this theme can handle it all. It is a multipurpose theme. The theme comes with three homepage layouts. For each layout, there is a Revolution Slider plugin. Each layout also has a special space to showcase achievements and skills.
Little Birdies also has support for Visual Composer that allows the user to create unlimited page layouts.  It has a mobile-friendly responsive design, many blog variations and a wide range of colors to choose from. The theme has predesigned essential pages like a gallery, news, main services. The theme is retina ready and compatible with some premium plugins.

White Rabbit is a Children-Oriented WordPress Theme that can be used for kids related eCommerce websites. There are predesigned pages that highlight the main services, gallery, news and store range. The theme is highly responsive and retina ready,  which makes it optimized for all screens and devices. There are premium plugins build in like Visual Composer and Essential Grids. Since it's an eCommerce WordPress website, it also has support for WooCommerce.
Kiddo Turf is a Children-Oriented WordPress Theme for a daycare centre and kindergarten websites. This theme is designed beautifully to make an impression on the visitor's mind. It is responsive that allows it to be optimized for various devices and screens. There are one slider and cool HTML 5 animations. There are many unique illustrations to make use of as well.
Kids Play has a joyful and colorful design aesthetic. It is best suited for any kid-related website. From schools, parties, kindergartens, craft and toddler day centres this site has potential to host any service. The theme is made on Unyson framework and has support for great plugins like Visual page builder that allows the user to drag and drop elements in a few minutes. The typography used is also a hand-lettered font that makes it more genuine and relatable to a kid's website. There are hand-drawn icons that complement the theme's aesthetics and make the website more authentic.
Kid's World is a great Children-Oriented WordPress Theme that is colorful and responsive. There are nine home page layouts to choose from. This eases making a unique website that stands out from the crowd. There are many hand-crafted elements all over the site that allows easy customization and flexibility to the user. It also has dedicated shop pages with many attractive variants. There are twelve header types and social integration.  There are more than 10 demos that are all vibrant and energetic.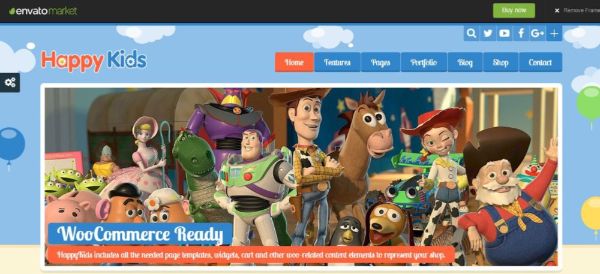 Happy Kids is a clean and simple Children-Oriented WordPress Theme. It is catered to kindergartens, preschools, daycare and other such sectors. It is an HTML5, and CSS3-built website. There many unlimited color options and nine appealing background patterns.  There are relevant and helpful sections like Recent Projects, Posts and more. The entire design approach is very pastel, and the website has subtle yet effective animations. The layout is not very structured and that works in benefit to the child based theme look.  There is also a nifty calendar, twitter plugin at the bottom of the page.
Kid's Planet is a Children-Oriented WordPress Theme that has a colorful and bright layout. It can be used for preschool, daycare centres, childcare, children art and craft school, education and training centers. There are also various other purposes this theme can solve. It comes with three homepage layouts. There is a Revolution Slider and a custom area for highlighting your skills.  The website is highly responsive and has unlimited color options to choose from. It also has compatibility for WooCommerce.
Kindergarten is a great Children-Oriented WordPress Theme. The theme is multipurpose and has many cool features such as blog styles, multiple headers, beautiful sliders like Revolution, Royal and Flex. It also has a content manager that allows the user to arrange the content as per their convenience and liking.  The customization panel can be tested in the demo itself, where you can tweak the menu to be line or block. Moreover, the body can be wide or boxed. You can also tweak the background color or add a background image by clicking a single button.
Littledino is a Children-Oriented WordPress Theme that is adorable and cute. The website works best for preschool activities, daycare and babysitting. There are four spectacular home pages, twenty inner layouts and fifteen blog pages. This theme is loaded with options that make it easy to find a unique style for the user's website. There are over thirty custom elements. This allows you to make an appealing online presence in no time. There is no need to have any prior experience with coding to customize this theme. It has a drag and drop page building tool.
Tedious is a colorful, fresh and responsive Children-Oriented WordPress Theme. It is useful for child care centres, kindergartens and daycare facilities.  There are many features such as Elementor Page Builder, custom shortcuts, Book Appointments and much more. The typography is apt for children's website with rounded edges and smooth texture. It has some beautiful inner pages. There are many font options as this theme utilizes Google Fonts and Font Squirrel both. Tediss also has a customizable Google Map and is translation ready.
Lighthouse is a gorgeous Children-Oriented WordPress Theme. It is optimized for mobile devices and adjusts for all screens. There is also an option for selling your products or services. There is also support for accepting donations. It is compatible with Slider Revolution, Events Calendar and Contact Form 7. The theme has a majority of yellow color in its design, but it still feels subtle and not overwhelming.
Hayden is an appealing, colorful theme for kids fashion apparel. The theme is WooCommerce ready and is tailored for children's fashion. It comes with a variety of eCommerce options to help you generate sales. Hayden empowers users to create a great first impression on visitors that lead to higher chances of conversion. It comes with three home page layouts and many additional inner pages.
Melokids is a great Children-Oriented WordPress Theme for a child care program. It is easy to navigate, design, and stay updated with the latest version. It has a clean, responsive and elegant design. The attention to details on this theme can make it stand out from the competition. It comes with WPBakery page builder, and this helps for adding extra layouts if needed. It has a very minimal and modern design approach and uses much whitespace. There's support for setting up your store as well.
These are the 20 Children-Oriented WordPress Themes You Can Use today for your next Children-Oriented WordPress Theme website.