Home » WordPress Themes »
Line25 is reader supported. At no cost to you a commission from sponsors may be earned when a purchase is made via links on the site. Learn more
Some time ago, a business could be a success if its website was attractive and engaging. That's no longer the case.
Attractiveness is still important, and content is still king. Such things as front-page hero images and well-structured layouts still matter.
What's different, is the advent of mobile devices. In fact, more than half of today's online shoppers use these devices.
If a shopper visits a website that is not responsive, that shopper is very likely to quickly go elsewhere. The same is the case when the content does not display correctly, or buttons are misplaced.
Responsiveness is not only important. It is mandatory if an online shop or a business's online presence is to be successful.
These 10 top WordPress themes have all the top-notch features and tools. They will help you to build a website any business will be grateful to own.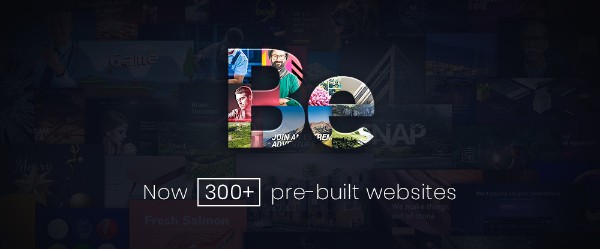 We'll start with Be Theme, the biggest of all the WordPress themes, a ThemeForest top 5 best-seller, and a premium multipurpose theme in all respects. Be Theme has a host of powerful website-building features, the most notable being its 300+ pre-built websites.
These customizable, responsive pre-built websites cover the commonplace business niches, and a host of more obscure niches as well. Web designers generally find the right template for a business client in a matter of minutes, rather than hours, and can install it with a single click.
Be Theme is easy to work with. The page-building Muffin Builder, in combination with the Options Panel, does most of the heavy lifting. If the needed content is close at hand, it's often possible to get a website up and running in 4 hours or less.
Given the multiplicity of readily available design elements, design options, and shortcodes, web designers need not worry about coding. It's simply not required.
Another multipurpose theme you'll want to consider is Kalium, a creative theme designed by professionals for professionals. Kalium is an excellent choice if your projects involve fully responsive online shops, blogs, portfolios, or websites for creative agencies.
Inside the package, you'll find a rich assortment of layouts, demo slides, shortcodes, sliders, and other design elements to get you on your way. This highly-recommended WordPress theme has been the recipient of several best-in-industry awards, and currently enjoys ThemeForest's highest rating.
Kalium is responsive, multilingual, WPML compatible, and RTL-ready, and you can take full advantage of its web-building capabilities without any need for coding on your part. Of particular interest to small business owners and clients will be the collections of premium plugins and multiple shop layouts.
Pro is a ready-made solution for those who prefer to take a logical, building-block or modular approach to their web design and website-building activities. Pro's center of attention revolves around three interconnected building blocks.
The Header Builder enables you to design virtually any type of header you can imagine, from the simplest and most straightforward formats, to those that are complex, wild, and wonderful. The Footer Builder is similar, in that it allows you to demonstrate that footers can be anything but boring.
The Content Builder's drag and drop feature makes page-building a snap. What many designers like most about the Content Builder are the optimized workflow features, which are genuine time savers and productivity boosters.
An added attraction: If you wish, you can work with Pro from your browser, and you don't need to install a special app to do so.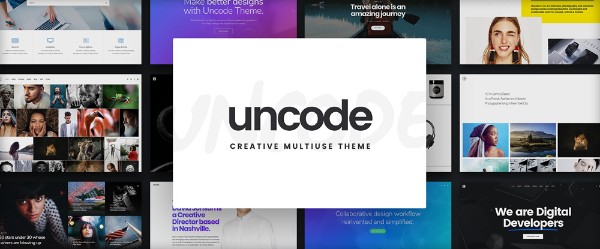 When a WordPress theme has everything you need, it's obviously worthy of careful consideration. Uncode is a pixel-perfect WordPress theme that has what it takes to build responsive, attention-getting websites.
This theme's strongest point in fact may be the high-quality blogs and portfolios it enables you to put together. It's centered mobile menu capability is especially useful for those wanting to attract the mobile crowd. Uncode is exceedingly easy to use and requires no coding.
With its impressive array of 70+ multipurpose design concepts, flexible page layouts, 200 visually stunning demo pages, and a plethora of design elements, TheGem will help you create impressive, top performance websites in mere minutes.
Thanks to widgets, shortcodes, and the ability to easily create combinations of elements from whichever concepts, layouts or demos you pick, you will not have to write any code. With TheGem, you will be able to spend your time doing what you do best – creating and designing.
Looking for a great news, blog, and magazine-oriented theme? Newspaper, developed by tagDiv, a Power Elite Envato Author, comes with 48+ customizable demos that feature the most popular topics and niches these types of websites generally address.
The layouts are retina ready and responsive, and other strong features include the handcrafted tagDiv Composer – a page builder for the frontend, 8 category templates, predefined blocks, header & footer styles, a built-in translation panel, widgets, ad spots, or shortcodes.
Houzez is a specialty WordPress theme that not only contains all the features a realtor or real estate agency would expect in a website, but it is highly customizable as well. If you're operating a realty business, or offering web design services to a real estate client, there's really nothing that can compare with Houzez.
Features range from advanced search capabilities and listing options, to payments and membership systems.
The Core is an excellent choice if your focus is primarily on business and corporate niches, although this multipurpose WP theme is definitely one that can make the claim: "if you can visualize it, you can build it"; and without coding.
As its web-building features are too many to list here, we suggest you visit this theme's Test Lab, and take it for a trial spin.
This top-notch website-building tool, including its installation and demo import features, can be yours free of charge – if purchase hosting from of their hosting partners.
ListingPro is another specialty WP theme. This time, the subject is directory and listing websites. ListingPro is the number one ThemeForest best seller in its category, having sold more than 4,000 copies in less than 8 months since the launch in 2017. One reason for its popularity?
With ListingPro, you don't need paid plugins. All core directory features to build a scalable niche directory website comes within the package.
What could be simpler if your goal is to build a professional, trustworthy online shop than a WP theme that provides more than 70 good-to-go shops for you to choose from? XStore is a responsive WooCommerce theme that makes creating an online shop oh so easy.
You'll also find plenty of useful page layouts, Visual Composer, and the eCommerce plugins you'll need to get started.
Summing It All Up
If your goal is to get 2018 off to a roaring start, and whose isn't – simply pick one of these 10 premium themes. Or, more than one, if you have the use for both a multipurpose theme and a more specialized one.
Responsiveness, flexibility, and intuitiveness are characteristics all these themes have in common. This includes all the tools and features you'll ever need. With the help of any of the above themes, you will be able to create great business-oriented websites.