Home » Website Templates »
Line25 is reader supported. At no cost to you a commission from sponsors may be earned when a purchase is made via links on the site. Learn more
If you're tired of the classic WordPress themes, then maybe a Squarespace template is the perfect choice for you and your ideas. Squarespace is an amazing platform that comes with tons of modern, carefully designed themes that will make your life easier. The hardest part of your journey will be to pick the perfect theme for you and your ideas. After that, showcasing and changing your template's features is as easy as ABC.
We know that picking the right template may be hard at first sight, given the fact that there are so many options and customizing ideas that you can choose from. We want to help you choose the best theme that suits you and your purposes like a glove, so we put up a list with 25 of the best Squarespace templates. These templates are pretty much perfect for any purposes. For example, you can twist and change any theme in order to create websites for online shops, cool brands, entrepreneurs, merchandise, engagement and wedding websites, restaurants or boutiques or any other idea or business you might have. The sky is the limit when you have the perfect theme!
Scroll through our hand-picked selection of Squarespace templates and let us know which one is the perfect fit for you and your niche!
Basil is one of the most powerful templates ever created for Squarespace. We strongly recommend it for travel and lifestyle websites, especially restaurants that are searching to create a stunning online presence. This template will offer your visitors an unforgettable experience that will include 3D scrolling effects and exceptional, full-screen imagery. Basil also comes packed with some awesome font choices.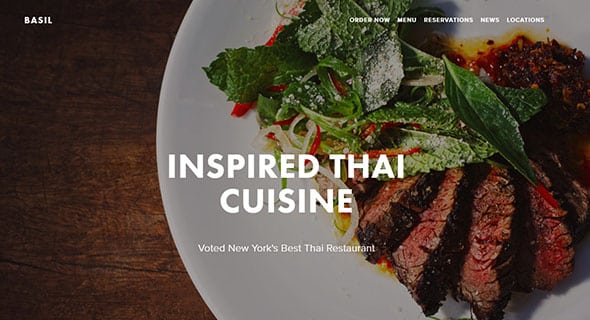 Another cool option for travel and lifestyle websites is Maple. Maple creates a very impressive scrolling experience by having some modern effects and very useful customizable gallery layouts. This template lets you insert your own awesome images and it very content-oriented so your visitors will get the right idea.

Tremont is a very elegant Squarespace template that comes with cool full-screen image displays so you can select and showcase your favorite pictures that you want to feature on your homepage. The homepage's hover-activated slideshow lets visitors interact with your site in a catchy and unforgettable way. Scaling fonts give you more control over your website's mobile appearance. Tremont also comes packed with some awesome options for the page header such as semi-transparent color overlays with custom titles and descriptions. Tremont is an elegant choice for anyone that wants to enhance their business with an eye-catching website.
If you're not sure yet, then find out that Motto is also a great alternative for a restaurants' website. This template lets you easily showcase your menu and culinary photography with the world and maybe attract new customers. The Menu Block makes menu variations in seconds. One of the best features of this Squarespace template are the dynamic text layouts and the wide range of fonts, borders and other design effects.
Ishimoto is a very special Squarespace template that works perfectly for clean and creative portfolios. The modern, horizontal gallery slider that this template a great choice for photographers, illustrators and other visual artists and even restaurants that want to showcase stunning images. The horizontal gallery makes it possible for your visitors to see your photography with wide dimensions and without any distracting elements.
Wexley is a cool Squarespace theme that comes packed with an adaptive gallery layout adapts that changes according to the size of your images. Wexley is a good choice if you want to create a personalized and creative visual portfolio with custom screen widths. This template is perfect for artists and creatives and even photographers that want a dynamic alternative to showcasing their work and services.
Forte is a bold template with a strong minimal look that features full-screen images and modern typography choices. The homepage of this template pulls visitors into your portfolio and creates an eye-catching experience for anyone that accesses your website. Forte is perfect for showcasing a wide range of projects for your restaurant, portfolio, or business ideas.
Vow is a relatively new Squarespace template that's focused on content and cool typography. This template could work as a wedding website or even as an awesome website for a business that wants to create a website that stands out from the crowd. Vow is the perfect choice for leading your visitors through your story, be it a love one or a business one.
Hayden is a powerful Squarespace template with a contemporary design. We strongly recommend Hayden for small or mid-sized businesses that are searching for a chic and modern template for their website. This template gives you the option to create a stunning homepage by adding full-screen images as your background. Hayden also comes with contemporary typography choices.
Shibori is a very modern Squarespace template that was created with events in mind. This is a perfect choice if you want to promote your events or ideas with the use of lots of captivating page transitions. Shibori pairs bold headlines with quick links and makes it very easy to create a perfect first impression for your visitors and potential clients.
Hatch is a very simple Squarespace template with lots of modern accents. We recommend this template for your professional service or business or if you just want to present yourself to the world in a very clean and professional way. Transform your visitors into new clients with lots of eye-catching 3D scrolling effects, elegant typography, and a dynamic gallery grid. Hatch makes it easier for you to showcase your featured images or use introduction banners and multiple project pages.
Pedro is a cool Squarespace template from the category of home and living websites. Pedro lets you insert video backgrounds and images in order to create a striking homepage for your website and to convince visitors to spend some time on your platform. Pedro creates a nice scrolling experience for your visitors as they explore your website and find out more about your business and services.
Unlike all the other templates that we've presented before, Foundry focuses purely on words and on telling a certain story to your audience. This template is a great example that you can create striking content without many visuals and full-screen galleries. Foundry comes packed with modern and engaging typography and also a minimal grid layout that's perfect for bloggers that like to write.
Keene is one of those Squarespace templates that you know right from the start that it's perfect for professional services or businesses. It comes with a simple and engaging design and lots of options that let you stylize your content, from text and images to video and audio. Keene also comes with awesome options for the search bar, multiple navigation areas and banners. All these features will create an unforgettable experience for your users and potential clients.
Bedford is one of the most popular Squarespace templates and we can see why. This theme comes with a very wide range of features. Bedford was created especially for non-profit websites and small businesses that want to stand out from the crowd and enhance themselves with a nice, modern website. This template is extremely versatile which is the main reason why it's so popular!
This is another great example of a Squarespace template that focuses on imagery and galleries. This template was created especially for online stores. Because of its big, clean grid gallery, your visitors can easily find what they're looking for and you'll have better chances to transform them into clients. Use Indigo if you wish to present your work in style.
Rover is one good example of a template for Squarespace that's perfect for showcasing and enhancing your professional services to the wide public. Rover comes with a spacious layout that creates a nice, clean experience for your visitors without any cluttered areas. Rover also has some great typography choices that will make your texts looks elegant and well-organized. This theme is also perfect for mobile browsing.
Anya is a very cute and efficient option if you're looking to create a website for your engagement or wedding. You can send this website to your friends and relatives instead of just telling them the big news or sending out wedding cards. This template is fun and easy to use. Its intuitive interface and useful features make it an ideal template for anyone that wants to create a special website for a special day.
Pacific is another great example of a Squarespace template that works perfectly for any agency, restaurant, band, wedding site, event and any other idea you might think of. This template is really versatile and it allows you to create long scrolling pages. One of its best features is that it gives you the capability to insert full-screen images as backgrounds and also full-width galleries or albums.

Jones is a cool alternative if you're searching for a template to create a stunning portfolio. We recommend this option to any kind of creative that wants to share their works with the world. One of the best features of this template is that comes packed with dedicated project pages that will make your portfolio stand out from the rest.
If you're looking to create a music or entertainment website, then Polaris might be the right choice for you. Polaris is perfect for both bands or single artists but it's so versatile that you can use it for other purposes too. This template lets you amaze your audience with full-page images and a bold platform for sharing your music.
Feed is a cool template with a long, scrolling homepage but with eye-catching effects. This theme will engage your visitors with your content with the help of background videos, 3D image effects, and awesome typography options. This template also looks great on mobile devices and lets you tweak your design to make it fully responsive. An optional search bar and multiple navigation areas offer fast and easy browsing.
Julia is another cool example of a template that was created with engagements and weddings in mind. This item can help you announce your event or your big day regardless of the theme you're choosing. Julia comes with a flexible and elegant layout that will surely become unforgettable for your guests and visitors.
Here we have another great Squarespace template that's perfect for any kind of business or creators. It has a very clean and minimalistic look that will draw attention to your content. By combining stunning typography with great imagery, Kent will create a great impact on your visitors and potential clients.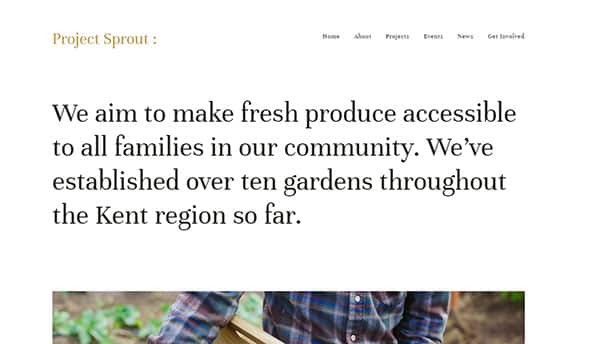 Adirondack is a good fit for either small or big brands and businesses that have a strong focus on visual impact. Adirondack is the perfect template for self-starters and entrepreneurs that are working to create an online presence. This template comes with the option to insert full header images that will create a stunning effect.