15 Best Multipurpose WordPress Themes to Use This Year
Home » WordPress Themes »
Line25 is reader supported. At no cost to you a commission from sponsors may be earned when a purchase is made via links on the site. Learn more
The concept behind the design of most multipurpose WordPress themes is simple. It's the ability to produce a template that can create different kinds of websites. These websites usually suit any type of company, brand, agency, or cause.
A multipurpose website would, therefore, have all the necessary features.
There is an argument against multipurpose themes. It is that website designers and owners would often have to settle for results that, are not the best.
Today's business environment is highly competitive. Therefore, a website that "adequately" gets the job done is seldom good enough. Granted, there are some multipurpose themes on the market that don't get things done quite right.
But there are numerous multipurpose themes that do an excellent job. They are capable of creating virtually any website type. These 15 are great examples of the top premium multipurpose WordPress themes.
Pin
No matter what the website type of business niche you're working with, you won't find "adequate" anywhere in BeTheme's dictionary. Thanks to it's amazing (and huge) selection of professionally-designed pre-built websites (320+ and counting), BeTheme has you covered. You'll never have to put up with a layout or template that enables you to "barely" satisfy a client's needs.
Starting with one of these pre-built websites (which can be installed with a single click), putting Be's popular Muffin Builder and Options Panel into play, and making use of the large selections of shortcodes and design elements among Be's 40 core features, you can satisfy a client representing the least well-known business niches on the planet, and do so with a turnaround in 4 hours in many cases.
If your clientele should represent an array of different niches, you can easily accomplish the same thing, many times over of course.
The first time you try Be Theme, you'll see why it's a top 5 ThemeForest best-seller.
Pin
Total is a living example of a WordPress theme that enables you to accomplish a great deal with a minimal amount of effort. With this multipurpose theme, it's simply a matter of displaying its demos on the WordPress dashboard, picking what you want, and installing it with a single click. Install any plugins that are recommended, and you're ready to go!
Total uses an extended version of Visual Composer, a selection of unique custom page building blocks, and its live Customizer settings to help get your design project underway. There are plenty of options for WooCommerce, sliders, headings, pricing tables, and more.
The tools are there to build your own community forum as well, since Total is fully compatible with the bbPress forum plugin.
Developers will be happy knowing that Total's coding was done with their needs mind and contains all the hooks and snippets they need should they be called upon to maintain or modify the code.
Pin
Porto is a free eCommerce-oriented theme that's responsive, easy to work with, and lightning fast. This responsive multipurpose theme's speed and superior performance is in large part due to its Bootstrap 4 framework.
Porto is WooCommerce compatible. Its features include a WooCommerce Catalog mode and shop and product page filtering. Visual Composer, complete with Ultimate VC addons is Porto's page builder, and you'll have a large selection of unique homepage layouts and skins, blog types, portfolio types, and shop pages to work with. Shopper wishlist functionality is there as well.
Total is WPML and RTL ready, cross-browser compatible, and SEO friendly.
This theme's fixation on speed even extends to its support team. If you have a question or problem, you can rely on a rapid response on their part.
Pin
The real estate sector is huge, competitive, and for a web designer somewhat challenging because of the special requirements involved. Houzez has taken those requirements well into account. You can, in fact, have a website up and running in short order that any realtor would break down your door for the opportunity to own and use.
This responsive theme's features include listings layout options, advanced and radius search, and Google location functionality.
Pin
Rather than show you the long list of Uncode's features and virtues, we suggest taking a shortcut. Go to the website and check out the Uncode showcase where user-built creative websites tell a more than compelling story about all the things you can accomplish with the help of this multipurpose WordPress theme. The showcase is also a great source of inspirations.
We should also mention that Uncode is responsive and loaded with design options of all types.
Pin
TheGem is a visually stimulating responsive WordPress creative multipurpose website theme. TheGem is a powerful platform to develop all kinds of beautiful modern websites in a quick and easy way and with plenty of freedom for creative and visual styling.
The creators of the theme thought about a veritable Swiss Army knife of website-building tools when they were creating the TheGem. This multipurpose theme includes all the tools you'll ever need to make stunning multi-page or one-page creative or business websites. There's a really wide selection of portfolio and blog layouts too, in addition to 70+ design concepts and 200 demos to get you off to a great start. Try TheGem and you won't regret it.
Pin
You can build any site with Themify Ultra. Its long list of features shows you why this is true. There are too many to list here, but the list includes design skins and pre-made single-click to install demo sites, builder addons (countdown, progress bar, pricing table, and more).
There are pre-designed layouts with smart layout options, post layouts, a new section scrolling feature, and on and on. Themify is, of course, responsive, WooCommerce ready, and requires no coding.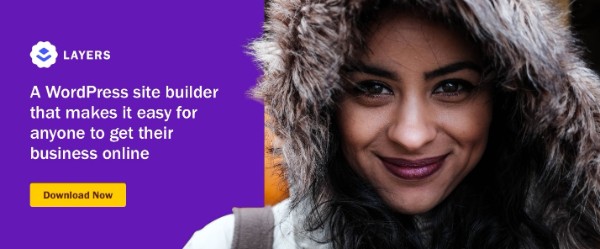 Pin
This free WordPress theme combines good design with just the right number of features to make website building quick and easy. Layers features a comprehensive library of page layout presets; it's responsive, WooCommerce ready, and its point and click code-free UI gives you all the control you need over your design.
While the default theme is yours free of charge, Layers charges for extensions, as well as for its Pro Version which has more awesome design options.
Pin
You'll enjoy pursuing your web design activities with Kallyas, an SEO friendly, responsive, and lightning-fast multipurpose theme, with Zion, its cool visual page builder, 150+ design elements and more than 60 pre-made website templates (with a new one added every month).
While Kallyas is extremely easy to work with, if you have a problem or question you can rely on live chat support for help; plus, you have ready access to 150+ video tutorials for useful tips and advice.
Pin
Pofo is visually stunning, modern design, technically sound and polished WordPress theme. This multipurpose theme does use Visual Composer and Revolution Slider, and it's WooCommerce ready as well. What Pofo does use in place of third-party plugins is the WordPress Customizer for most theme customization settings. The Customizer also provides real-time quick previews of any changes you make.
You'll also find carefully thought out selections of home pages, demo pages, and pre-built elements.
Pin
XStore offers a minimalist approach to web design. Developed with care and intuitive to work with, it can boast of every feature needed to create a professional looking online shop, and one that visitors feel they can trust.
XStore features over 70 good-to-go shops, free premium plugins (valued at $250), a cool 360° product viewer, and the WooCommerce Infinite Scroll capability. If your goal is to create an online store that positively rocks, XStore will make that happen.
Pin
Hestia is built around the Material Design concept, and with its single page look which guarantees that the help of this free multipurpose theme, you can build websites that will create lasting first impressions in terms of imagery and structure. Users will appreciate how easy your websites are to navigate.
Hestia is compatible with most popular drag and drop builders, it supports the WordPress live Customizer feature, and it's WooCommerce compatible, SEO friendly, and responsive.
Pin
Stormyday's creators had an objective. It was to present a WordPress blog theme that would enable its users to create blogs that would make a statement. This flexible, multipurpose theme with its full range of demos, 1-click install, and Premiumcoding, a brand-new page builder, more than satisfies that objective.
Plenty of shortcodes, blog variations, header variations, header page templates and portfolio pages are included in the package.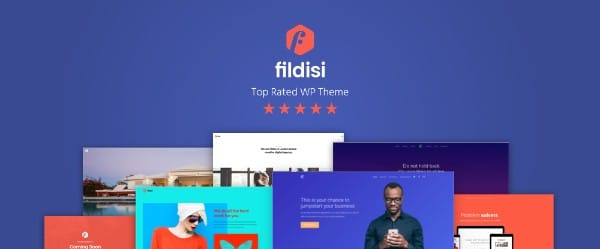 Pin
Fildisi doesn't tell you what to do. You tell Fildisi what to do. In other words, this multipurpose theme breaks the rules that many themes impose on you and adjusts to your creativity and creative needs. You'll have plenty of predefined layouts and color sets to work with, multiple blog, portfolio, and gallery options, and a "plethora" of handcrafted elements (which sounds like quite a few).
No coding is necessary, and you'll get lifetime updates and 24/7 support.
Pin
Like most WordPress themes, Movedo was created for use by serious web designers. It was also created with the idea that web designers should have some fun from time to time.
When you first discover all the features this multipurpose theme offers, your first impulse will be to spend some time trying them all out (super moldable typography and unique clipping animations to name a couple). Movedo rocks! Just what you need in this competitive environment.
Conclusion
Searching through 15 multipurpose theme products may be a somewhat time-consuming activity. Butt it's far better than having to search through themes without knowing the good from the average.
You can't go wrong with one these 15 as they are among the very best on the market. It should simply be a matter of finding one or two that appear to meet your needs best.