Home » WordPress Plug-ins »
Line25 is reader supported. At no cost to you a commission from sponsors may be earned when a purchase is made via links on the site. Learn more
Are you looking for ways to take your business to the next level this coming year? If you've been using or thinking of using the WordPress platform for website building, you're on the right track and special tools like plugins can help.
Building a website that is better than the competition is easier said than done. Doing so often requires design or coding skills you may not necessarily possess.
Fortunately, there exists a set of WordPress software tools called plugins that can provide exactly what you need to improve website features or add required functionality.
Known as "plugins", these software programs can be added to your WordPress website providing enhanced performance settings such as increasing load speed, advanced site functionality, SEO optimization features, forms, and much more.
Check out these 9 top WordPress plugins that are a must-have for your website projects in 2023. One or more of them could be a game-changer for you.
9 of The Top WordPress Plugins for This Year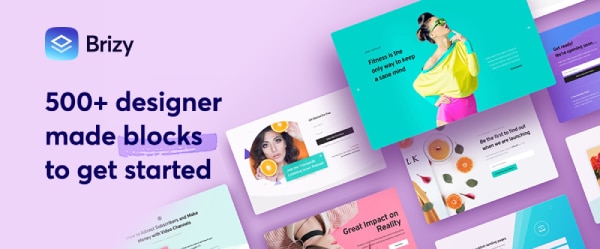 If there is a problem with Brizy, it's that once you start using it, no other website theme builder will ever feel as easy to use. Brizy is a website builder for non-techies (and for techies as well) that you can download for free.
You can use the Brizy WordPress theme builder to:
build a new website or add new pages to an existing one
create dynamic templates for blog and archive pages, headers and footers, custom 404 pages, etc.
access more than 150 high-conversion pre-made websites that you can install with 1 click
build a blog exactly as you want it
access elements and templates to customize your WooCommerce shop site
WooCommerce integration is included together with the Theme Builder, Global Blocks, and Global Styling features. You can also choose the 100% White Label option if you wish to brand the Brizy Builder as your own.
Click on the banner to check out Brizy and download it for free. A Pro option is available.
Most professional web designers like a challenge but working with massive amounts of data can often become an exercise in frustration. It can take hours to create a table, manual methods can be error-prone, and the final result could be disappointing.
wpDataTables is a power-packed WordPress tables plugin that can manage huge amounts of data in minutes to help you create attractive, interactive, responsive, and easily editable and maintainable tables and charts.
Some wpDataTables things to know:
it features 4 chart-building engines – Google Charts, Highcharts, Chart.js, and Apex Charts.
can connect to multiple database sources, MYSQL, MS SQL, PostgreSQL
accepts all standard data formats
highlights and color-codes key data using its Conditional Formatting feature
Integrates with Elementor, Divi, Avada, and WP Bakery.
Other useful features include nested JSON, sorting and filtering, formula columns, and more. Click on the banner to learn more about this power-packed WordPress plugin.
Amelia is a WordPress booking plugin that enables a business to fully automate and completely streamline its appointment booking operations.
Amelia can manage an unlimited number of business clients' appointment bookings at multiple locations from a single platform and dashboard.
Clients can book appointments online 24/7.
Amelia also manages group appointments, package bookings, and tickets for events.
Clients can receive notifications and reminders via Email or SMS and can make payments online using PayPal, Stripe, Mollie, or Razor.
Booking forms can be customized to match your brand.
If your website theme is beauty, healthcare, fitness, consulting, educational, training enterprises, and similar businesses, then this plugin is an excellent choice!
Click on the banner to learn more about how the Amelia WordPress plugin could be used to upgrade and modernize your business's booking operations.
LayerSlider is the best WordPress slider plugin, but it's not just for designing sliders. Create landing pages, image galleries, popups, parallax and scroll scenes, and even full websites as easily as never before.
LayerSlider supports your WordPress theme and page builder, no matter which one you are using.
LayerSlider has 210+ highly customizable websites, sliders, and popup templates, which provide a great way to learn and an ideal starting point for new projects.
TheDock is a WordPress theme builder that enables teams to create websites faster. Sites built with TheDock look sharp, perform great and are easily maintained because of its:
well-organized back-end with its Custom Post Types and Custom Fields.
exceptionally fast page loads
auto-adjusting layout system with great flexibility and global UI components
White-label builder; share access to TheDock's theme builder only if you want to
High security and easy maintenance using built-in features rather than plugins.
The Slider Revolution WordPress plugin is a tool you'll want in your web design toolbox to incorporate healthy doses of spice and flair into your websites.
Here are just some of the things you can do with the Slider Revolution:
250+ website and slider templates with cutting-edge website animation effects designed to impress.
web design tools enable you to test the limits of web design possibilities.
 Slider Revolution is trusted by over 9 million users around the world.
The Ads Pro WordPress advertising plugin is easy to work with and offers its users an exceptional range of advertising sales, management, and display options.
Ads Pro key features are:
an Admin Panel and front-end order form to manage all ads.
25+ customizable ad templates and 20+ ad display options that include 3 Facebook display options
3 billing methods and 4 payment gateways with click fraud and ad block protection.
The "Download Monitor" is a WordPress downloads manager that does various valuable things to streamline your business operations without having to set up a complex tracking solution, e.g., Google Analytics.
 Download Monitor features include:
Tracks most file type downloads (ZIP, PPT, XSLX, PDF, etc.)
Groups & tracks file download statistics and present them through easy-to-digest reports  (total downloads, downloads grouped by IP address, user role, etc.)
Use Download Monitor to enforce access rules based on user roles and download quotas.
With this, the best WordPress grid plugin on the market, you can spice up your websites by using it to create breathtaking, professional-looking galleries.
Essential Grid places at your fingertips:
stunning boxed and full-width to full-screen grid layout options including even, masonry and cobble grid designs; all of which are fully customizable
responsive designs that allow you to control how your grids appear on various devices
access to social media content.  
Summary
To sum up, WordPress is a highly flexible content management system for website creation. One of the driving forces behind this flexibility is the wide variety of plugins you can choose and the top WordPress plugins like those listed here can add more advanced and helpful features to your site.
With this in mind, the 9 top WordPress plugins we've just looked at can be easily installed and configured to boost your website projects in 2023. Each is the "right" choice with respect to website performance, advanced features, and functions, in fact, one or more of them will most likely be one of the best tools for you.