Home » Website Templates »
Line25 is reader supported. At no cost to you a commission from sponsors may be earned when a purchase is made via links on the site. Learn more
As a creative, you need a digital space to call your home.
A space where you tell people about yourself and the kind of work you do. A space to show off the best examples of your work. A space where people can get in touch if they want to hire you or buy from you.
With one of Be Theme's 600-plus pre-built websites, you can have a professional website up and running in no time. And to help you get started, we've rounded up 15 of the best Be Theme pre-built websites made specifically for creatives and developers.
By the way, there's no need to stress about picking the "right" one. When you sign up for Betheme, you get access to all of the sites. So, if you decide you want to experiment with a new look or style, it's super easy to make the switch.
15 awesome pre-built websites from Be Theme you'll want to call your own
The hard work has been done for you already. All you need to do is buy Be Theme, figure out which of these pre-built websites you want to show off your work with, and then customize the details:
1. BeAgency 4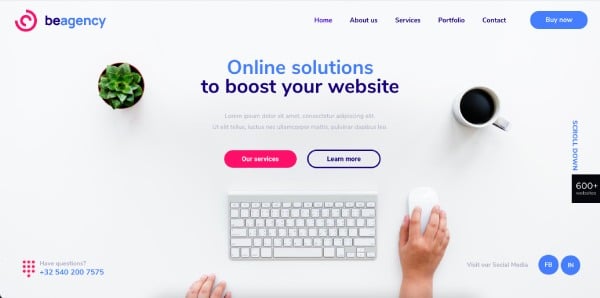 Whether you're happy working alone or you have dreams of building a creative agency around you, the BeAgency 4 pre-built site is a beautiful choice. From the clean design to the well-laid-out navigation, this website oozes professionalism.
What's more, it comes with a Portfolio page already set up for you, so all you need to do is swap in your work and publish it.
2. BeAgency 5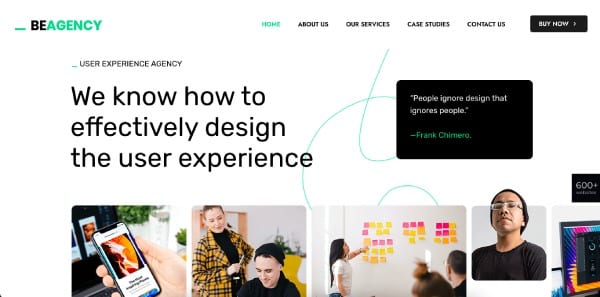 BeAgency 5 is another example of a pre-built website with some flexibility in terms of who can use it. This one, however, has a more fun and casual vibe to it thanks to the small animations and hand-drawn elements throughout.
This one comes with a premade page for case studies, so if you want to add more context to your portfolio of work, you can easily do that here.
3. BeArtist 3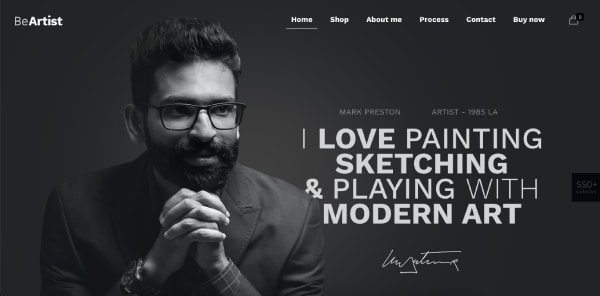 The BeArtist 3 pre-built site has such a cool and unique vibe to it. Whether you're a graphic designer, visual artist, photographer, or writer, this would be a really interesting way to build a brand around yourself and your work.
While there's a Shop set up to help artists sell their work, you can easily convert this page into a Portfolio if you only need a showcase.
4. BeBusiness 3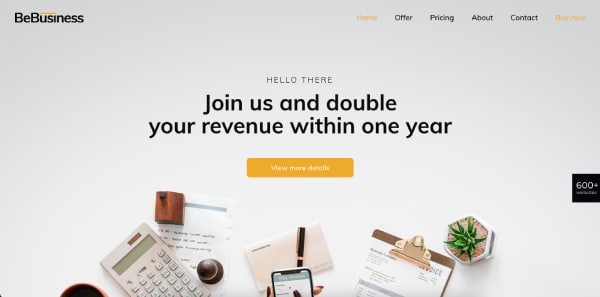 BeBusiness 3 is a good choice if you want a simple website to sell your artistic services through. Graphic designers selling logo and branding services, web developers offering website maintenance memberships, or photographers selling wedding packages could definitely adapt this to their needs.
5. BeCompany 6
The BeCompany 6 pre-built website has a very artsy vibe, from the geometric illustrations and shapes to the asymmetric layouts. This would be a great option if you want your studio's website to stand out from others who play it safer in terms of design.
Also worth noting is how great the case studies page is as it really puts your work front-and-center.
6. BeConsultant
It's not all that uncommon for creatives like designers or writers to branch out into creative consulting. So if that's the route you've taken, BeConsultant might just be the perfect pre-built site for you.
Even if you're not a consultant (not 100% of the time anyway), this pre-built site can easily be used by any creative service provider wanting to show off and sell their skills.
7. BeCopywriter 2
Because a writer's work consists of words, it makes more sense for a copywriter or content writer to use a pre-built site like Copywriter 2. With this site, your words will be used to fill the site with content — and in a beautiful and eye-catching way.
8. BeCreative 4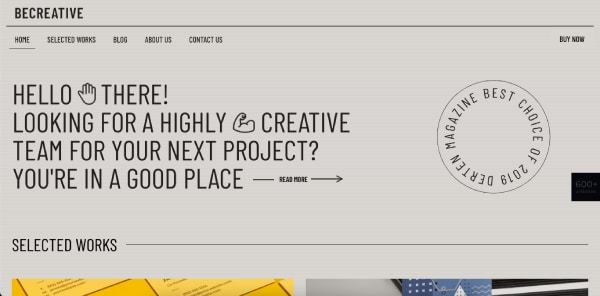 BeCreative 4 offers a unique take on the typical website for creatives.
While you'll get everything you need — from a portfolio page to an area to share client testimonials — the design itself has unexpected surprises along the way. Like the left-aligned navigation and the spinning award stamp in the main banner.
9. BeCV 2
BeCV 2 isn't your typical digital CV or resume. This single-page site will enable you to more creatively share your experience, skill set, and body of work with interested employers or clients. And instead of you always having to chase them down and pitch your services, they can contact you directly through the site.
10. BeData
If you're a web developer or IT professional and want a site design that "speaks" tech, BeData is a good choice. While it may not have been built for developers or programmers in particular, the techy design, layout, and features can easily be repurposed for your needs.
11. BeMedia 2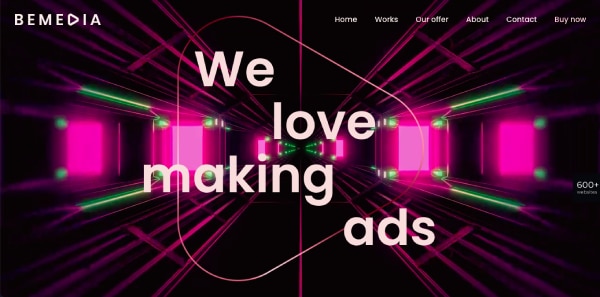 BeMedia 2 is a boundary-pushing theme in terms of its design. With an animated background video, asymmetric layouts, and oversized images, you can infuse a lot of energy into your brand and business with a website like this.
That same "wow" factor carries over into the portfolio (Works) page, too. So if you have some really amazing work to show off, this is going to be perfect for you.
12. BePhotography 3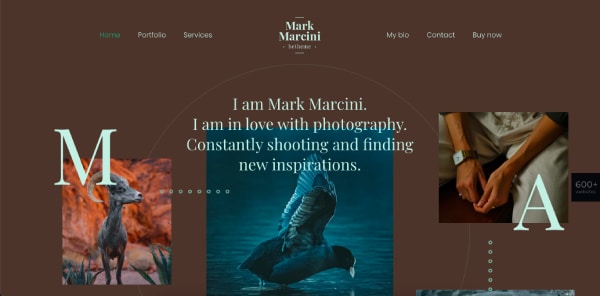 You don't have to be a photographer to use the BePhotography 3 pre-built site. Whether you're a visual artist, web designer, illustrator, videographer, or some other type of visual creator — if you have eye-catching work to show off, this image-centric website is a good choice.
13. BePortfolio 2
BePortfolio 2 is exactly what you'd expect it to be. From start to finish, this pre-built site is all about showing off your work, your years of experience, your impressive list of clients, your rave reviews, and so on.
If you've been creating for years and have a good body of work and results to show off, this site will help you do exactly that.
14. BeTheme
One of the great things about using BeTheme is that you can make it be as simple or complex of a site as you want. Regardless of what your plans are for your site, this one comes with all the building blocks you need, including a great-looking Portfolio page.
15. Webmaster 2
For all you programmers and developers out there, BeWebmaster 2 is a pre-built site made especially for you. Even if your clients don't understand code, they'll love the fun way you've translated your technical language into a design and message they can connect to.
One of the most obvious benefits of using Be Theme is the sheer number of pre-built websites to choose from (600 and counting!). But that's not all.
When you use a Be Theme pre-built site, you'll spend less time and money in getting your creative endeavor online. And, not only that, you won't have to compromise on the features you need to sell your services or your work.
So, which one will you choose?