25 Fresh Free HTML UI Kits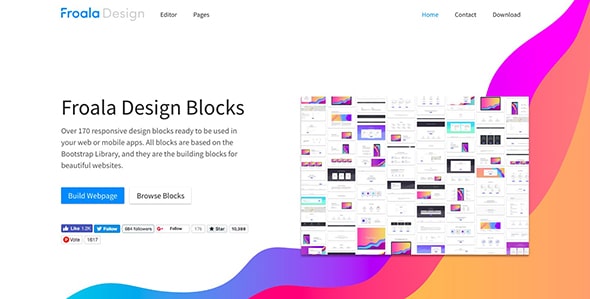 Home » Freebies »
Line25 is reader supported. At no cost to you a commission from sponsors may be earned when a purchase is made via links on the site. Learn more
Whether you're a web designer, web developer or simply a UI designer, these 25 new free HTML UI kits will surely come in handy. These free HTML UI kits consist of various design blocks with a wide range of layouts and components. You will get pre-made designs for footers, headers, page sections, CTAs, forms, testimonials, pricing tables, and more. Most of these UI modules were created with Bootstrap and use free typefaces.
Check out these amazing resources for building websites and user interfaces. You'll need only some basic HTML/CSS knowledge! Download these freebies right away!
Shards is a free UI toolkit created with the Bootstrap 4 framework. This toolkit includes various user interface elements that are responsive and follow the Material design principles. The best thing about this free UI kit is that it weights only ~12kb minified and gzipped. You will also get the Sketch and SCSS files.

Element is another cool desktop component UI library with tons of useful UI elements to help you build awesome websites and apps. This kit is based on Vue.js and contains grid systems, forms, notifications, dialogs, navigation menus, and more.

Design Blocks is a huge free UI kit containing more than 170 HTML components that are fully responsive! Use this to assemble a website or web app in minutes.

Photon is a UI kit you can use to create desktop apps. It is basically a desktop app framework with lots of cool elements designed with simple HTML and CSS coding.

Material Design for Bootstrap is a great UI kit based on Bootstrap 3. If you love Google Material Design then this front-end framework will become your favorite!

uilang is a minimal UI kit with tons of awesome components for web designers. Use it to create beautiful user interface components, build prototypes and interactive websites and apps.

Bootflat is a free UI kit that follows the flat design trend. It is based on Twitter's Bootstrap 3.1.0 CSS framework and it's a fast and easy solution for web developers and designers to create awesome apps.

Here is another flat HTML user interface kit. This is a ready-coded UI kit that can be used to build beautiful user interfaces.

Here is a responsive UI kit that also follows the flat design trend. It comes as an HTML UI kit based on Bootstrap 3. It contains buttons, icons, search forms, and more.

So many free HTML UI kits are based on the flat design trend. This one contains so many amazing web elements you can use in your user interfaces designs. It was created with the help of Twitter Bootstrap and also includes a free PSD file.

This light UI kit was created with HTML and CSS and has a simple design. If you need sliders, buttons, progress bars, input fields, forms, and more, this is the toolkit for you.

Paper is a modern UI kit with a clean, flat design. This was built with the help of HTML5 and CSS3 and it is fully responsive and based on Bootstrap. Paper Kit is a flexible user interface toolkit with lots of web elements such as buttons with different styles, links, inputs and more. It contains 19 handcrafted components, 3 customized plugins and 3 example pages. Use this kit for your next project.

Propeller is a free and fully responsive HTML UI kit. Based on the popular Google Material Design and Bootstrap framework, it offers over 25 components to choose from. Use this amazing framework as a starting point for your web or app projects.

Startup is a free HTML UI kit that is completely responsive and built with the Bootstrap 4 framework. Startup UI Kit consists of 50 UI cards in 10 categories. Mix and match and create your own templates. It can be easily customized, so feel free to change the colors, backgrounds, fonts, sizes, and more.

Square is another free HTML UI kit based on the Bootstrap Framework 3.0. Square UI Kit includes many basic UI elements and widgets that are fully responsive. Calendars, buttons, toggles, search forms, you will find everything you need in this UI kit.

Semantic UI is a modern and clean UI kit that can be used as a development framework for your website and app projects. It can be used as an alternative to Twitter Bootstrap.

UIkit is another cool free HTML toolkit that's easy to customize and use. You can also extend it! It's lightweight, modular and helps you develop powerful web interfaces.

Ink is a free HTML UI kit you can use to create amazing, user-friendly web interfaces. It is based on a fluid grid and contains lots of interactive and responsive elements, both common and more unique-looking. Integrate it into your web or app projects with ease and start designing efficiently!

Flatby is another free HTML UI kit that follows the flat design trend. It uses SCSS type sass for stylesheets.

Check out this Pure UI kit that contains lots of responsive CSS modules. Whether you need layouts, bases, grids, forms, buttons, tables, or tools and menus, this kit has everything you want.

Futurico UI HTML contains so many useful web elements packed into a single toolkit. This is the free version, but a premium one with more elements is also available.

Bootmetro is another flexible and easy to use UI kit. Use this awesome framework for building web apps and websites. It has a similar feel to Windows 8.

HTML KickStart is a cool UI kit created with HTML5, CSS, and jQuery. It contains a bunch of layouts, and elements for creating fully functional user interfaces for both web or mobile projects.

Save hours designing with this UI kit! Download it and get pre-made color pickers, ratings, progress steps elements, and more.

Metro UI kit is a CSS freebie with a design similar to the Windows 8 Metro UI. Check out this components library and ease your design process.
Pin