Home » Articles »
Line25 is reader supported. At no cost to you a commission from sponsors may be earned when a purchase is made via links on the site. Learn more
Just like us, the Internet has gone through some phases as its grown up. From its very basic and primitive beginnings in the mid 90s, to its rebellious phase in the 2000's and its precocious phase in 2010 to its much more stable and appropriate self today, we're able to reflect upon how technology has enabled websites to be customized to suit any need and aesthetic.
Web designers were restricted by the technology available at the time in order to generate creative and engaging websites. Initially, programming a piece of code was so new, and no resources had been constructed to support easy website building, that the standard for developers was simply to make a website that functioned. Nowadays, websites need to be attractive, engaging, responsive, informative and instant.
CLICK ME Content – 95-2003
Transferring practices from traditional marketing, early websites were more reflective of billboard and sign marketing than what we expect from modern web design. The introduction of flash animation allowed online advertisers to generate bold, bright and flashing call-to-actions, turning the world wide web into a place that resembled the Vegas strip or Time Square.
What led to this trend?
The two biggest factors that led to initial website design was the limited technology supporting graphic and web design and the antiquated marketing approaches of the pre-digital age. Companies were simply doing what they could at the time to attract new customers.
What ended this trend?
As design capabilities grew, developers had the ability to create more functional and attractive websites that aimed to convince visitors that their brand was more prestigious and trustworthy than competitors simply looking to make a quick sale.
White Space – 2000
Sometimes less is more. Developers started to realize this as they began to self-evaluate how users were interacting with their websites. Around 2000, designers started to acknowledge that users needed a cleaner page layout in order to identify and digest the information they need. Through this research, developers worked in more white space to break-up content and better fulfill their goal of delivering a message to online users, whether it was product information, news or entertainment.
What led to this trend?
The understanding of how important content is for digital users is a big part of the white space trend. Shoving as much information as possible into pages, being flashy and constantly selling users just wasn't working anymore. Developers started to scale back on graphics, neon colors and extra gadgets and started providing more clear and concise bits of information to establish a connection with visitors.
What ended this trend?
Once sites could be laid out efficiently and graphics designed to create a crisp and clear visibility, too much white space became underwhelming and drab. Developers started to move towards more simple graphics and more palatable colors to create a more unique and branded site design.
Web2.0 – 2003-2010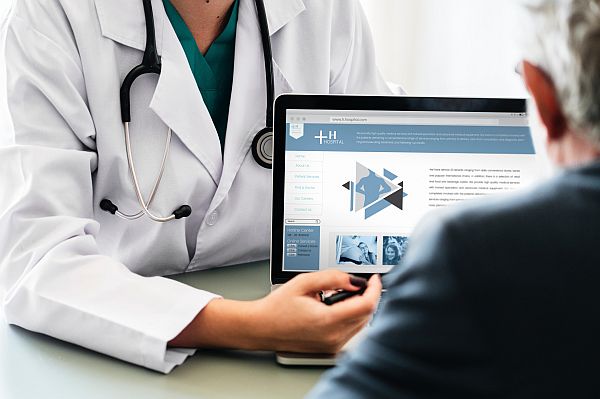 Eventually users were fed up with basic, uninformative and uninspiring websites and demanded an online experience that was more focused on engaging, entertaining and educating users. This was the revelation that led to what is now referred to as Web2.0. Developers had the ability to create exciting and interactive content that separated sites from one another. As the internet continued to become a more viable option for generating sales, simply existing online was not enough. Web2.0 was the start of companies looking not only to persuade online visitors, but delight them with a catered UX. This concept has not quite died, but rather been expanded upon in more unique ways after 2010.
Skeuomorphic Design – 2010-2012
As graphic design quality and technology grew, it gave developers the ability to create more immersive experiences online. From backgrounds to cursors and icons to buttons, web designers were looking to get more creative in pushing the boundaries of customizing websites to tell a message or provide users with a unique experience. By taking sounds and textures from the real world and placing them intently within graphics and animations, web designers attempted to merge the digital and tangible world for the first time on such a broad scale.
What led to this trend?
Building off of the Web2.0 movement, brands continued to find new ways to connect with users to create a distinct and memorable experience. Another factor in the making of this trend was likely the popularity and effectiveness of gamification. Just casually observing any user of a video game or mobile app you will detect a hyper engaged user that is unrivaled in other forms of media.
What ended this trend?
As all trends do, the skeuomorphic trend waxed and waned until only the most applicable sites and brands kept these types of designs as part of their website. Other companies moved towards a more simple and speedy approach that relied less on high quality graphics and more on web design that was easier to navigate.
Infinite Scrolling – 2014-2016
En-route to the minimalist designs that modern internet users crave, developers integrated the concepts found in search engines and popular social media platforms with an all-in-one website design equipped with an infinite scrolling function. This appealed to mobile users as content tends to shift inwards to adapt to a smaller screen, allowing for websites to be broken down into smaller sections. With the infinite scroll in mind, developers knew to plan out the layout of a longer page fit the necessary information, messages and CTAs throughout the "endless" page.
What led to this trend?
This trend was different, unique and timely. Well within the smartphone boom, infinite scrolling was already popularized by instagram, twitter and facebook feeds and entirely mobile friendly. The intention behind infinite scroll sites and pages was to make sites easier to navigate and more simple to utilize. Just like super stores like Walmart and Target, companies didn't want to give users a reason to visit a competitor's site. They took this one step further by not requiring users to visit another page to find the information they need to subscribe, call or make a purchase decision. Loyalty is dead, time is precious, whoever can give me what I need the fastest is who gets my business.
What ended this trend?
The issues with infinite scrolling websites mostly come from misuse of the technology. Companies getting too cutesy by jumping on a trend that didn't enhance their UX and, if anything, confused their users and complicated site navigation. Of course bugs are always going to be a factor in web design. Infinite scrolling was especially chancey because so much of your site relied on one page to function perfectly. Ultimately, developers took the chief concept behind infinite scroll sites – simplifying the UX – and used it to make cleaner, more seo friendly, well balanced sites that provided more content, while still being easy to navigate.
Minimalist Design – 2012-Now
With technology so integrated into our daily lives, we're constantly being poked and prodded by retailers and services begging for our attention. This is extremely over-stimulating. The last thing that a modern web user wants to sign up for is a bulky, over-stimulating website experience.
What led to this trend?
It only took about 10 years to steer the opposite way from the CLICK ME Content that .COM era users encountered. Many factors led to this shift including:
Smart technology – led to constant access to seemingly endless notifications.

More informed users – either through personal experience or from research, online users are more savvy and aware of phishing schemes, scams and general red-flags that denote an untrustworthy business.

Aesthetic standards – Clean lines and clear designs is simply what's expected of modern, cutting-edge businesses.
It can be interesting to reflect upon what was trendy, once upon a time, however, what takeaways can you gleen for your company or next web design project? What can you project will be the next web design trend of the future?