Home » Inspiration »
Line25 is reader supported. At no cost to you a commission from sponsors may be earned when a purchase is made via links on the site. Learn more
It seems like we see more and more startups launched each day. Young adults prefer to emerge in the world of entrepreneurship, rather than choosing the risk-free option of getting a job. Entrepreneurs learned that the first impression means everything, especially when it comes to startup businesses so, creating a website and a strong online presence for their startup is an essential step.
There are so many startups in the marketplace, some heading in the right direction, others not.  A lot of them are meant to fail while few will become big successes. This is why modern startup design trends have evolved, and we decided to gather here some examples of successful startup website designs and also some great startup templates and tools that are definitely worth saving.
So, here's a series of powerful startup website designs for inspiration. Some of them are websites of actual startups while others are startup website templates or tools. All of them have great designs!
Byond is a the perfect multipurpose theme created by experts. This item will help you create a fantastic website for your start-up idea with great design and a mobile-friendly layout.
StarIT is a theme created for modern startups. It has a powerful admin interface, and it is highly customizable.
Startup Idea is a WordPress theme package which can help designers, developers and companies create a website for their startup. It was created for a crowdfunding campaign.
ImStartup landing page WordPress Theme is the ideal tool for creating the perfect online presentation for your startup. This helps you to tell the story of your start-up in a beautiful and powerful manner.
Launch it's an advanced premium WordPress theme suited for personal one page/single page websites/blogs. This theme is fully responsive, flexible, with a professional design. It includes an optimized search and a visual composer page builder.
SmartMvp Modern has a clear and innovative design and can be used to promote web apps, mobile apps and all kind of marketing websites. It is fully responsive and is built upon Twitter Bootstrap 3.2 framework.
Lane is an advanced, and powerful premium WordPress theme suited for personal one page/single page websites/blogs, and business websites. It comes with an advanced framework with tons of powerful and flexible theme options.
Sonno is a multi-purpose, and responsive WordPress theme. This theme is very easy to customize with great code structure, very suitable for marketing businesses or personal websites. It adapts to window resolution and looks good on all devices.
KeySoft is a clean and powerful WordPress landing page template for software, start-ups, and mobile apps. It is available in multiple colors, with different headers and layout variations.
Profi WP is ideal for any modern agency, small and medium business, startup, corporate or personal portfolio. You can easily compose the page layout using visual composer.
Stratus is a premium WordPress theme, designed for startups, product development companies, and businesses. It includes many features you need to make your business successful.
Bivio is an advanced and powerful premium WordPress theme suited for startup/landing page websites. With its help, you can create the website you desire and you can use it to promote web services or launching startups. It's fully responsive, flexible and clean, with a professional design.
SEOHub WordPress Theme is a simple, but functional theme, built with digital marketing and SEO services in mind. This marketing theme is perfect for startups.
Armada is a modern and responsive WordPress theme that fits for startups, app developers, web services, web designers, tech companies, IT businesses, portfolio websites, etc.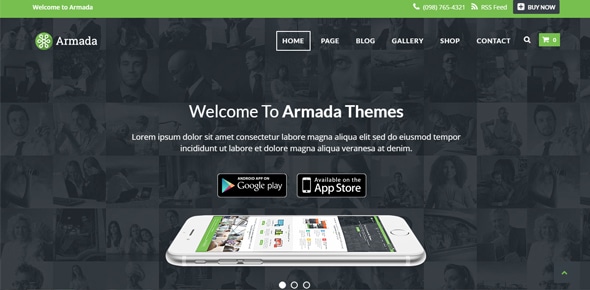 Coworking Co. is a clean WordPress theme ideally suitable for businesses. You can easily turn it into an online shop with the most powerful eCommerce plugin – WooCommerce.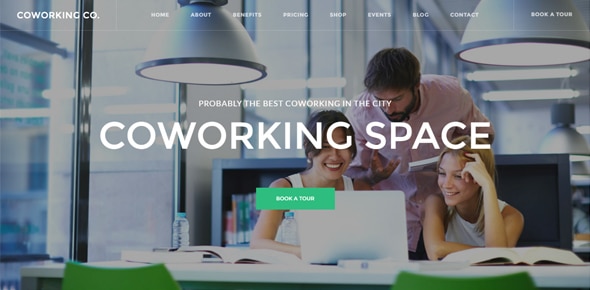 WOW is a fully-featured multi-concept Bootstrap 3.3 that looks amazing for startup businesses, events, app showcases or marketing companies. It comes with drag & drop visual builder and with useful extensions like SEO, Analytics, Events, etc.
Synergia is another great example of a powerful multi-purpose theme created with start-ups and all kinds of creative agencies in mind.
CrossWay it's an advanced, premium WordPress 2 in 1 template – one page and multipage. It is suited for personal one page/single page websites/blogs, business websites. It's fully responsive, has a professional design and comes with an advanced framework with tons of powerful and flexible theme options.
Sleek is an interesting premium WordPress theme suited for personal one page/single page websites/blogs, business websites. It's fully responsive and also it has included visual composer page builder which gives you freedom to create the site you desire.
Marketing is an advanced and powerful premium WordPress theme suited for personal and business websites. This is the perfect theme if you want a nice portfolio website where you can display your work. It's fully responsive and includes the visual composer page builder.
EVENTA is a modern WordPress theme for your conference, symposium or other events. You can customize it easily to fit your business needs.
Cube+ is suited for corporate, product, e-commerce or personal blogs.  It is designed with a modern look and it's fully responsive and retina ready.
Invested is an easy-to-customize and fully featured WordPress theme. It contains a help file along with additional features like unlimited color schemes and a page builder.
Focux is a multi-purpose single product eCommerce WordPress theme which comes with a deep integration with WooCommerce. It comes with 5 prebuilt homepage templates and 3 different single product templates.
Dikka is a multipurpose WordPress theme suitable for any type of startup websites. It includes a great collection of elements to choose from and is based on the popular Twitter Bootstrap framework.
Pursuit is a premium business WordPress theme for App and SaaS companies, startups, and businesses. It includes important features that you need for a successful website.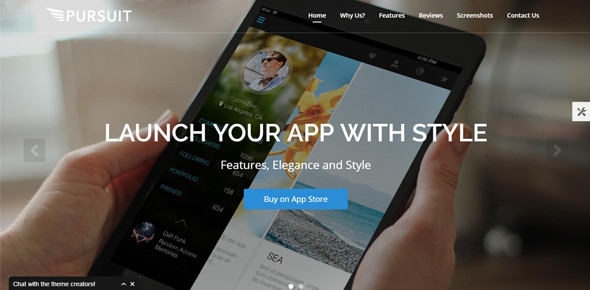 Prestige is a clean and fresh WordPress landing page template that is very easy to customize. This landing page template is quick and easy to setup and can be used to promote web apps, mobile apps and all kind of marketing and startup websites.
Ganpathi is a WordPress Theme built with Bootstrap version 3.3.2. It is a modern and professional theme that is perfect for landing pages.
This fully responsive theme looks great on any device from mobile to desktop. It is optimized for SEO and works with all of the top SEO plugins.
Eventiz is a WordPress theme for creating conference, meeting and event websites. It has a responsive layout and excellent premade design concepts. This theme includes the complete feature package that is required to create awesome events.
Cobian is very easy to customize and comes with a great code structure. It is suitable for marketing businesses or personal websites. It works perfectly on all mobile, tablet and desktop devices thanks to the flawlessly calculated Bootstrap 3.2.
Branding for Startups is an agency focused on branding, development, user experience and user interface design for startups. They have a great website design you can use as inspiration.
Highlight your talented and creative team with this beautiful, stylish layout that is fully customizable on Photoshop and Sketch. You can personalize your content, and you can easily switch sections with others and create your own style.

With this fully responsive layout, you can build sophisticated websites in no time. The template looks good on all devices (mobile, desktop, etc.).
You can launch your startup whenever you want because this layout is flexible enough to suit any kind of startup or new business.
This framework is a high-quality solution for those who want a beautiful startup website quickly. Various features will help you create the perfect look.
Startup Turkey is the leading startup event from Turkey, Eurasia and MENA, which creates a perfect environment for networking. Since 2008, the best of entrepreneurs are gathering in Startup Turkey, Antalya. Check out their website design!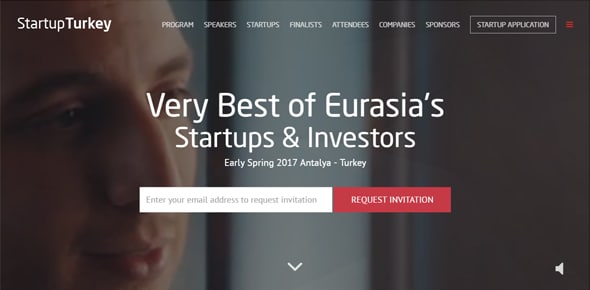 Startup Giraffe works with entrepreneurs to bring ideas to life. This is a web/mobile development shop that can help you build a startup in just 7 weeks.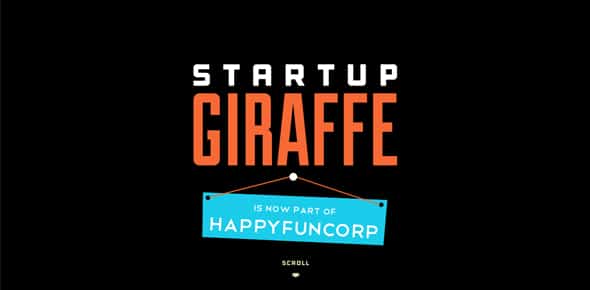 Incubator is a simple but powerful theme that we're sure will work perfectly for your IT start-up business. It was designed and coded with great care and it has a very user-friendly design.
Vini & Bal's is an award-winning range of fresh, chilled Punjabi spice blend. This team (husband and wife) shares a passion for delicious flavors of the Punjab region and created this amazing startup.
Ride 25 is a company that organizes cycling tours around the world. This is a clean and eye-catching brand with an easy to navigate website that is very interactive.
Just Eat is Europe's most successful online takeaway ordering service. The website links local takeaway businesses with hungry clients, providing an online ordering tool. The design concept was created by Delete agency.
Saas Trade is the perfect choice if you're looking for a SaaS, Software, Web Application & Startups Landing Page Template for your startup ideas.
Scholica helps schools and organizations start their own e-learning platform in short time. The layout is easy to use so you can create, test and deploy your modules without leaving your web browser.
Drip is an email marketing automation that allows you to have interactions with your customers.