Home » Articles »
Line25 is reader supported. At no cost to you a commission from sponsors may be earned when a purchase is made via links on the site. Learn more
There is seemingly a plugin for everything in the website-building world, which is a good thing. The problem is, since there are hundreds of plugins on the market, separating the wheat from the chaff can be a problem.
You might find one that will accomplish what you need done fairly adequately, but "fairly adequately" doesn't always cut it in a competitive environment. This is particularly true if website security or performance is an issue. Or if a plugin you choose does a less that satisfactory job of optimizing your site for search engines.
For example, one plugin in our list can boost your website's performance and reduce page load times – not by just a little bit, but by a factor of 10. Another brings the power of personalization to a website, and others can improve online sales performance.
We've come up with 9 top-performing WordPress Plugins that will serve you superlatively – and not simply "fairly adequately".
The first plugin in our list, wpDataTables, does some awesome things with tables and charts. This is an ideal plugin to have access to when you're working with large amounts of data, or the tables and charts you're preparing require occasional, or even constant, updating.
wpDataTables tables and charts you prepare are natively responsive – so they will display appropriately on any device type. wpDataTables can handle huge amounts of data, millions of rows in fact. Thanks to MySQL, data can be accessed and processed quickly and easily. Tables are editable, and they are no more difficult to edit than are tables in Excel. Plus, you can highlight data rows, columns, or cells, in color, based on their content.
When you create a table in wpDataTables, you can use it as a data source to create any number of charts. Like the tables themselves, the charts are editable, they are responsive, and their content can be color coded.
A free demo and tutorial is available if you would like to learn more about this amazing plugin.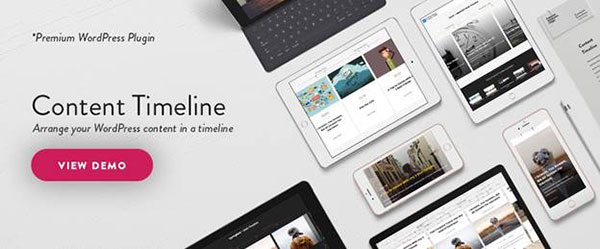 You can do some really cool things with the Content Timeline plugin. It enables you to display well-organized content such as posts, or tell a story, in a timeline. Building a timeline is simply a matter of dragging and dropping blocks of text, images, etc., into individual windows. The resulting timeline and its content are responsive, making this an ideal plugin if your audience consists largely of the mobile crowd.
You can sequence the content windows as you wish, you can add or delete items, and you can edit a content block inside its window.
12 customizable Cards are included which can be used to explain a timeline's purpose or theme. Pre-made, customizable timelines are included to help you get started. Simply replace the sample content with your own. Content can consist of text, images, flash, video, or whatever is allowed on a typical website page.
LayerSlider is a highly popular, multi-purpose animation platform with which you can create some truly mind-blowing visual effects. Sliders often do little more than move text or an image across a page. With LayerSlider, you can create animated landing pages, or stunning slideshows and image galleries. You can even build an entire website using this platform.
Any website can benefit from this plugin's multiplicity of capabilities. Its drag and drop editor, and an ever-growing set of importable templates, makes it easy for you to get started using LayerSlider. No special skills or coding is required. Just bring along a healthy dose of imaginative ideas, and let this WordPress plugin do the rest.
Multiple types of stackable transitions can be used in any kind of combination with almost unlimited possibilities to create the slider you really desire. You won't find anywhere near this capability in any other slider plugin.
W3 Total Cache has become the go-to plugin for improving website performance and especially page load times. This is the only web host agnostic WP performance optimization framework (WPO) that is recommended by innumerable web hosts and web developer.
With this must have plugin, you can anticipate at least an order of magnitude improvement in overall site performance, leading to improved search engine rankings and conversion rates.
            We're amazed by the number of plugins coming out each year. The innovation is exciting to see, but most end up uninstalled. Logic Hop brings the power of personalization to WordPress and is one we'll definitely keep.
Logic Hop gives you the power to target individual users and show the right content at the right time. Full-featured, but easy to use – Logic Hop is an awesome tool for increasing conversions. Try it and see!
If you don't already have the means of preventing your website(s) from being hacked, Wordfence Security should be placed on your "must have" list. Wordfence features include an application firewall that protects you against hacking, and scan and live traffic alerts that inform you if a hacking attempt is progress.
This is an open-source software application, which means the added security it provides costs you nothing!
            Final Tiles Gallery is a modular WordPress gallery plugin. "Modular" typically implies something that is easy to work with and offers flexibility.
Final Tiles Gallery features a flexible grid layout system that enables you to individually choose the size and aspect ratio for each image in your gallery, thereby presenting your gallery images as you see fit.
You've launched your WordPress site, and right away you find something you wish to change. That is what Yellow Pencil is for. Yellow Pencil makes it possible for you to edit and customize a website in real time. You can adjust colors, fonts, and sizes, and even add or modify animations.
An advanced responsive tool ensures that your modifications will display properly on any screen size. No coding is required.
WooThumbs – Awesome Product Imagery
The key feature the WooThumbs plugin provides is the flexibility it gives you to modify the default image area on a product page. WooCommerce allows only a single default image for your product variations. WooThumbs, on the other hand, allows the creation of multiple supportive images.
This also includes layout flexibility (thumbnail images can be placed on any side of the main image), the use of product video, sliding or stacked thumbnails, and more.
Summing up
Select one of the "must have" plugins if you have a serious need to improve a website's performance, or protect it from hackers. In truth, any of these plugins can qualify as "must have" depending upon what you're trying to accomplish.
Most are premium, a couple are free. Each of them gives plenty of value for your money. A few even qualify as sources of entertainment for the web designer who is delighted in trying unique features.