Inspirational Showcase of Business Card Websites
Home » Articles »
Line25 is reader supported. At no cost to you a commission from sponsors may be earned when a purchase is made via links on the site. Learn more
The term 'business card website' has become widely associated with the popular style of website that has cropped up on the personal domains of designers and developers. The site is essentially a simple, single page design that displays personal information, contact details and links through to other social profiles, much like a traditional tactile business card is used to display basic information.
Business card websites come in all shapes and sizes, but popular characteristics include a compact, lightweight design, often small in size. Business card sites also tend to make use of Javascript to enhance the user experience and are commonly designed with a fresh take on the interface, taking inspiration from the clean style of Apple's OSX.
Let's take a look at an inspiring collection of examples, each with an individual twist on the original business card idea.
Pin
Tim Van Damme's personal business card website is as playful and colorful as a designer's page should be.
Pin
Michealmorgan.com is a young entrepreneur's personal website which breaks the ice with a photo of him. Furthermore, you'll find a lot more about him and his passions.
Pin
Florian Pichler chose a simple letter-like design that focuses on delivering information to his readers in an interactive way.

Besides the gallery of hobbies and activities she takes part in, Ximena's website also highlights certain keywords that best describe her, making her personal web page an interesting way to learn more about someone.
Pin
Kristi Hines business card website best shows her passion, writing. This site keeps things simple and focuses on her hobbies and aspirations.
Pin
Red's page is one that makes you smile when you see it. Not only does it start with a question to make you curious but it also has a funny portrait of himself.
Pin
This page is another way of presenting yourself, this time not through the birth date and graduated schools, but through what you do best, your hobbies and passions.
Sarah Chang personal web site keeps it simple with a short presentation of who she is and a couple of links to her interests.
Pin
Ian Enders has an interesting way of presenting himself – a list of sentences that start with the same word and a couple of highlighted keywords that mark the important things in his life. Besides that, the photo is another way of getting you to know him because the t-shirt and the cup sure have personality.
Pin
This example shows a lot more information than a normal business card web site, making it one closer to a personal bio type site with a formal concept.
Pin
Greg Thongsophon's business card web site focuses on presenting only the important information, just like a real-life business card.
Pin
This one has a simple design, with a blue background, Lauren Smith's name and line of work and some links to her social media pages. These kinds of pages focus only on delivering the important information to readers.
Pin
Clément starts his first contact with his readers through a 'hello' before even saying who he is or what he does. This helps to make the information more personal and less formal.
Pin
This page is an interactive resume which starts by presenting Pascal's name over a superhero background before getting into any other details. Furthermore, you'll find everything there is to know about him.
Pin
Eugen Buşoiu also keeps it simple by choosing a background that best fits his personality and line or work to which he added some info about him.
Pin
This website focuses on presenting Hope Reagan. This site uses a white marble texture to expose one name and some information about the person. Just like previous examples, you'll find links which will help you find out more about Hope.
Pin
Jim has quite an interesting way of showing us the two sides of his personality –  the city's skyline representing his logical mind and his creative heart through a pastel-coloured landscape. If you'll continue scrolling you'll find out more about him and even some of his articles.
Pin
Timothy's business card web site uses a dark and neutral layout. This way, the information stands out making it easier to be read by anyone who is looking for him.
Pin
Lee Adam Norris' contact card uses an Asian design. You'll find a list of sites, pages and social media accounts where you can later contact him in case you need his help as a marketing manager.
Pin
Michael Dyer's website is another example of a business card web design that focuses on the important information of the person. In this case, Michael chose a neutral blue background for laying out his contact details, networks and some other info about himself.
Pin
Christian South and his business card website tells us some facts about who he is before laying out any networks and contact information.

Pin
Ryan Glover has a different way of telling us more about himself. Instead of giving us all the possible information, he uses his passion, writing, as a way to describe himself.
Pin
This website belongs to a designer, developer, and blogger called Mark Tyrrel who uses a single page to describe himself and his skills.
Pin
Allison Stadd inspires energy through her personal website and her way of presenting information. Her photo in which she smiles, the font and use of caps lock gives you a good vibe while visiting.
Pin
Ellen starts her personal presentation through a horizontal band with her photo, name, and logo before showing us some of her projects, passions and aspirations.
Pin
This website uses a changing and animated interactive background to present important of Adam Harwig's interests and hobbies.
Pin
With a minimalist design, Andrew McCarthy presents himself in a fun and interactive way. Scroll down to find more about him and watch that logo change shape and color.
Pin
With an animated background, showing a personal logo before laying out any information, Michael Villar presents to us important aspects of himself and his line of work.
Pin
Nico's website is another example of minimalist design, this time using a light gray background and an almost white rectangle to lay out information.
Pin
This website uses Robby Leonardi's illustrations to portray himself. You'll out it's divided into 3 parts: a game based resume and two portfolios.
Pin
Gabor Szauer's business card website also uses a minimalist design to state out information about himself. If you want to get to know him more, you can check his page.
Pin
This site uses yellow shape to present information about Pedro Duarte, while the black stripe has a list of projects which you can scroll through.
Pin
Michaël Betsch uses a light gray background and a centered, smaller panel to lay out some key information about himself.
Pin
Gary Sheng starts with a friendly hello on a band made out his photo. This way, he gives a good and positive impression about what a reader is about to see.
Pin
Kasten Rieger also uses a simple and minimalist design to present himself. He uses a small and representative photo along with some other data about him and about how you can contact him.
Pin
Rafael uses key words and images which can be discovered while scrolling his page. He definitely found an interactive way to reach people.
Pin
This is another example of a static background, this time with a photo of the person this site is about, and a scrollable stripe that can be used to lay out information.
Pin
This personal website best shows Brandon Johnson's interests through logos, images and even the way the text is displayed. You'll find out he is a planetary scientist before even noticing this piece of information.

Pin
This is a different example of a personal page. In this example, Quinton Harris uses a scrollable gallery of personal photos to present himself.
Pin
This is another example of a single, static page which contains pieces of information about John Phillips. Like previous examples, you'll key words highlighted and linked to other pages (ex. 'being a dad' is linked to a photo of him and his two kids).
Pin
SeanHalpin has a very creative way of presenting himself to his readers. He is a web designer who uses illustrations to best display what he can do and how he can help.
Pin
Tyler Galpin also uses a dark and neutral layout and only a logo of his name. This example is best used in smaller circles, as it doesn't give you any other information about who he is and how to find him, and is much rather used to contour someone's personality.
Pin
Mattias Kretschmann combines the business card website with a showcase of projects he has worked on. You'll find out he's a designer and developer and although he's not available for hire, you can try talking him into one of your small projects.
Pin
Melanie's page uses a horizontal band with her logo as a primary form of presenting her. By scrolling, you'll find out her website turns into a grid-type that will showcase projects and more information about her.
Pin
Simone uses a minimalist design. This page only lays out key information about the person it is presenting. Besides that, you might be surprised to find out you can play a game on her page as she likes 'crafting interfaces and interactions'.
Pin
Luke Stevens uses his personal page to present himself to his readers and also to present ways in which he can help you optimize your site and business.
Pin
Nik.org presents itself as an online home of Nik Papic. With its lilac layout, Nik tells us more about his life, passions, and aspirations.
Pin
Graham Hicks uses an animated logo as the first thing you see on his page. The rest of the page uses a white background with bold colors to layout important information about this person.
Pin
Ryan is a designer who works at Webflow and this is his business card website. What makes this page different are the 3 photos that play a good role in getting to know him and his hobbies. You can move them or change their size as you please.
Pin
The last example is Appenstein's business card website. With his page's green layout and logo, Justin Youens presents himself as an independent iOS Developer.
Pin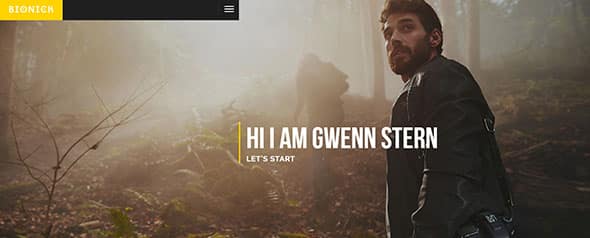 Pin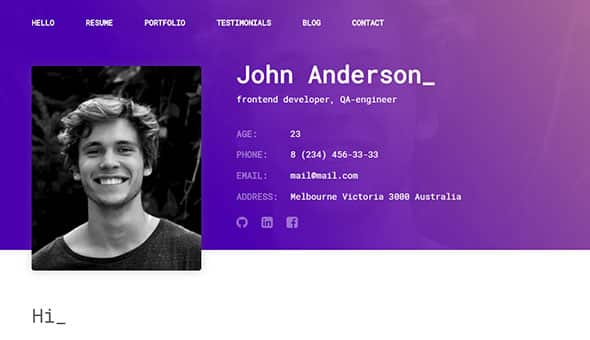 Pin