20 Free Admin Dashboard Templates
Home » Articles »
Line25 is reader supported. At no cost to you a commission from sponsors may be earned when a purchase is made via links on the site. Learn more
If you're looking for free admin dashboard templates for your next website or web app design project, then you're in the right place!
Each one of these free admin dashboard templates has a different focus. While some of them have more general designs, others are more specific, suitable only for certain web projects.
These are powerful admin dashboard templates with lots of useful web elements and will make a great starting base for your web project.
Check them out! You will definitely find the free admin dashboard templates you need, right here on this list.
This is a Material admin dashboard starter UI template with an Ubuntu style. It can be used as a front-end toolkit for lightweight and mobile-friendly web apps.
Pin
This is a free Bootstrap 3 admin template that leverages the power and flexibility of HTML5 & CSS3.
Pin
Modular Admin is a free dashboard theme built On Bootstrap 4. It has an HTML version too.
Pin
Metis is a free Bootstrap Admin Dashboard template which comes with a huge collection of plugins and UI components.
Pin
This is a Twitter Bootstrap 3 admin template that can be used to create admin panels, project management systems, web applications backend, CMS or CRM.
Pin
This is an Angular Bootstrap Admin Panel framework. This is a very useful freebie front-end developers because it can help you jump start your project.
Pin
AdminLTE is a free admin control panel theme, based on Bootstrap 3.x. It has lots of useful components.
Pin
This is an Angular admin dashboard with Material design, that comes with a generous collection of elements for creating the best apps.
Pin
This is a multipurpose admin theme with lots of features, CSS3 Animations, 2 dashboards, charts, 20+ integrated plugins, 20+ pages, Font Awesome Icons, and more!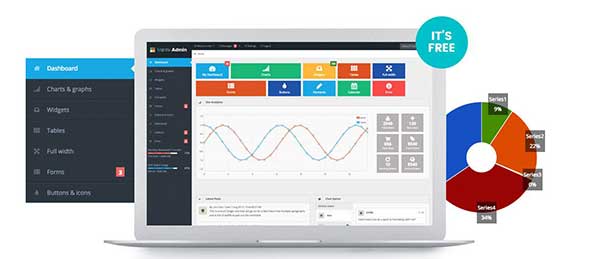 Pin
This is a free Bootstrap 4 admin template that is extremely powerful and completely free for you to use.
Pin
Joli is a free admin template based on Angular JS. It is responsive and compatible with all devices. It is also very easy to use and customize.
Pin
rdash-angular is an AngularJS implementation of the RDash admin dashboard. It uses a small number of modules, along with some handy directives and controllers.
Pin
Light Bootstrap Dashboard is an admin dashboard template with a beautiful and simple design. It is built on top of Bootstrap 3, thus being fully responsive.
Pin
Here are some Bootstrap admin templates and dashboard components, created with HTML, CSS, JavaScript and jQuery
PinPin
DashGum is a simple admin panel with 15 pages, charts, tables, panels, calendars, notifications, to-do lists and more.
Pin
This is a dashboard framework created with Angular.js and Twitter Bootstrap. This is a reliable, user-friendly and easy to customize template.
PinPin
This is a Bootstrap admin theme featuring powerful jQuery plugins for extended functionality.
Pin
SIMINTA is a responsive admin dashboard template that uses the Twitter Bootstrap Framework for admin and backend applications.
Pin
TemplateVampi is a free admin template for web designers and developers, based on Twitter Bootstrap. This is a fully functional and customizable admin template.
Pin
BCORE is a fully responsive admin template with a Bootstrap look and feel. It comes with 40+ integrated plugins for charts, data tables, maps, notifications and more.
Pin