Home » Articles »
Line25 is reader supported. At no cost to you a commission from sponsors may be earned when a purchase is made via links on the site. Learn more
Unlike popular belief, business cards are still very relevant. They continue to serve as an important business collaterally, which you can use to provide the right set of information to people. This information may be about you or your organization. For corporates and in many business cultures, the exchange of business cards is an unmissable ritual. But, if not done right, it can also hamper your first impression.
Just like other print media, business cards are tangible marketing assets. It means that the receiver of the business card will retain it and use it when needed. Furthermore, it is believed that with the rising digital overload of information, such printed assets help in better brand recall. This is why you must pay attention to the business card design and content. Digital media has, however, reshaped the perspective of business cards. In this blog, we have collated some highly innovative business card design trends which we will see in 2022.  
1. Die Cut Business Cards
Marketing is increasingly getting competitive, and in order to establish a good recall, you need to do something different. If you can amaze people, you have their attention, and they will also remember you or your brand for a longer period. Routine business cards fall in the category of boring, and if you are looking to do something different, then die-cut business cards are a good idea. 
You can design die-cut business cards by using the brand logo or other brand elements. If the logo is a simple shape or even wordmark, you can have that cutout throughout the card. Another safe option is to have geometrical shapes or patterns in die-cut. Many are going for two-layer cards, with one layer having design cuts. Given how big creative bandwidth this option is providing, die-cut business cards will be one of the top business cards design trends in 2022.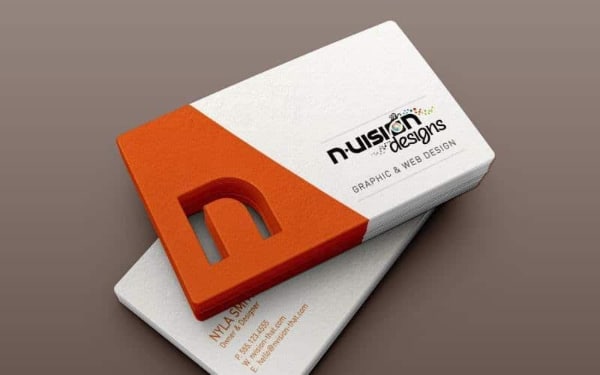 2. Cards that Speak for You
Your business cards are going to be your representation. They will speak for you in your absence. Unfortunately, some designers are taking this concept too seriously and creating cards in a conversational tone. The psychological reason for this trend is that marketers are now trying to personalize assets as much as possible. They want to give a human touch to the collaterals to have a better connection with the audience.
Conversational business cards can range from having a simple "Hello, how are you" to various other cool and quirky messages. This works well for the creative industry and also for personal branding.
All though, business corporations may still want to avoid this business card design trend. Because these cards break the normal design norms, they allow more creative bandwidth to designers. They can also serve as conversation starters and have a good brand recall.
3. Understated and Tasteful
A business card design trend that is slightly in contrast to the above trend is understated. As a designer, you need to understand that not all design trends will suit your brand. You need to keep in mind the sector your brand is in and its target audience and then use relevant and effective trends.
This trend of designing understated and tasteful business cards would work well for personal, professional brands who want to showcase an elite persona.
You need to follow the "Less is More" formula and ensure that your design elements are not very loud from the design perspective. A good approach to such designs will be to first put down all information you want to showcase in the card and then add a simple brand element based on the space left. The fonts and the colors you choose will also help you keep the design neat and subtle.
4. Wrapped Design Business Cards
Business cards essentially have two sides to them. While some choose to utilize only one side, many want to exploit all the possible space for marketing more. If you are going for a two-sided design, then this business design trend of having continuous patterns or designs across the sides could be handy. It will also make your design stand out and impress the audience.
For all double-sided business cards, the design of the two sides must be coherent. You can have design elements and even content overflowing from one side to the other. This not only makes the sides connected but ensures that the viewer turns over the card. Such designs will make your card look different and interactive. A word of caution: such wrapped designs would need precision printing; otherwise, they may look shabby.    
5. Glowing in the Dark Design
Business cards need to be an extension of your brand identity. If your brand is about fun, cool, or being different, you can opt for this latest business card design trend of using special print ink. In addition, there are business cards that have a neon effect, and they glow in the dark. This would not be a bad idea as it allows viewers to check the content even without light. Also, as it is obvious, it makes the card look different and cool.
Designers are experimenting with printing inks, and in 2021 we will have more such quirky designs. You can choose to have partial content in such neon glows. Other designs can make your content change colors based on the light incident on them. You can use this idea to make your logo or name stand out on the business card. Either way, it is advisable to test out how the design comes out before printing in bulk.
6. Pattern Extensions Setup on the Card
The use of patterns is a graphic design trend that is very prominently being used in 2021. We expect to see this trend translate into a business card design trend in 2022. Business cards generally have a lot of space. Designers can use this space to include rich design patterns. These patterns can be in the form of simple lines or circles. You can check out the various trends in patterns as well. Presently minute patterns which are pleasing to the eye are trending.
You can merge this trend with the new business card design trend of wrapped designs. This way, the design pattern you are using can overflow from one side to the other and make the card look visually stunning. The patterns used can be inspired by your brand, values, or services. You can also provide a foil or layered printing, making the texture stand out. This can further open up new avenues for being creative and make your business card stand out.
7. Bright Painted Edges for the Card
The edges of the business cards have been like the second page of Google Search – no one pays attention to it. Even designers have conveniently overlooked this aspect of the business card till now. But that changes in 2022, with the rise in the business card design trend of using bright painted edges.
By default majority of the business cards have white edges. People generally stack the cards in their wallets or cardholder, and here a painted edge card will quickly stand out from the rest.
The choice of color for the edge can depend on your branding. It should ideally be a color from your design palette. You can also go for a gradient if you want the edge to be more vibrant. If you have a wrapped design, you need to figure out how to make the edge more visually appealing. If you opt for this business card design trend, it will be a good idea to use thicker paper for card printing so that the edge effect is nicely visible. 
8. Big and Bold Typefaces
Using the right fonts to make your design visually appealing is a trend that is common for all design streams. Designers want to communicate more with the fonts now, which has translated into a business card design trend for 2022. We will see business cards with big and bold typography.
This is another attempt of marketers to make their brands stand out and be seen. Such bold designs come under the category of modern designs, and hence you can use this theme for all brand collaterals.
However, the big typefaces would be limited to only a few words. The routine business information like the contact details should be designed in a normal font that goes well with the bold font. Business card fonts tend to include bold type and can be matched with flat or strong colors. Designers prefer to set up the big typography on the unused side of the business card. This can help catch the viewer's attention and help ensure a stronger brand recall.     
9. Plantable Business Cards
Being eco-friendly is no longer a trend but a necessity. Brands and designers are aware of this and working towards having more nature-friendly designs. One business card design trend that has emerged when it comes to business cards is creating plantable business cards. This trend will make your brand come out as nature friendly and ensure that whomever you give the card to will preserve it nicely. Not to mention that the business card will actually transform into a tree or a plant if planted well by the user.   
From a concept point of view, this idea sounds very good. Seeds are included in the printing process. Once the cardholders decide that it is no longer needed, they can tear the card and plant it in the soil. The seeds in the card will grow into a plant. Because the design is centered on the concept of seed plantation, there will be limitations in terms of design.
However, you can keep the design simple and include elements related to nature to match the concept. Another nature-friendly design version uses recycled paper or materials for printing business cards.
10. Use of Contrasting Colours
One of the most used design trends is the combination of contrasting colors. Such color combinations help ensure that the right message is highlighted effectively. Business cards need effective designing, as in a small space, you want to showcase many things. Here the right use of contrast can help you showcase the business information.
Each color has its significance. As a designer, you should be aware of the science of colors and choose the colors that work best for your brand. A useful tip will be to go for brighter colors for typography and a lighter color for background; this will help the text be easily readable. However, you can always experiment with the colors and come up with stunning designs that suit the brand. 
11. Filling Your Business Card with Vibrant Gradients
Another prominent business card design trend in 2021 related to color is vibrant gradients. Fluid gradients have been in trend for quite some time. Gradients have the power to instill life in any design. Designers are using this power now on business cards as well. Gradients can put more color in the business card and make it stand out.
Based on the brand you are designing for, you can choose how best to use gradients. For example, if you want your design to be cool and quirky, you can set up a gradient on the entire business card and use white or other contrast colors for text. Otherwise, you can use bands or patches of gradients. Keep in mind that printing gradients is not easy and may not come out as good as the digital version of the design.
Conclusion:
While the blog collates some of the most innovative business card designs trends of 2022, you need to study them carefully and see which one matches your branding style. It is important to keep in mind that business cards will be printed, and hence all design rules related to print media will apply to this. Also, business cards are generally the first business collateral you create after designing the brand guide. Thereby they become an important medium to apply your branding design. Once you have the design for the business card ready, it becomes really easy to design other collaterals.
Related Resources: