Home » Articles »
Line25 is reader supported. At no cost to you a commission from sponsors may be earned when a purchase is made via links on the site. Learn more
Food industry designs are always interesting to work with. There can be any industry, concept, and objective, but the design part is always fun and creative. When you decide to make your own background, you need to take care of many things, and that is why it's always easier to get predesigned background images that can support your design effectively and make your task convenient.
Food industry designs require strong, attractive, and vibrant backgrounds that can efficiently connect with the audience. So to deliver a successful and compelling design, you need to find an adequate background image, which can demand a lot of searching. But not after reading this roundup, because here we are showcasing 20 must-have backgrounds for the food industry designs.
These background images are premium and professionally designed. Most of them are free, while select few may require a purchase. Whether you want to use them in your design or want to collect them for your collection, they all are worth your attention.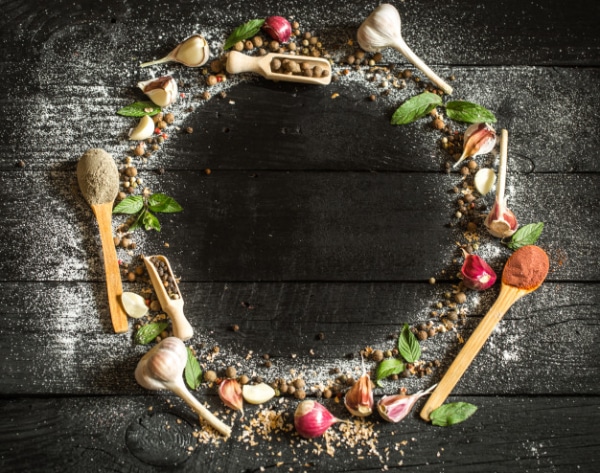 This excellent background has rich and realistic elements with beautiful design and concept. You can see a beautiful spacing in the middle where all the spices and objects are lying in a circle shape. This is a perfect image where you get a black background and dedicated space for your design. Regardless of the design type and object, this interesting background is very much useful for designers who want a realistic background related to the food industry.
A generic and straightforward background can save you for many robust designs. The dark brown surface with contrast-colored pasta makes it more appealing. This background can be very useful for almost any design as it doesn't really portray any specific genre. However, this pasta background is a pretty simple, minimalistic, and sophisticated image; if you are in search of a vibrant and dramatic image, then this might not be the best choice for you.
If you want to get a clean and minimalistic background for your food design, this one is a great choice. On a bright background, the are lemons in perfect symmetry, and therefore it makes it a great background. This kind of professional-looking background can be expensive sometimes, but you can download this for free and use it in your design. When you want to enlighten your texts and create cheerful vibes with your design, you surely need a background like this.
It has a light and decent wooden surface with some colorful vegetables around the corners, which creates a beautiful frame. You get a perfect highlighting area where all of your primary design elements can take place and make a wholesome design. This background can fulfill any design's background requirement, whether it's a banner, poster, or ad. This realistic background is a high-quality image, and you can get it for free to make your design stand out.
This one is a plain green background with a single candy object. A very good example of minimalist food design background. When you have a large design concept with many design elements, you require a simple background that compliments your overall design. And for that kind of purpose, this green background image can work really well. Green is an upbeat and lively color so that it can suit multiple design categories, and that's why this background is one of the must-have images for food industry design.
It is a modern and creative food background that includes some natural food elements and hand-drawn food objects. An excellent black background that looks premium is something every designer wants in his design projects. So if you are looking for a unique creative background for your unique food design, you can definitely pick this one and build a solid design. It allows you to add your content and design in multiple unique ways and do not limit your creativity and expectations.
A healthy image with vegetables and fruits can help a lot in food design projects. This background has a cheerful appeal with colorful oranges that can work as a solid element in your design. The rustic surface in the background looks stylish where you can perfectly place your content and logo. When you want a strong background with multiple colors and complex objects, you should definitely pick something like this to attract your audience with a bright and exciting look.
A background filled with multiple objects is also another category for designs. This background is a highly creative vector image where different vegetables and fruits are placed on an olive-colored base. This vector background can be used to explore new creative subjects where you can utilize its colors and objects and fulfill your objective. With some editing tricks, this image can really work well as a background for any food-related design.
This one is the most unique background. An artistic and high-quality image can make a perfect background for any corporate and professional projects. This image has vivid colors in checked style with abstract fruits, and the overall background has a beautiful, attractive approach which can be really useful in a number of creative designs. So when you need an exclusive background that can elevate your design seamlessly, this abstract fruit background can come in handy.
A chopping board, plate, or table can be a smart object to provide a valid space for design and qualify in a food design background. Here you get various cooking elements on a wooden surface with a chopping board right in the middle of the image where you can place your content and complete the design efficiently. You can definitely use creativity and do magic with this image because it gives designers much freedom and space.
A very interesting background is available for certain types of concepts. Here we can see different shades of orange color. There are some cooking elements, pumpkin soup, and leaves that altogether throw Halloween and winter vibes. You can use this background as a strong design concept that mainly falls under the winter season segment. Bright orange color has the ability to attract the highest attention, and it is a color of warmth and confidence, so use it for creative projects or get inspiration for any objective.
It's a simple and attractive background which you should have in your folder if you are always busy with food designs. It's a multipurpose image that can go well in the end number of designs as a background or any other designing element as well. This high-quality and realistic image of delicious popcorns can make an excellent background for modern and unconventional food design. So definitely, this decent background can take place in your collection for food category design.
This high definition and clean image is a fantastic minimalist background with maximum white space and some colorful cupcakes. These kinds of backgrounds are beneficial because they provide maximum space for designers to explore and experiment with their designs. In addition, it is a fun and attractive image, very well organized and designed as well. That's why images like this should be in your must-have background list if you have an inclination towards food designs.
A coffee background is one of the most loved and used backgrounds in food designs. This background has an alluring coffee mug image with coffee beans in depth. An excellent picture that can give you a basic but strong background with you can build a design of the hot beverage category or some other food categories as well. This compact background is available for free and ready to help your design or inspirational requirement.
This creative vector background is a high-resolution image with 1920*800 size. You can use it for various restaurant-related designs and for other cooking and food-related concepts as well. This background has dark and vivid colors with an innovative arrangement of elements. Here, you can modify this image as per your design and highlight your content with interactive fonts and pleasant colors to deliver a fantastic food industry design.
Pastel backgrounds always look trendy and eye-pleasing in any design. Here, this background has tasty food elements on a pastel surface, and it looks very much fresh and enticing. Your design can have any theme, but it can surely look cool and considerable with this background. The surface is rugged, and food ingredients are very natural, making this background sophisticated and authentic for multiple creative projects.
It's a beautiful graphical image with all the sweet elements like chocolates, strawberries, and nuts. A green gradient with a white frame is an excellent concept to showcase important content. You can use this background creatively for sweets and chocolates-related design. Here, with this image, you get certain restrictions due to frame and pre-built structure, but if you need a specific frame-based background for your food design, this can be a brilliant option.
This realistic watermelon background is a beautiful creation that can help many designs and creative projects. Here the juicy red watermelon slices are lying on a bright blue wooden surface to build a positive and striking image. With menus, ads, banners, websites, and many other designing elements, you can use this background and give a vibrant look to your food design. Whether you are an amateur designer or a professional photographer, this image can help you immensely with more fabulous creative ideas.
It is a beautiful image with an honest representation of tasty food on a table. The plating is professional, and there are no unnecessary elements in the image, which is perfect for making an appropriate background. The rusty black surface with a warm color pallet is ideal for any restaurant, blogging, photography, or cooking design category. It is the trendy, professional, and multipurpose background that you can consider for your creative concept.
A perfect table representation image is a must-have background when you are working in the food industry. It adds more realism and volume to your design without taking much time. Here this background is very colorful and authentic. There is a wooden table, napkin, black pot, and some cooking ingredients. You make this background useful for your design by adding a logo and content with some creative objects and effects. Many designs can require this kind of bold background so consider this for your essentials list.
Backgrounds with perfect food elements and elevating colors are always loved in every food design. However, disorganized and low-quality backgrounds can take down every designing element, and that is a disaster every designer wants to avoid. And when it comes to deciding on a background, you have to pick the best one. We understand this very well, and therefore our experts have curated this list with you can check out some great backgrounds and get your suitable one.
Backgrounds quality design and rich concepts are not easy to create, and it does require reasonable time. However, we care for your concern and requirement, so do not look further and use these images or take inspiration for your creative projects to enhance and grow with your skills.