Home » Articles »
Line25 is reader supported. At no cost to you a commission from sponsors may be earned when a purchase is made via links on the site. Learn more
A fully responsive web design is all about ensuring a website will display and function perfectly on any device, be it a smartphone, tablet or laptop.  In today's post, we've rounded up 15 mockups to showcase your responsive web designs, which will help you show your clients how their websites will look like on all types of screen sizes.

If you want to showcase your portfolio or present web designs to your clients, you need a way of showing all the different layouts structures in one go. Using PSD mockups is a great way to do so, by allowing you to copy and paste in a design onto the screens of computers, phones, and tablets.
You can easily customize each mockup design and insert your own projects. All you need to do is to edit the smart objects, insert your own designs, and you're done – quickly and effortlessly but with stunning results!
These PSD mockups are real time-savers, allowing you to focus on other important tasks. Simply download the pre-designed mock-ups, insert your content and your work is ready to be seen by the world! Use these PSD templates to showcase your responsive designs flawlessly on any screen size.
Browse through all of them and select your favorites. You can choose between various styles: realistic, outlined, and more. Here they are!
This is a complete website header with devices for showcasing your designs. The fully-layered PSD file comes with tons of customization options at a size of 2380 x 2000 px.
This is a photo-based mockup with an iPad and iPhone. The PSD file is 4071 x 2714 px at 300 dpi with two smart objects.
This mockup contains an iPad and an iPhone. It comes as a 2500 x 1800 px (at 300 dpi) sized PSD file with smart layers and editable background.
Showcase your responsive web designs with this mockup featuring a MacBook, iPad and iPhone. The file comes with three smart objects.
Here you'll discover great PSD mock-ups of various devices. Use them to showcase your designs and to really impress your viewers. These designs have easy customizations and will display perfectly on any screen size.
This is a nice set of different Apple devices mockups which can come in handy in various situations. These are available in PSD, AI, and EPS file format.
These are high-resolution mockup templates with a fully responsive design. You can quickly customize them in an editable PSD file, with smart objects.
Check out these fully responsive templates which will automatically adapt their layout to fit any screen size. These will display perfectly on any device, making sure your designs are precisely as you wanted.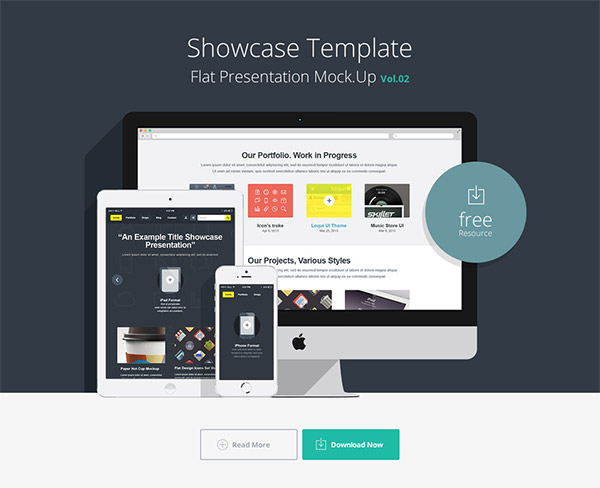 This is a great collection of 6 different mockup templates of various devices. You can download them in a fully editable PSD format.

This freebie has a fully responsive design which automatically adapts its content to any screen size. This set includes displays for iPhone, iPad Air, MacBook Pro and Thunderbolt.
Here you have another stunning pack of 100% responsive templates which you can download and use right away. These are available in a well-organized PSD file which includes smart objects.
Use these amazing PSD mockups to showcase your designs to your clients.This set includes templates for various devices such as iMac, iPad, iPhone or MacBook Pro.
Here you have a stunning set of PSD templates which you can use to showcase your projects on various screen sizes. You can quickly create the final presentation: simply download the template and insert your designs.
Here is a variety of templates which picture various devices that you can use to showcase your current projects. Also, these PSD mockups are reusable so, you can keep them for future designs.
These PSD templates will surely come in handy at some point. You can download and use them for free, in both personal and commercial projects.
Here you have a neat set of layered PSD mockups which you can use in various situations. These are available at a 3500×2500 px and include different devices such as iPhone, MacBook Air, iPhone, iPad Air, iMac.
This is a neat pack of outlined templates of different Apple devices. These are available in a PSD format, and use vector shapes which make them perfect for large scale projects.
Here you have an excellent collection of realistic mockup templates which include smartphones and notebooks. You can easily integrate your designs by editing the smart objects.
These mockup designs are available in both AI and PSD file format. These templates include realistic Apple devices which you can use to showcase your projects.
Check out this flat mockup template which you can use to display your work. You can download it in a PSD format and it has an easy customization, with smart objects.