18 Free Cool Coming Soon Website Templates
Home » Website Templates »
Line25 is reader supported. At no cost to you a commission from sponsors may be earned when a purchase is made via links on the site. Learn more
Launching a website is a long process. From purchasing a domain to establishing a perfect website involves many steps and decisions. However, until your website is ready for the stage, you don't want to lose customers and possible engagement. And for that matter, coming soon website templates come to the rescue.
Brands prefer to launch a coming soon website page before launching their actual website to build interest and attract the right audience. While your website is under construction, the coming soon page can serve your audience. It is an excellent way to market your business and brand, and even to collect email address of potential customers.
And in today's list, we have collected some of the best coming soon website templates for you to save time and energy for core website development. These 18 cool coming soon templates are free for download, and they all have unique elements to represent your website beautifully. Let's check out the following list of templates in detail.
Pin
Zoon is a beautiful HTML template with a modern layout and innovative theme. There is a title with a timer that you can edit if you want, and there is an about us section and address as well to add more details. We are currently working on something extraordinary; stay tuned is a very interesting title, and with a timer section, it adds more attraction. You can make your audience feel the value and importance they can receive from your brand. It is a fully customizable and mobile-friendly template that is compatible with most modern browsers. And another unique feature of Zoon is Google Maps integration which can quickly help your audience to locate you.
Pin
The starter is a decent, minimalistic bootstrap template that is perfect for a coming soon page or landing page. It has clean HTML and CSS3 code with exciting customization features. You get a beautiful gradient banner, contact form, google fonts, a timer, and stylish design with this theme. And due to its easy customization options, you can transform it as per your brand requirement. Overall, this single-page template is attractive, subtle, very much flexible, and helpful for various coming soon websites.
Pin
Layla is a very fascinating template. It offers a strongly built template with an attractive design to convince any brand and website designer. For an interactive countdown and little intro, this template can be a perfect choice. This fully customizable website template has bootstrap support, a mobile-friendly layout, SEO-optimized structure, clean code, and a very stunning design. Layla is a completely free coming soon template, so be assured with its look, structure, and usability. You can customize this as you want to go online within a few steps.
Pin
With smart elements and professional design, advent can help you to create a solid coming soon page for your beautiful website. This well-crafted HTML5 template is fully customizable to satisfy your creative needs. Advent offers a modern countdown timer, mail chimp ready ajax subscription form, about us section, and google map integration. You can choose this fully responsive template supported by many latest features to develop your website's coming soon page within minimum time and effort.
Pin
Nick is a modern and smooth website template. This single-page template follows the bootstrap framework and holds clean and developer-friendly HTML and CSS3 code. This template is very elegant and minimalistic. It offers impressive customization feasibility with a professionally built structure. And you get google fonts, completely responsive design, effortless scrolling, contact form integration, and many advantages with this theme. You can simply download this for free and edit as per your preference to launch a landing page of your under construction website.
Pin
If you are a creative person and want to build a unique coming soon page, then opting for Khronos can be a great choice. You get three amazing templates in this download, and they all are equally gorgeous with similar features. The three different variants are static, slideshow, and particle background. And you can fully customize this template however you want for your brand. It is mobile-friendly, retina-ready, mail chimp integrated, and with a straightforward structure, making it a brilliant choice for the coming soon page.
Pin
This coming soon template is a very basic but unique template. You can engage your audience and notify them whenever your website is done to go live. It holds a strong HTML5 and CSS3 coding structure with a responsive layout. It has a unique progress bar instead of a timer that can help you present your website's current progress state. And with the email address section, your audience can get in touch with you if they like. So with a clean and straightforward design, these unique coming soon templates can be a good choice for your website launch.
Pin
This coming soon template is modern and robust. You get ample space to make your brand and logo shine. And It is sophisticated and fully customizable. It is packed with a sign-up form, headline, email box, a vertical timer on the right side, and social media links on the left side. So, build an eye-catchy coming soon page in your creative way with the help of this highly customizable template.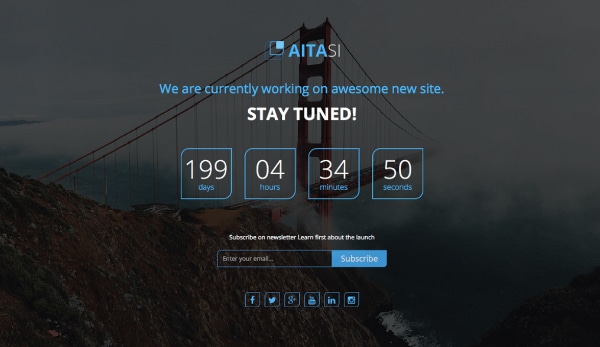 Pin
Aitasi is a wordpress landing page that is professionally designed for coming soon or under construction use. It is a wide and minimal template with excellent customization features. It is ideally actionable on any device and browser. Moreover, this mobile-friendly theme is highly flexible and customizable with unlimited colors and essential features like a modern layout, countdown, and contact details. Overall, this premium-looking coming soon template can help you to build yours instantly and without giving output any less than paid templates.
Pin
An attractive coming soon page can favor your website when you launch officially. With this template, you can quickly build a prosperous and subtle coming soon page as per your preferences. You get full access to every element in this template. And you can use this HTML5 Bootstrap page for free. The unique layout where you can keep your banner on the right and all information on the left can make an intelligent design for your website. So rest assured if you are selecting the Soon template for the coming soon page.
Pin
This Bootstrap-powered coming soon template has an elegant-looking page with all the necessary elements. Be it for a personal page or company website; you can use this template as an attractive landing page until your website is not ready. It is a fully responsive and deeply customizable template to make your task easier. It has perfectly designed elements, but if you want, you can change them at your convenience. You can use this smart and powerful template to get the desired page without heavy investment and strong coding skills.
Pin
Jaximus is a fully responsive template with many helpful elements. It is simple and well designed, and it has an exciting website structure. This single-page template can do many things if you want to turn your coming soon page into a more elaborative landing page. There is about us, contact us, countdown, features, services, and achievements sections to attend the audience with detailed answers. You can choose this bootstrap-based template and customize it as you like. You can easily create a solid coming soon page with or without different sections with Jaximus.
Pin
See Soon is a minimalistic and extensive template. It is easy to customize and quick loading template. You can create an interesting countdown page prior to launching your website, and you can use this as a supportive landing page until your website goes on the floor. This template is Bootstrap powered, retina-ready, and fully responsive. You get a timer, supportive background, about us section, and contact details block with this template. Overall this template is a good choice if you want a single page coming soon template with extra sections.
Pin
Whether you are launching a new website or upgrading your website, the Opening template can work both ways to inform your audience when they can access your website. It has a clean, sleek, and easy to manage layout with modern features to fit any brand's requirements. You get a beautiful and flexible template in this download that is compatible with every browser and device. You can use this template for a stunning coming soon page with solid features like a digital timer, wide banner, contact details, and a supportive section for any other information.
Pin
Maundy is a classy and smooth coming soon template. This single page coming soon template is built with Bootstrap support and HTML. It has a fully responsive design with an intuitive structure. If you want a minimalist and extended coming soon page, then Maundy is an attractive choice. It has a timer, about us section, contact details, and Google Maps integration. With multi-browser support and a well-documented template like Maundy, you can instantly build your coming soon page within a few steps.
Pin
Orion is a beautifully crafted Bootstrap-based template. It offers a minimal layout and a captivating color pallette. And you get everything for your coming soon page within accessible range. With beautiful design, any brand can stand out with this template before even the main launch of the website. It has a mobile-friendly layout and a featured service section as a complementary option. So, in few words, you can say It is simply the best single-page template for a creative under-construction website.
Pin
For creative goals, if you want something elegant yet playful for your coming soon page, then Black is a brilliant option. It has a Bootstrap framework, intense-looking design, and HTML background canvas animation. A complete package of exciting features like timer, contact links, subscription form, and innovative tech animation of hover activity make this template unique and lovely for any contemporary brand. The best part is that this premium quality template is free for download, and therefore undoubtedly, it is the most recommended template for a cool coming soon page requirement.
Pin
Moon is another elegant and robust coming soon template. It has a single page structure with rich-looking design combinations. It allows you to give a classy brand presence until your website is done. This template is built with the Bootstrap framework and tested on multiple browsers and devices. Also, you get a background slider, google fonts, digital timer, extended sections, and fully customizable design in this download. If you are selecting Moon single page coming soon template for your under construction website, you can save lots of energy and expenses worth spending for original website development. And there wouldn't be any compromises on the outcome as well.
In coming soon templates, you probably need some essential links and details that can guide your audience to know your brand and get in touch with you. So for any brand, contact details and social media links play an important role on their coming soon page. Some website designers prefer to design their coming soon page traditionally but creating it through a free template is purely a harmless option.
It saves time and energy without any investment and compromising on results. Building a brand presence through various mediums and attracting a target audience for an upcoming website or product launch is a smart move of marketing.
With above mentioned coming soon templates, you can find one as per your requirements and create a wonderful coming soon page of your under construction website. They all are unique and with fantastic customization options to cater to every kind of brand.