Home » Inspiration »
Line25 is reader supported. At no cost to you a commission from sponsors may be earned when a purchase is made via links on the site. Learn more
Looking for some inspiration for a review website design? Look no further! Here are 20 best review website designs, some of which belong to really popular websites, while others are WordPress themes you can use to create your own review website.
Whether you want to review latest gadgets, fashion clothing, travel destinations, computer games or even sports equipment, these examples of the best review website designs will surely provide you with enough design inspiration to start working at your new review website project.
Here they are!
This website browses social media to find the latest Portland food, beer, shopping and music shot by visitors and locals. It's a very useful and nice platform in you want to find out what are some things to do and places to do in Portland. It can even help you plan your trip.
Reviewer is a WordPress theme built for writing reviews for movies or TV shows. It has all the features needed for a powerful review website design, including easy translation to any language, five background pattern options to choose from, five star rating system, a widget for 'featured author/reviewer' and more!
Gauge is a review theme that allows you to create extensive reviews for games, movies, food etc. Each review item has it's own centralized hub page with tabbed navigation. This theme comes with a fully responsive, modern and clean design. The review system works pretty great and it also has a very nice design. It also comes with BuddyPress/ BBPress integration.
Product Hunt is a curation of the best new products. You can use it to discover the latest mobile apps, websites, and technology products that everyone's talking about. It has a really cool and simple design that makes everything very easy to find. You can start by searching through yesterday's latest products.
Reviews is a complete system for reviewing products and services. Users can leave feedback about a certain product/service they wish to purchase. You are able to create as many reviews as you want for as many criteria as you want. It also comes with great gallery and slider and it also gives you the possibility to count any review's visits.
Swagger is a WordPress theme that allows you to create unlimited custom review "mini-sites" within your main website. In order to give your users the best experience possible, Swagger's front page will grab content from your mini-sites and display it all together in a very cool showcase.
This site lets you research, find and buy the best supplements. Labdoor tests the purity and label accuracy of hundreds of best-selling vitamins and supplements. Labdoor is an independent company that you can count on for testing other brand's vitamins and supplements and for finding out whether their products have any harmful ingredients or contaminants.
The Review is a stylish review and magazine theme that allows you to create extensive reviews for multiple types of products, such as games, travel destinations, films, technology etc. Its review system is pretty great. This is a fully responsive website theme that can be easily customized using Visual Composer and it offers you total customization.
Read Fodor's reviews to find the best travel destinations, hotels, and restaurants. You can use this site to plan your trip online. One of its best features is that it also gives you trip ideas in order to create trips faster if you don't have any inspiration.
Mona is a simple, personal blog theme with a delicate design and distinctive typography. It also offers a review system. You can pick between 6 different layouts (tile, grid, classic etc). Authors can review products and services and it has an overall classy look.
This theme comes with 50+ theme options for each review type you create so you can customize them. Start creating your own unique review website by choosing between two unique skins, countless color schemes and background designs and more!
FLIKS
This is Australia's genius film guide with nationwide movie and cinema times, ticket booking, reviews, trailers. It has a very simple, comprehensive design that creates a great experience for users who want to find out which are the current films that they can see in cinemas and what's coming next.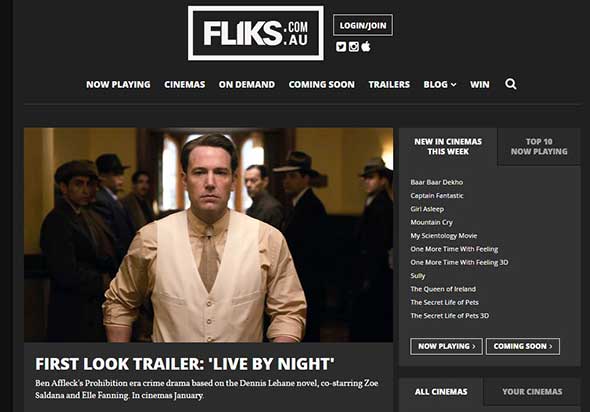 Engine is a theme that works perfectly if you need a website with a comparison and review system. It's very easy to customize it and it also gives the option to assign a 'heat' index on all trending articles based on user interest and reviews.
Goliath is fully responsive WordPress created with News & Reviews Magazine in mind. This theme looks and works great on all screen sized and devices and it has a built-in rating system, useful summary tools and improved review display in Google search results.
Healthgrades is the leading online resource for comprehensive information about physicians and hospitals. We all know how hard it can be at times to find the perfect doctor for you and your symptoms, but this website makes this task so much easier by letting patients give reviews about their satisfaction and hospital quality.
Delipress is a flexible WordPress theme for review websites. The theme works well with all desktop and mobile devices and has a ton of built-in features. This is a SEO-friendly, fully responsive theme that you can use to create your own personal review website in a very easy way. It also has a very quick 1-click demo install.
Broadsheet is an online magazine featuring cafes, bars, restaurants, shops, and galleries. It's an awesome platform if you're looking for places to visit in certain cities that you're planning on visiting. You can also find useful information about that city's fashion, art and entertainment spots.
This theme has a beautiful newspaper style homepage layout that you can edit with a drag and drop page editor. It also comes with 6 different demo sites that display different layouts and color styles. This themes comes with Slider Revolution and Visual Composer included and it will create a very smooth experience if you're planning on customizing it.

This is a perfect theme for review sites. Every post can easily be turned into a review for any kind of product. You can also choose between 9 finished color schemes. One of its best features is that it lets you pick between 3 variants of rating systems.
Magazine theme is excellent for news, newspapers, magazine, blog and review sites. It has an integrated custom review system. You can create your own personalized homepage in minutes by choosing from unlimited colors and design options and you can also a review & rating system based on different themes.