Home » Inspiration »
Line25 is reader supported. At no cost to you a commission from sponsors may be earned when a purchase is made via links on the site. Learn more
Do you want to build an online community website? First, take a look at this list with some of the best community website designs to inspire you! These online communities are very popular and will help you discover some key features every successful community website should have.
Bring people together, offer social networking features, messaging, forums, events, and more, all in a perfectly crafted community website design!
We hope these innovative community designs will inspire you to create even more awesome sites. You will find some popular ones as well, such as Envato, Airbnb, Ello, and more! Get inspired by their designs, user-friendly interfaces and interesting content! They will surely help you build awesome online community websites yourself and help you learn what makes a good community website design.
Looking for some community website templates? Check these out. 
This platform lets you get peer-to-peer cancer support from a community of survivors, fighters, and caregivers. The community formed around this website strives to show each other that no one is alone while also creating a place for conversation, openness, and connection-forming.
Design Shack showcases inspiring examples of design, resources, and articles that teach you how to succeed in the same way. It's a great community for designers with over 25,000 members that manages to collect lots of useful articles and awesome design ideas for creatives. They also have a weekly newsletter if you want to stay informed and inspired.
Imgur is the place to share and enjoy the most awesome images on the Internet. Every day, millions of people use Imgur. This is the right place to go if you want to keep in touch with the most viral images on the internet that stay up-to-date at any given moment.
Lonely Planet is a website that manages to give travel content to anyone interested in exploring this big, vast world we're living in. They're known for having the most iconic travel guides published to date. The first Lonely Planet television show aired in 1994.
Behance lets you showcase and discover the latest work from top online portfolios by creative professionals across industries. Behance also brings together a well-known creative community that shares stories, advice, feedback and also freebies in order to make the design community better and stronger.
Post anything, customize everything and find and follow what you love. Tumblr is a well-known platform that offers the free opportunity to anyone to create a personal blog where they can share photos, quotes, stories, videos, GIFs and more!
This site offers useful content for creatives, such as list jobs, events, services, and more. You can either use it as an employer or as a creative and it's a great platform to bring these two categories of people together.
HITRECORD is an open-collaborative production company. There's a whole community built around this great site. Because their community is open, anyone is invited to contribute with either text, audio, video or images and to work on awesome projects together as a team.
Canopy brings a curated and community-driven experience to shopping Amazon products. You can use this platform to see the newest and most popular products available and also check what's trending at the moment.
This community website has a very interesting design and has the purpose of bringing the people's opinions together. STATE welcomes proactive contributors and awesome ideas and their goal is to achieve individual empowerment, progress and a democratic community.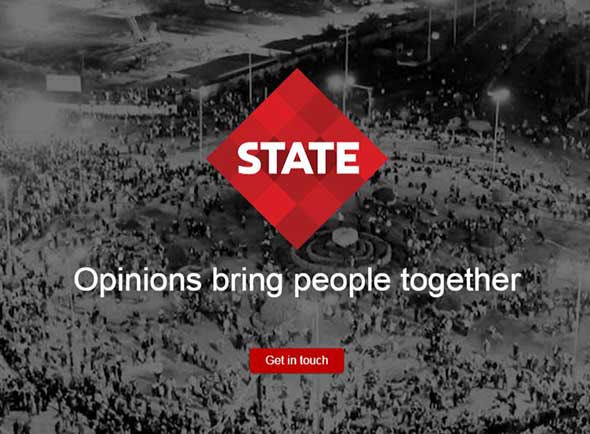 This site lets you rent unique accommodations from local hosts in 191+ countries. You can feel at home anywhere you go in the world with Airbnb. It's a powerful community for travelers. You can also use it as a host and offer your house or apartment as a temporary home for other travelers who want to visit your city.
This is one of the largest global sites for fundraisers.  It helps individuals, groups and non-profits raise money online to make their ideas a reality. It's a very useful platform if you're planning to fund your ideas for products or even personal stories by giving people something else in return.
This shopping community site lets you shop and discover the world's most stylish brands, curated for you. It could be one of your go-to websites if you're searching for new items for both men and women or if you just need a daily dose of fashion inspiration.
ARTISTVIEW
Artist View is not only a marketplace but an engagement platform for your captive audience (your fans and potential fans) as well. Artist View makes it easier for people to monetize relationships and to collaborate with other creatives from the music, film, design, art or theatre industry.
AIGA/NY's mission is to demonstrate design's impact and cultivate the future of design in NYC. AIGA (American Institute of Graphic Arts) is a nonprofit professional membership organization founded in 1914. AIGA/NY is self-governing in every possible way.
Pollen helps people break down barriers and build better-connected communities. They bring together personal stories of individuals in order to create communities and turn opportunities into realities.
Ello is a community to discover, discuss, publish, share and promote the things you are passionate about. If you join their network, you'll get to be part of what's next in art, design, fashion and more.
Envato is the world's leading marketplace and community for creative assets and creative people. It's a great platform for everyone that's passionate about learning, even if it's web design, music, film, graphic design or any other artistic field.
Grafill is an organization for those who work in the education and visual communication domains. You can also join their newsletter if you want to keep in touch with the latest news and stories.

This site offers a recipe exchange, message board, and social exchange. It's a community for culinary passionate people where they can find inspiration and they can search through tons of recipes, cookbooks and exchange advice, ideas, and more.