12 Beautiful Eco-Friendly Packaging Designs
Home » Graphic Design »
Line25 is reader supported. At no cost to you a commission from sponsors may be earned when a purchase is made via links on the site. Learn more
Eco-Friendly packaging is the latest trend when it comes to sustainable designs. It is good to see so many brands adopt this trend and modify their packaging to be nature-friendly. At the moment, we are creating over 2 billion tons of waste every year, and this is rising every year. A major component of this waste product is the packaging of products we all use. We utilize the product but throw away the packaging, which is part of the global waste concern.
Many brands are now adopting the 3R mantra of Reduce – Reuse – Recycle. They are reducing the size of the packaging or the number of components in it. In this way, they are nicely simplifying the packaging part. Through reuse, brands want to provide packaging that can be used again and again or used for some other application. Recycling forms the most important part as it will help in the sustainable disposal of the packaging.     
As a designer, your job becomes more challenging to meet the rising demand for eco-friendly packaging. But this also opens up new creative avenues that you can explore by changing how the entire packaging is done. You can also come up with stunning visual designs to be set up on recyclable material. We have collated a mixed bag of ideas, designs, and even templates in this blog. This will help you get inspired for sustainable packaging ideas the next time you work on eco-friendly packaging projects.  
Packaging design templates are sometimes a challenge to get. Therefore, whenever you come across good packaging templates, then you should save them. This box packaging design is a template that can come in very handy. The template has a box packaging opened up. This gives you the freedom to customize the design for each side. 
With minimal being a prominent trend, you can follow that and keep your design simple. Presently the box packaging only has the logo and the brand name. You can add your brand elements on the front or the side. Generally, eco-friendly package designs are printed on a brown shade of paper. You should keep this in mind and add the necessary elements in a contrasting shade.  
Coffee packaging has a lot of potential in terms of applying eco-friendly design. Coffee itself is a product receiving a lot of flak because of its production process. However, you can make the overall branding of the coffee label look nature-friendly by opting for designs that look sustainable. This can be done in box or pouch packaging or even coffee cups.
This image is a stock image of coffee packaging that you can use for inspiration. It is a collage of six images that carry different coffee components like coffee cups, pouches, bags, spoons, and even coffee beans. You should observe two major ideas used here – the minimal pouch design and the jute bag. This can be a very good idea of providing a classy package design for your coffee brand. 
This image is another inspiration that you can follow the next time you take up an Eco-friendly package design project. The image shows goodie bags which are packed with a box inside. The bag themselves are very nicely designed. There are hand-painted leaves on them, making the bag look very customized and earthy.
The good idea in this image is how the bag is tied along with a lemon slice and cardamon piece. By the look of the image, we can assume that it is related to natural spices or something organic. The image is also nicely taken, keeping other such components in the frame. Designing such bags is not challenging but matching them with such components makes the idea unique. 
Just as science and technology are helping other sectors, it also supports sustainable designs. For example, researchers are working on developing materials that can be used in packaging and are either completely bio-degradable or can be disposed of easily safely. One reason why packaging cannot be completely recycled is that it is made of composite materials which exhibit different chemical and physical properties. 
To counter this, scientists have developed mono-material packaging, which means that the entire packaging is made out of a single material, making it easy for them to be recycled. The editable template has one such special eco-friendly packaging. The good part is that the template can be edited in Adobe Photoshop or Adobe Illustrator. This way, you can completely customize it as per your needs.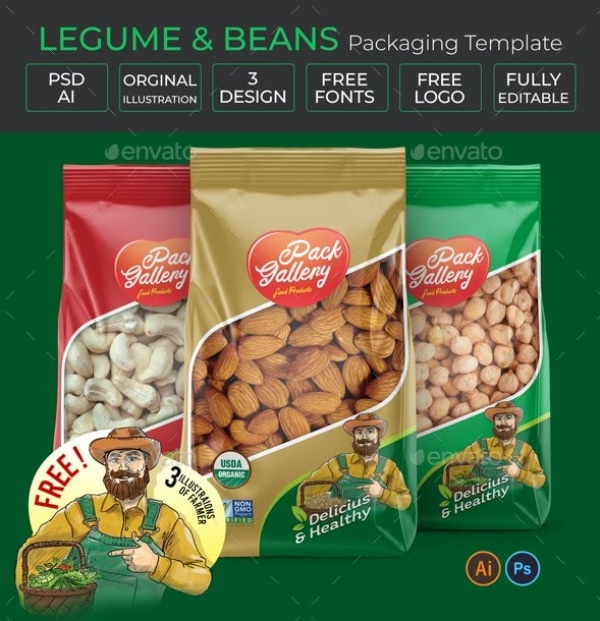 Soap has been one such product witnessing a lot of organic manufacturing. To complement this, designers need to come up with eco-friendly packaging. Most of the time, this is in simple box packaging using recyclable material. No plastic is used at all, and hence the packaging has to be done to accommodate the soap directly.
This stock image showcases a neat packaging of soap. There are two packaging variants – one has a straightforward design and the other uses patterns. The simplicity of the design gives the packaging and the brand a very earthy feel. Hence this image is a good inspiration for your eco-friendly packaging design project.
Just like soap, many other products prefer square box packaging. This template provides you with editable files for the packaging template. The good part is that the template is free to download and use. Also, because the shape of the packaging is square, it makes the template very versatile as you can use the same wireframe for other such products.
From the design point of view, the entire design is kept on green color, which evokes a connection with nature. In addition, there are leaves and other natural elements used in the design, which further accentuate the eco-friendly design part. The template showcases three different eco-friendly packaging variations, and you can opt for the one that suits your brand. 
Tote bags are very much in fashion these days. This is a very good way to counter plastic bag pollution. Designer tote bags ensure that you do not throw them away and keep using them again and again, unlike plastic bags. Also, these bags are made from sustainable materials like jute and other textile blends.
This image shows different designs that can be set up on Tote bags. The good part about the image is that it can be easily used for mockups. You can create your Tote bag design and then set it up on this image to see how the bag will look overall. Your design can depend on the brand and its sector. The custom-designed Tote bag can also serve as a good giveaway or gift. 
A good part of our population carries their lunch to work. While most of them use regular tiffin boxes, some use disposable lunch boxes. This is common for offsite workers or people working on different terrains. Therefore, there is a good scope for deploying eco-friendly designs in such lunch packs in the form of sustainable eco-friendly packaging materials as that will help reduce wastage.
Packaging of such a lunch box is highly complicated. However, this template makes the design look quite simple. The template breaks down the different sides of the packaging. All you need to do is apply your branding on these sides. But you have to keep in mind how each side will be folded so as to ensure that your main branding stands out.
What if you were able to take your packaging design and create it in such a way that it becomes part of the product's actual function in a fun way? In other words, making a part of the toy itself. This creative idea has already been put into execution by several brands. One such example is Tube Toys. They have designed their packaging in such a way that it's part of the toy itself.
This is quite a radical approach to package designing but falls under the category of reuse. Some other brands have created their packaging so that it can be used as a stool. For example, Nike has come up with packaging that doubles up as a shoe bag. It is interesting to see the creativity that brands put in their packaging to make it reusable.
This image is a fine example of how creativity and sustainability can come together. There are many who argue that in lieu of making the design more eco-friendly, the design is losing its charm and becoming boring. This image proves otherwise. It showcases a very well-designed packing of a health food brand. The photograph is taken against a blurred background.
The graphic design trend of using the right contrasts is employed in the design. Black is used along with mustard yellow. The text colors are alternated between white and black based on the background colors. The front part of the design is kept simple with the product image and name. The details are taken on the backside. This image can serve as a good reference for you while working on an eco-friendly packaging design project. 
Pin
The pandemic has made us all wear face masks. It has converted a product disliked by all into something that is inevitable to use. This spiral rise in the use of face masks has also come as an opportunity for a lot of manufacturers, and at the moment, there is a lot of competition in this space. This is where packaging can help your brand differentiate itself from the rest.
This editable template provides a perfect wireframe for the box packaging of the product. The template has set up some dummy content that you can easily replace with your content. It also hints you where to add the logo and other brand elements. The box packing of the face masks is highly modular, allowing easy dispatch of masks. This not only makes it eco-friendly but also easy to use. 
Pin
Packing liquids has been a hassle for all brands. While plastic is presently dominating the packing industry, glass and other sustainable materials are slowly coming back. This is where the concept of reusable bottles is pushed further. It seems as if we are going back in time when our ancestors used the glass bottles that were washed and used again.
Reusable bottles have been in the market and used by beverage giants with wide distribution and collection networks. But now, even local brands, be it natural juices or healthy supplements, all are pushing for reusable bottles. This image showcases a good photograph of such bottles. Because of its simple shape, designers will find it easy to set up their branding on them. 
Pin
Conclusion:
Packaging design is a completely different stream of graphic design and has its own science. It takes years of experience for designers to figure out the minute details of packaging design. The problem with packaging design is that it will be printed and molded. So even a small error of 1mm in design can result in a completely faulty packaging product line. This is why designers need to be very careful in giving the final out of the product. The other aspect that needs to be considered is that packaging forms an important part of marketing. It will provide the first experience of the product, and hence it needs to be designed in the best possible manner.
Eco-friendly packaging designs can be executed in various forms. It is either integrated into the product design itself or done through the material on which the packaging is printed. As a designer, you need to understand the treatment of packaging and accordingly come up with creatives that complement the packaging. The above ideas can be useful to provide you with inspiration and resources for your next eco-friendly packaging design project.