19 Free Backgrounds with a Tribal Feel
Published August 26, 2021 - (Updated August 26, 2021)



If you are designing a unique project where you need some design elements related to the tribal theme, then this post is going to be very interesting for you. Usually, tribal designs are the creation of modern and sophisticated artists. They try to include some raw traditional patterns, shapes, or objects and fuse them into primary and natural colors to make something classical and beautiful.

In older times, tribal prints, art, and designs used to be prominent trends in various large-scale markets and cultural festivals. It is still very famous for tattoos, textile printing, and artistic products. Tribal backgrounds can make a strong presence in your graphic designs with unique cultural flavor and fascinating composition.

If you don't want to create a tribal background for your design, then you can pick anyone from today's list. We have developed this assorted range of 19 tribal backgrounds to help various creative professionals with their daily tasks. These designs are unique and free to use. So let's go through this vibrant range of tribal backgrounds.
Pin
This background has great contrast and artistic features. It has a hand-drawn mandala design that makes this image very natural and exciting. You can download this image for free and use it for your various designs. The colorful patterns on a monochrome layer create a unique vibrance in this background. If you choose to recreate something like this, you might need solid knowledge and an extended timeline. So without any of that, this background is available for free to help many designers and artists.
Pin
This authentic tribal pattern is terrific for elegant and creative ideas. It has a multicolored theme with beautiful tribal patterns. You get pastel colors and handmade touch in this image. The overall background has a watercolor base which means this design looks hand painted. Indeed it is a beautiful artistic background. You can execute solid design ideas with the help of such a high-quality background. So use it for free and create something beautiful.
Pin
At first glance, you can say this background is very intriguing and thoughtful. The seamless tribal pattern is situated in a beautiful formation with unique swirls. It is an intense and very attractive image. One of the best things about this image is that you can use this high-quality background for free and create something for your personal need. Many innovative and robust concepts can require this kind of background if you want to include a tribal touch to your design.
Pin
Blue and black are very natural colors and are widely used in traditional printing techniques. This tribal background has attractive and systematic patterns with a lovely combination of white, blue, and black. It looks very subtle and eye-catchy. You can use it for your multiple graphic designs and personal artistic concepts. Amazing cover pages, wall arts, fashionable accessories, and many other creative designs can use this background image. So have it in your collection or directly use it for any project for free for better creative results.
Pin
This seamless background has beautiful colors and a minimal design. It has an ethnic pattern with various geometric shapes, as you see in classic tribal designs. This background can help you with your precious projects where you need something decent and timeless with its cool color pallet and subtle pattern. Overall it is a good choice for designers and artists who like to have beautiful assets to experiment with and use for their creativity.
Pin
If you need maximum tribal elements in your design, then this background is an ideal type. It has hand-drawn Aztec patterns with basic colors and an abstract theme. The tribal elements are very natural and ethnic in this design. In addition to that, you get a handmade touch and visual effect at the same time with this image. Moreover, you can download this for free and use it in your multiple projects. So try this graphical background of tribal designs for any historical or traditional design idea.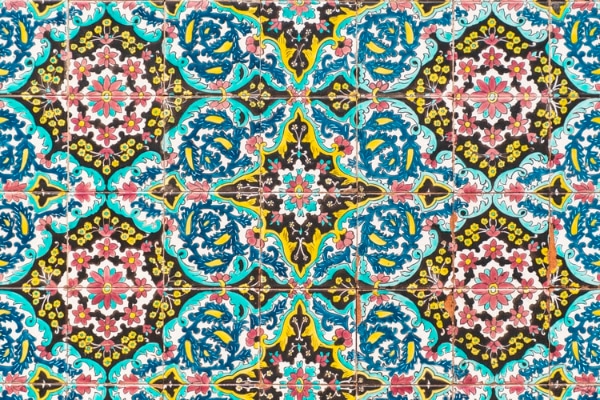 Pin
This is a high-quality image of some perfectly designed and placed geometric tiles. In this background, you get some modern version of tribal patterns. It represents ethnicity but well-evolved and adapted one. Undoubtedly this background is exceptional and attractive. You can use it for free and include it in your solid design concepts to add a tribal touch to your creativity. Or you can add this realistic and colorful background to your collection for future inspiration as well.
Pin
It's the easiest and most useful tribal background on this list. Here you get a Mexican flower pattern in a frame illustration where you can place any of your designs and make a final output. The colors are vibrant and versatile. With black background, any bright color design can have beautiful contrast and unique appeal. So if you want a tribal feel in your background that holds enough space for your design, then this can be the best choice.
Pin
This is a very smart background. You can see a digital image of some tribal patterns on one side and beautiful gradient colors. The whole monochrome theme is looking fantastic with orange and red color hues. It has many layers of colors and designs, and overall it gives a very classy and minimal look. So you can use this background if you need a digital image with some tribal pattern to create something modern and cultural.
Pin
It is an attractive green color background with a green tribal design. There are fundamental tribal shapes in this image, and they all are placed in a very smooth composition. It provides you a minimal background with a monochrome theme to make some sleek and stylish designs. This background is versatile, modern, and tribal at the same time. So grab this beautiful green image and use it for your various creative designs where you need a solid support element to execute your idea.
Pin
This background is an iconic design of a creative and well-imagined tribal pattern. It is very different and attractive, and the image has a beautiful realistic look with a high-quality resolution. As a result, you get a stunning and meticulously designed tribal image where every shape and element has a deep impact. The colors and overall look are very elegant, sincere, and classy. Moreover, you can download this for free and utilize it easily for your innovative concepts. This background can work well with many artistic and professional designs; that's why it's the most recommended one.
Pin
Mandala art is a very famous and loved design form for having artistic and traditional elements in the designs. This authentic mandala background has natural colors like red, black, and white. The complete sphere of the mandala has superb detailing, which makes it more real and valuable. You can download this background and collect it for your designs whenever you need an authentic tribal design with deep attractive colors and hand-crafted art.
Pin
This exciting background has an African tribal pattern with multiple attractive colors. Out of all designs, this one is a very unique and traditional tribal background. It has different elements and bold shapes. The overall composition is very deeply knitted and professionally executed. You can download this for free and adorn your designs for a sophisticated and authentic tribal feeling. This specific African tribal background can help some unique artistic concepts and professional projects. So it's one of the must-haves for art lovers.
Pin
If you need an emblematic tribal background that can add natural charm to your design, then this background can be perfect for you. This seamless pattern has a striped theme with attractive ethnic and tribal motifs. In addition, it has hand-painted designs and colorful strokes, which makes it realistic and vintage. You can download this for free and experiment with various tribal concepts. Or you can save it in your collection if you like to collect unique design elements for the solid assets folder.
Pin
This background has a striped design layout with tribal objects and elements with very natural colors. There are no exaggerated elements or multiple colors in this image which makes it a very authentic tribal design, as, in earlier times, only a few colors were used. You must have seen this kind of design on walls, handmade accessories, and décor items, or in textile prints. Therefore you can use this very well for such house decore designs, textile-related projects, or educational designs.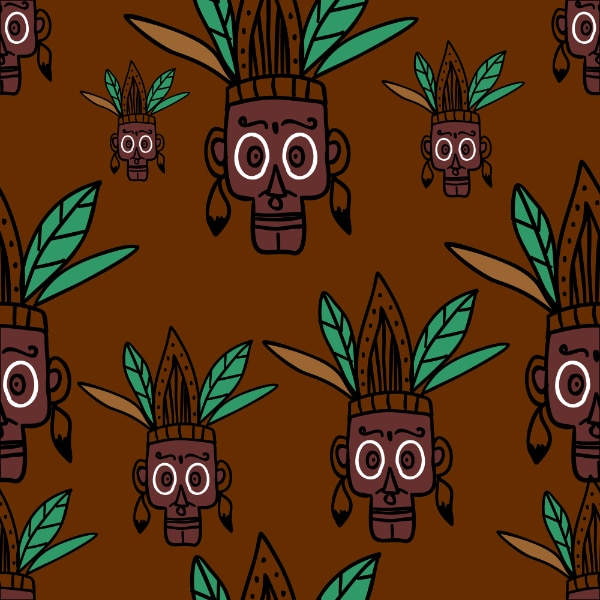 Pin
It is a beautiful and creative background. You get this in a vector file, which means you can transform it into any dimension and use it for seamless graphic designs. This design has classic tribal patterns of a face with various tribal accessories. The colors are in a typical natural pallet with different browns, green and black. This digital illustration of hand-painted face tribal design can make a perfect design element where you need a straightforward tribal feel in the design.
Pin
It is a fun, colorful, quirky, and very useful background. The diagonal pattern of tribal features looks fantastic with various vibrant colors. Furthermore, you can download this for free and adorn your designs to add a tribal touch with a modern twist. Tribal designs have colorful features as an essential part. Here digital illustration is given with different styles and designs to complete this composition of the artistic and modern patterns. Definitely, it's one of the must-have backgrounds for those who like to have a variety of tribal designs in their folders.
Pin
It is clean and exquisite background. This image has a seamless tribal pattern of arrows with multiple subtle and attractive colors with the vector format. Arrows have been an essential part of tribal designs as it clearly represents ancient times. Different geometric patterns and natural colors in arrows make a unique tribal pattern to use for fabric, paper, or clay. This background is perfect for textile printing, but you can definitely use it for many other design projects.
Pin
This one is another beautiful background of feathers. Again, it is available for free and comes in a vector file for easy modifications. This background has watercolor feathers in different vibrant colors and dedicated space for other design elements. Undoubtedly this design is very useful and attractive for designers who want to add a tribal feel to their original design. You can place your design and important elements on this background and develop something classic and contemporary. So have this for free and use it in your creative projects to add a tribal touch.
There are many different categories and options available for tribal designs like abstract, traditional, doodle, digital, and many more. Artists give their unique touch to every tribal pattern and create a remarkable piece that can be utilized in a number of ideas.
You can take a pattern, objects, sketches, natural art, or a portrait of ancient culture to use for your creative project. Tribal backgrounds can give a unique appeal to T-shirt designs, cover pages, banners, ads, stationery items, packaging designing, and various other useful projects.
We have tried to include a variety of designs, be it small, large, abstract, traditional, modern, digital, and natural themes, in this list to help maximum professionals for their multiple projects. So benefit yourself and download some of the fantastic tribal backgrounds for free and use them whenever you need a solid image for your design.