Home » Freebies »
Line25 is reader supported. At no cost to you a commission from sponsors may be earned when a purchase is made via links on the site. Learn more
The design of your website matters the most while starting an online store. For creating a great buying experience for your users online, it is necessary to use a design with good User Interface (UI). There are a lot of web designs available on the Internet that you can take inspiration from. If you plan on developing the online web store by yourself or with the help of a web developer, then it is a great idea to use an existing E-commerce PSD template. This will give you a jump start in designing the online store.
Here is the list of 12 free e-Commerce PSD templates for different products that you can try.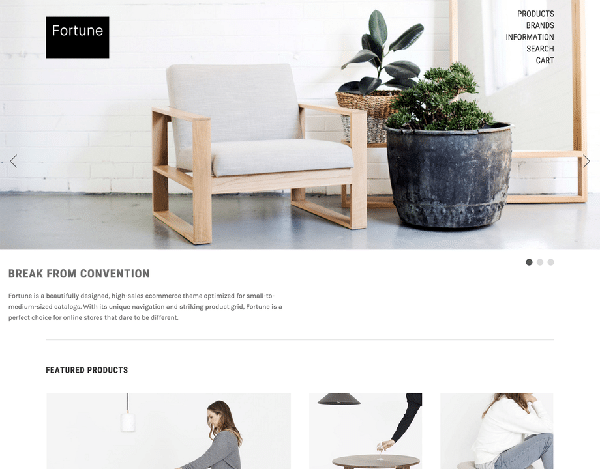 Fortune is incredible Bigcommerce theme for building innovative online stores. You get sleek navigation and exclusive product grid with this template. It allows you to use your imaginative skills for presentation. This template is best suited for small to medium sized catalogs. Optimization for mobile and tablet is also provided in Fortune. Furthermore, sales and discounts can be created according to demand. Features like FrontPage slideshow, customizable product selector, and free customer support come built-in with this free e-commerce PSD template. Lastly, cart suggestions can increase the number of sales.

This template works well for store owners selling sneakers, clothes and accessories. It is a vibrant template created to draw the attention of the customer. The active homepage provides an interface that allows customers to browse several products and categories at once using different image sizes and galleries. Contrasting graphics allow you to highlight specific products in the store. Also, adding categories is easy and has click drop options. In effect, you can create a decent online store by simply setting up product pictures and writing a good description for them. Finally, page options for 'about us' and 'customer service' page provide a professional look to the website.
Bonfire is optimized to work with high resolution product images. There is also an option to add an introduction video on the website with this e-commerce template. You can use this innovative feature to better display your products or introduce your company. Fading slideshow, sticky navigation, and single product gallery are additional features that make this e-commerce PSD template ideal for an online store. Furthermore, it has a mobile and tablet friendly design. Social media icons, built-in styles, and color palettes make it easy for a web designer to customize this template. Finally, the template is designed with SEO in mind which is a big advantage for an online store.
Fabrique is a minimalist yet impactful template for product emphasizing. Features like parallax scrolling, slick product gallery and attractive icons attract the customers. This e-commerce PSD template is ideal for selling home décor and furniture. By simply customizing the details and product images you can get your online store up and running. Furthermore, it provides a modern platform for highlighting specific features. It has an easy to use customer support feature designed in there that is great for solving questions of your customers. Lastly, it is mobile friendly making it easier for customers to shop on the go.
Tanner is a clean looking and beautiful online store template that shows top-selling products, social media icons, and homepage product displays. Along with usual features like FrontPage slideshow, and product comparison it also provides Google AMP and store front CSRF protection. Options such as quick add to cart and account methods make this template very customer friendly. Tanner is optimized for large catalogs, sales, and discounts. Furthermore, this e-commerce template comes in 2 variants: bold and light.
Avenue Fashion is a simple, chic, understated e-commerce template that is perfect for online clothing stores along with jewelry, and accessories stores. The template has a very comforting pale color scheme. However, the color, fonts and inner pages are completely customizable. You can easily convert this PSD template into your online store by adding product images and information. Furthermore, this template is compatible with mobile phones and smaller screen sizes.
Furniture shop is a fresh, modern and attractive e-commerce template that is ideal for textiles, home décor, and fabric stores. Furniture shop is specially designed to put your product in limelight. It is easy to change the overall color tone of the website by simply customizing the template. A floating brand name provides a great experience for consumers. A quick view of products, displaying cart item numbers and existing social media icons are some added benefits of this free E-commerce PSD template.
The E-commerce PSD template is designed for a large catalog. It showcases several products on the same page in a very efficient manner. There is an option for product filtering as well to help make selection user for your customers. With the common features like slideshow, single featured product, and promotional banner it provides a multi-column menu. Furthermore, this PSD template has a search engine optimization friendly design along with a drop down navigation support.
Penta is a simple yet modern theme. This free E-commerce PSD template can be best used to showcase small brands. In addition to slideshow and mobile responsiveness, this template also supports customer testimonials on the home page. This will allow you to strategically position previous customer testimonials on the website to gain trust of your audience.
Bakery is a creative theme designed for food stores. This e-commerce PSD template is easy to customize for food, bakery, and food supplies. Bakery is compatible with Adobe CS5. Also, it provides 15 homepages to select from. This template comes with a pixel-perfect 1170px grid system. Also, the display of the products is very modern and classy. Loaded with the usual documentation and PSD files included, this template is perfect for displaying a large number of items.
Clemo has an appealing look with primary information about the products. This e-commerce template contains 9 PSD files and multi-layouts. PSD files are organized and customizable. The template also provides 2 homepage layouts and 2 blog post layouts. This template can handle huge catalogs smoothly. Furthermore, Clemo comes with a unique slideshow for displaying products.
Trekking store has a sleek, strong and bold layout. This e-commerce PSD template is perfect for presenting lifestyle products. It is also well suited for accessory boutiques and outdoor gear retailers. It also comes with floating social icons and a customer support chat icon. Furthermore, the option to add high resolution travel pictures in this template is great for attracting customers. Lastly, it is compatible with mobile phones and tablets.
These attractive e-commerce templates will help you create an attractive online store that not only brings users to your website but also converts them into paying customers. If you prefer to create an online store without a lot of coding, WordPress E-commerce themes are a great alternative. Just like the PSD templates listed here, there are many free WordPress E-Commerce themes available that you can try. A complete list is available here.