Home » Articles »
Line25 is reader supported. At no cost to you a commission from sponsors may be earned when a purchase is made via links on the site. Learn more
Today we have another amazing bundle brought to you by TheHungryJPEG.com. Until the end of this month only, you can get 28 Fonts and 19 HUGE graphic packs and commercial licenses for everything included. This great design bundle is priced at 96% off regular retail price, at just $29. That's a saving of nearly $650. But hurry, because this fantastic collection of goodies will only be around for the month of July 2015 – and that gives you very limited time to get it before it's gone.
Your Price – $29
Regular Retail Price – $674
Discount – 96%
You Save – $645
Here's every package that is included in the bundle:
1. Featherly Font by Joanne Marie
2. Berrylicious Script by Sweet Type
3. Springer Font by Joanne Marie
4. Sortdecai Handmade Script by Swistblnk Design
5. Bellwethers Font by Angie Makes
6. Violla Script by Dirtyline Studios
7. Portabello Script by Sweet Type
8. Stephen Type Font by Joanne Marie
9. Lettres Douces by Sweet Type
10. Wonderlicious Font by Creativeqube Design
11. Asterism Clean Bold by Great Lakes Lettering
12. Beverly Font by DC Store
13. Sweet Peony by Sweet Type
14. Allegate Font by Vuuuds
15. Fouyers Font by Vuuuds
16. Sortdecai Display by Swistblnk Design
17. Sweet Dreamer Script by Creativeqube Design
18. Amanda Script by Dirtyline Studios
19. Juicy Brush Typeface by Creativeqube Design
20. Melissa Script by DC Store
21. La Bambiny by Creativeqube Design
22. Natasya Script by Dirtyline Studios
23. Sortdecai Cursive Script by Swistblnk Design
24. Elfin Shoes Typeface by Creativeqube Design
25. Joanne Marie Script by Joanne Marie
26. Daisy Dog Font by Holly McCaig
27. Sabrina Font by DC Store
28. Backlash Font by Great Lakes Lettering
29. Fairytale Alphabet by Eisfrei
30. Fairytale Numbers by Eisfrei
31. Hand Drawn Garlands by Angie Makes
32. XO Clipart Set by Holly McCaig Creative
33. Oriental Flowering by Eisfrei
34. The Lazy Summer Set by Holly McCaig
35. Field Flowers by Eisfrei
36. The Animal Silhouette Pack by JackRabbit Creative
37. Wild Watercolor DIY Set by Julia Dreams
38. Give Me The Sea Pack by Pavel Korzhenko
39. Secret Garden by Eisfrei
40. The Zoo Animal Set by Microvector
41. Garden Watercolor DIY Set by Julia Dreams
42. 520+ Design Illustrations by Vuuuds
43. The Illustration Pack by Creativeqube Design
44. The Lovely Clipart Bundle by Pixeled Paper Designs
45. Forest Watercolor DIY by Julia Dreams
46. Vintage Garden Set by Pixeled Paper Designs
47. Watercolor Textures by Efe Gürsoy
Each of the package comes with a number of extras – the list is far too long and detailed to even list everything here.
Here's a small preview of the packages that are included: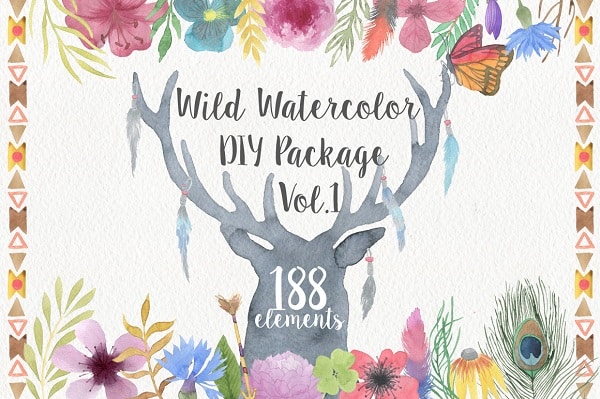 There is a ton more in this awesome bundle, so don't wait another minute and head over to TheHungryJpeg to
grab your copy
today on this amazing 96% off sale.