Home » Articles »
Line25 is reader supported. At no cost to you a commission from sponsors may be earned when a purchase is made via links on the site. Learn more
This month we have another awesome font deal for you from TheHungryJpeg.com. October is a beautiful month, where leaves on most trees have changed color, and you can see an amazing variety of colors such as all shades of green, yellow and red. This October font bundle is just as beautiful. What we have here is a total of 33 amazing fonts plus 19 graphics packs – enough to satisfy even the most demanding designer.
With a retail value of $838 and a sale price of just $29, this bundle comes at 95% off – and getting it should be a no-brainer.  Here's a preview of all the fonts included in this bundle: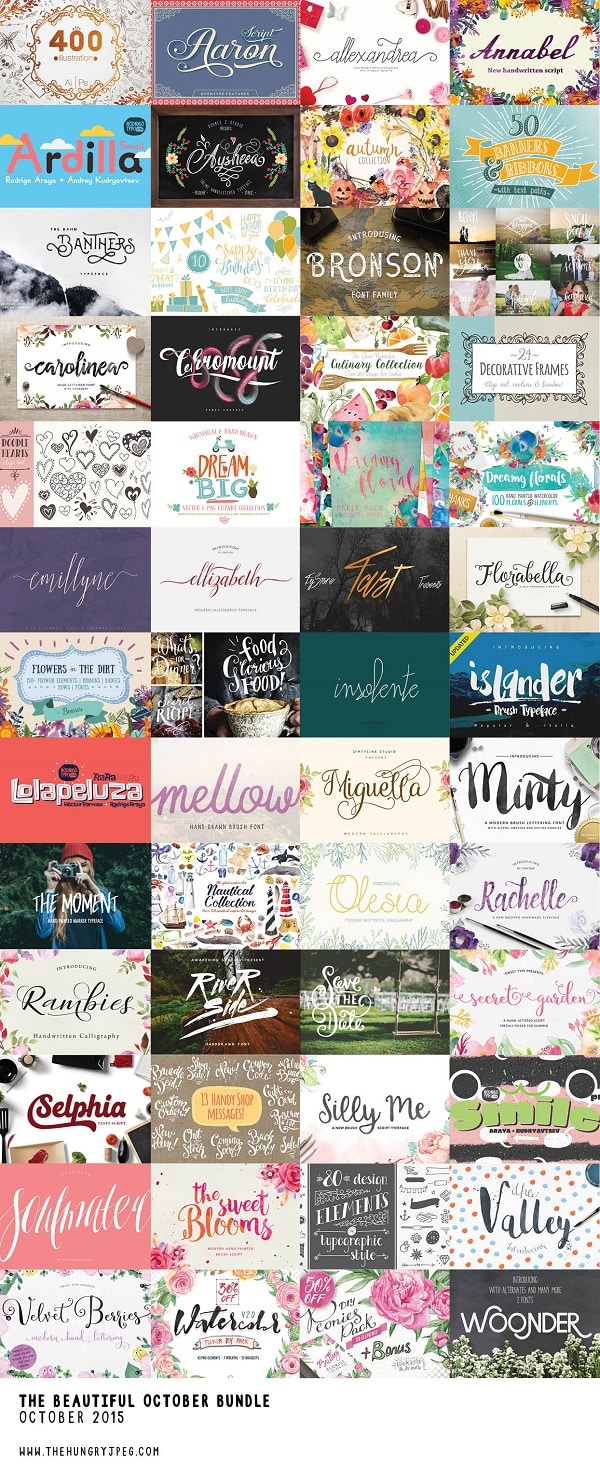 Did we mention that everything included in the bundle can be used for both personal and commercial use?
Let's look at everything inside the bundle in more detail:
1. Secret Garden Script by Sweet Type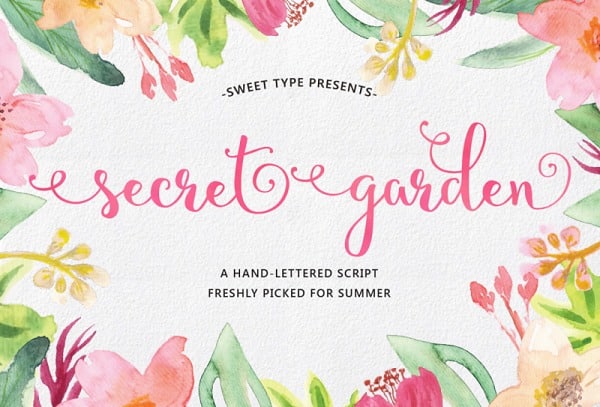 Secret Garden is one of our favorite fonts we've ever included in a bundle! This beautiful font has been created in a way so that anyone can access the left and right swashes and alternate characters without needing additional software! Enjoy!
2. Minty Font Brush Typeface by Holly McCaig Creative
Introducing Minty! This modern brush lettering font is everything you need. Ideal for all areas of design, it will slot perfectly into your collection! The bonus pack of illustrations includes, birds, ribbons, hearts and even vintage cameras!
3. Aysheea Script by Double Z Studio
Aysheea is a beautiful, new age style, inline script which comes in both regular and italic. The flow is super smooth and perfect for designing book covers, film covers, apparel, cards, logos, posters, etc.
4. Silly Me Script by Maroon Baboon
Silly me is a new hand-painted brush script which will be a welcome addition to your font collection! Fun, off beat letters add a hand-finished charm to your designs!
5. Olesia Script by Julia Dreams
This gorgeously unique font 'Olesia' is a refined and romantic font that will help you add a touch of whimsy to your designs. Also included is a bumper pack of 52 floral elements that compliment the font perfectly!
6. Soulmater Script by Maulana Creative
Give your designs an authentic handcrafted feel with the Soulmater Typeface. A brush script that is reminiscent of old fashioned signatures that make your works look incredibly complex..shh, we won't tell if you don't!
7. Miguella Script by Dirtyline Studios
Miguella is a script typeface based on beautiful calligraphy with a modern twist. This font is suitable for a wide range of projects and includes tons of alternate swashes/characters which can be found in the additional 7 font files included, meaning even those without opentype savvy software can access all the extra glyphs! This font was used in the making of this months bundle header.
8. Aaron Script by Seniors Studio
Aaron is highly legible script font, a simply beautiful, classy and elegant typeface! We know it will become a firm favourite for you! It's definitely a hot here in the office..
This font has been PUA encoded to ensure all characters are 100% accessible through craft software like Silhouette & Cricut
9. Florabella Script by Seniors Studio
Florabella is a new handmade script font with an irregular baseline and enough curls to make every script font addict happy! Florabella looks lovely on wedding invitations, thank you cards, quotes, greeting cards, logos, business cards and more.
This font has been PUA encoded to ensure all characters are 100% accessible through craft software like Silhouette & Cricut
10. Annabel Script by Maya Lagunova
Annabel is an ink pen, handwritten typeface. It's cursive letters add a romantic look and it's thick stroke adds power to your words. The flowers used for the mock-ups are 'Flowers in the dirt' which is a pack also included in this bundle!
11. Emillyne Script by Vuuuds
Emillyne is hand-painted font where every single letter has been carefully crafted to make your text look awesome. With precise strokes that will make your words feel naturally hand drawn. This font can be used for virtually anything!
12. The Moment by Media Lab
The Moment is a great, versatile font, 100% drawn by hand! The font perfectly captures the structure of a dried up marker, easily incorporated into your design, you just have to feel…The Moment!
13. Insolente Script by La Goupil Paris
Insolente is a versatile and realistic script designed by Fanny Coulez and Julien Saurin for La Goupil Paris, perfect for giving your designs a personal touch. The font package includes alternative glyphs for starting and ending words, and some ornaments too!
14. Rambies – Handwritten Calligraphy by Get Studio
Rambies is a handwritten calligraphy style font with quick movement and a modern style. Perfect for wedding design projects, invitations, greeting cards, signatures, watermarks, logos, handwriting and more!
15. Ellizabeth Script by Unicode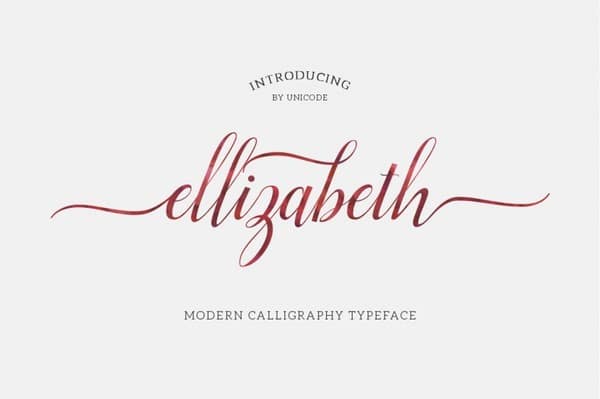 How gorgeous is this script! Inspired by vintage calligraphy with an added irregular baseline to ensure it keeps a modern edge. You'll love Ellizabeth, we're sure of it!
16. Banthers Script by Swistblnk
Banthers is a handmade, modern-vintage, mono-line display typeface, which combines the style of classic typography with a modern hand-lettering style. Something a little different to the norm!
17. Rachelle Script by Unicode
Rachelle is a stunning brush font with an ideal look for wedding invitations, stationary, pretty headers and much, much more!
18. Bronson Typeface by Roman Jokiranta
The Bronson is a family of four fonts. Bold and curvy and full of fun, perfect for your toolbox! Included are; Bronson Rough, Bronson Regular, Bronson Outline and Bronson Handy.
19. Mellow Script by Maroon Baboon
Mellow is a swirly-curly brush font, with a rounded stroke and a true hand-crafted feel! Ideal for both headers and large amounts of text as this typeface is legible at all sizes!
20. Ardilla Typeface by Rodrigo Type
Rodrigo Typo has done it again! Another incredibly fun and unique font ready for you to download and use across a variety of projects. Inspired by the infamous Peppa Pig!
21. River Side Script by Maghrib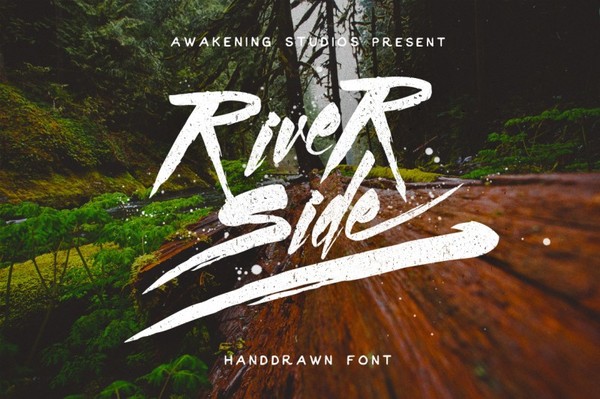 River Side script is a hand painted typeface designed to help you create the look of stunning custom hand-lettering. Use the Swashes included to add an even rougher edge to your work.
22. Woonder Typeface (Includes 2 Fonts) by Julia Dreams
Woonder is a set of two fonts, the regular block font and an outline version. Also included is a bonus font 'Cleaf' and a fun pack of catchwords to help you design to your best ability!
23. The Valley Script by Julia Dreams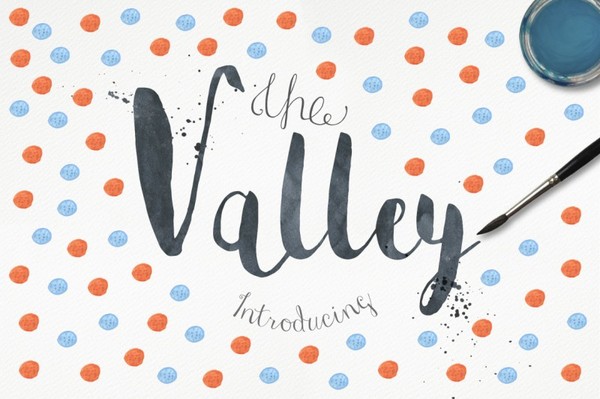 The Valley is a gorgeous brush font created with the user in mind, making sure it looks imperfectly perfect! This font comes with tons of extra goodies too such as lots of design elements and some incredible watercolor textures!
24. Velvetberries Handmade Script by Sweet Type
We know that velvet berries will become a firm favourite for you. Packed full of extra special letters including swashes for the endings and beginnings of letters, which can be used without open type programs!
25. Lolapeluza Family by Rodrigo Type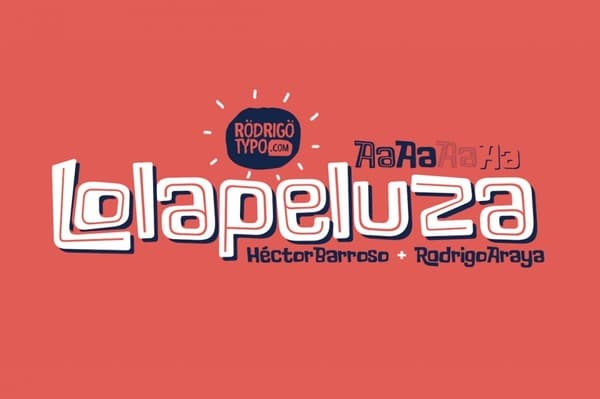 Lolapeluza is a fun, bold and exciting new font for 2015. Inspired by laughter and the craziness of festivals. Mix and match or combine the four fonts included to create a unique look.
26. Allexandrea Script by Unicode
Allexandrea is a thin and precise script font that is as elegant as it is easy to use. Combine with some bold brush fonts (Minty would fit perfectly, luckily it's also included in this bundle!) for an effortlessly classy design.
27. Chromount by Maulana Creative
How stunning is this font?! Give your designs an authentic brush handcrafted feel. Chromount is perfectly suited to stationery, logos and much more! Also included are some cool swashes.
28. The Sweet Blooms by Get Studio
The Sweet Blooms is a unique brush font with an irregular baseline and a bonus font 'The Advance' which is a harsher, edgier font. Combine the two to create original designs!
29. Selphia Script by Get Studio
Selphia is a great font to add to your collection! Rounded and curvy it demands attention! Easily incorporated into your designs, what's not to love!
30. Islander Typeface + Extras by Dirtyline Studios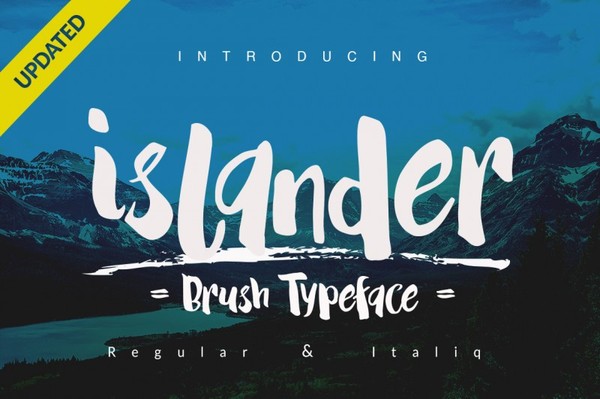 Islander is a fantastic brush font that has an irregular baseline that adds a bit of fun to this bold and striking typeface. This font also comes in italic, a set of swashes are included too!
Carolinea is a hand lettered script font which can be used for various purposes such as posters, logos, t-shirts, signage, business cards, magazines, book covers, wedding invitations, greeting cards etc.
32. Smile Typeface by Rodrigo Typo
Smile is the latest font from Rodrigo Typo. Their fun and eclectic style is the reason we keep going back for more and smile is no exception! This pack includes six fonts and a set of fun dingbats!
33. Fast Script by Crow Studio
Fast Script is a new graffiti style, hand-written typeface from the talented Efe Gürsoy. It's both edgy and cool and ideal for designs that demand attention!
34. Watercolor Flower DIY Pack by Blessed Print
The floral bouquets included in this pack are great for creating unique designs for invites, logos, stationary and much, much more! Use the individual floral elements to add an extra special look to your designs.
35. The Giant Nautical Collection by Digital Press Creation
This is a collection of nautical inspired items. This pack includes over 200 watercolor images for you to enjoy and use in your artistic projects. From the fish and lighthouses to the flip-flops and anchors, we love it all! Also included are 30 XL watercolor papers!
36. 24 Decorative Frames by The Pen & Brush
Sweet little hand drawn frames – perfect for wedding invitations, stationery, product labels…you name it! They're easy to use and come in three sizes plus vector versions so you can easily customize the size and color. So versatile and simple, they'll quickly become a steady staple of your design toolkit!
37. Dreamy Florals Watercolor Bundle by Creativeqube Design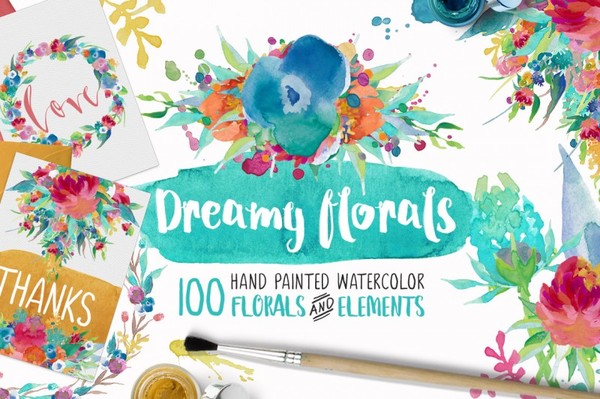 Introducing the new Watercolor Florals bundle from Creativeqube – Dreamy Florals. A huge pack of over 100 hand painted watercolor flowers, leaves, stems, buds, patches and splashes. Also includes wreaths and arrangements. Hand painted in gorgeous tones, and carefully digitized for you to use in all your design projects.
38. 50 Banners & Ribbons by The Pen & Brush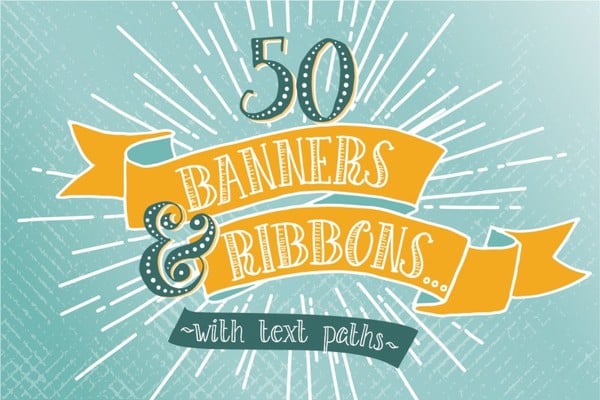 Stock up on beautiful, hand drawn banners! These guys are always handy to have around, adding a touch of vintage charm to any design project. Use them for logos, packaging, stationery, advertising…they're so versatile!
39. The Autumn Collection by Digital Press Creation
This is a set of watercolor images for Fall! Deep purples, reds and oranges mark the season as the colors of the leaves on the trees change, and the world gets a little cooler. Fall is when you can spot a deer around every tree, and pinecones everywhere. Includes a whopping 85 images! Bought individually, it would cost around $150 to buy each listing, but since this is a group, you get a discount!
40. Dream Big Graphics by Holly McCaig Creative
Dream big graphics pack is a super fun, colorful and easy to use set of designs that include some gorgeous florals, a coffee cup and even a vespa!
41. 80 Typography Elements by The Pen & Brush
This pack of 80 typography elements is so useful for making incredible invite designs, incorporating into logos or in almost any of your design work. The ribbons and bunting are especially sweet!
42. Watercolor Peonies DIY Pack by Blessed Print
This pack of peonies is so much fun to use. With both individual elements and also a ready made bouquet, you'll be able to easily incorporate them into your designs.
43. The Culinary Collection by Digital Press Creation
This is a scrumptious collection of food related clip art sets! This is a huge collection, composed of over 250 images! This set would be an amazing resource to use for restaurant menus, cookbooks, recipe cards and more!
44. Dreamy Floral Digital Paper Pack by Creativeqube Design
This dreamy floral digital paper pack is ideal for so many different projects and designs. Easy to use and with 16 bright patterns to choose from, you'll be hooked.
45. Doodle Hearts by The Pen & Brush
Hearts go with anything, on anything and in anything. Cards, invites, logos, you name it and we're pretty sure you can fit a heart in the design! This pack lets you go crazy with loads of adorable doodle hearts to choose from!
46. Flowers in the Dirt (Graphics Pack) by Pavel Korzhenko
Flowers in the dirt is an incredible graphics pack from the extremely talented Pavel Korzhenko! Packed full of goodies and extras that we know you're going to love! A bumper pack of florals galore, cute ribbons and some incredible, ready made bouquets!
47. Calligraphy Typeface Overlays by Holly McCaig Creative
Who doesn't love handwritten calligraphy! This pack of 9 awesome overlays are great for layering over your favorite images for that special touch.
48. Save the Date Overlays by The Pen & Brush
Ideal for designing 'Save the Date' invitations in a unique and trendy way! Hand-written and fun, you can layer these over images or use alone to create different designs.
49. Shop Messages by The Pen & Brush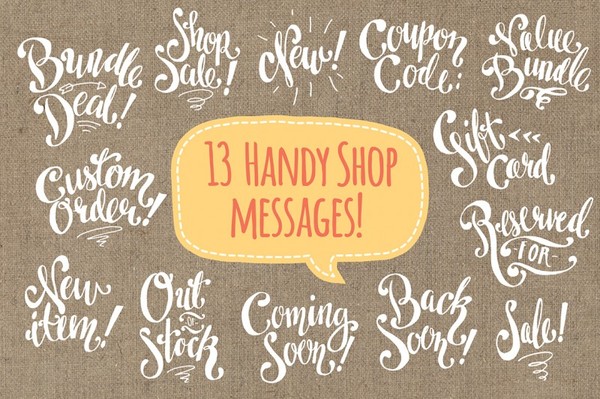 These shop messages are perfect for anyone who sells items online, whether it be through your own site, facebook, etsy or one of the many other popular sites. You can lay these over photographs of your work or use them alone to let people know you have a 'new item', a 'sale' or if something is 'coming soon'.
50. Food Photography Overlays by The Pen & Brush
How yummy are these food photography overlays?! Layer over any of your gorgeous food images to add a fun and original dimension, ideal for your blog or even Instagram!
51. Birthday Typography Overlays by The Pen & Brush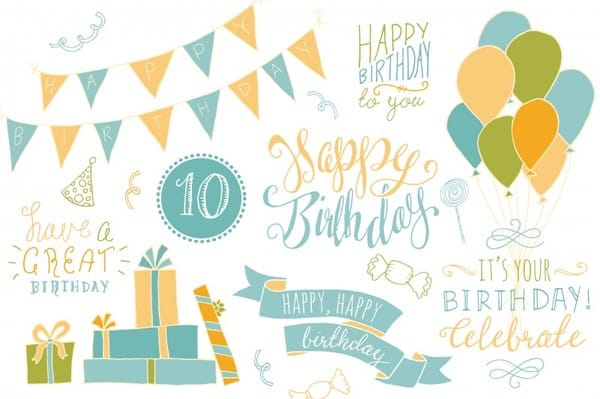 This pack of birthday overlays are ideal for creating birthday cards or layering over images for scrapbooking! The images come in various, fun colors and have a genuine hand-written touch!
52. 400 Illustrations by Crow Studio