Home » Articles »
Line25 is reader supported. At no cost to you a commission from sponsors may be earned when a purchase is made via links on the site. Learn more
Scene creators are a great way for any creative person to showcase their work. With the help of these free PSD mockup scene creators, you can design your own fully customizable desk environment where you can present your work in different and fun ways. Also, having a nice collection of free PSD scene creators can save you a lot of time because this type of format allows heavy customization and editing, so it can be adapted to almost any kind of project you currently work on.
There are plenty of mockups available for various purposes, but more and more stunning scene creators appear on the web to help you create your own mockup scene, with a fully customized experience. These provide unique sets of different elements which you can combine with items and products in order to achieve incredible presentations.
In this article, we've collected some great premium and free PSD mockup scene creators sets that come with ready-made mockup/scene templates and over 400 individual items (multiple items and templates in each set) in total! These will provide a fascinating starting point for any designer. Browse through our list and let us know which one you like the most!
Free PSD Mockup Scene Creator Sets
This is a set of three scene mockup templates in individual PSD files. This mockup can be easily customized and you can also add your own designs with the help of smart-object layers.
This scene mockup is ideal to showcase a corporate branding or identity design in a very professional and smart way. This template can be easily personalized via smart object layers. You can also adjust the shadows and backgrounds to complete your branding design.
This excellent graphic pack is ideal to create customized scenes for your branding or identity projects. This collection contains 23 high-resolution items which can be edited to fit your project. You can also modify the background or the color of the design with the help of smart objects.
This free pack is very handy for artists to showcase their works in a professional way. All you have to do is paste your designs.
This amazing free set includes 71 elements and mock-ups and 3 professional textures.  All items come in 300DPI and are high-quality resources.
This Hero images mockup is ideal for a landing page, a website header or any kind of presentation. This mockup comes with replaceable surfaces which can be customized with smart objects. All images come in high resolution and 300 DPI.
This is an amazing pack of illustrated vector tools and desk items. All illustrations are fully layered and can be edited with the help of smart objects to create unique hero headers.
This huge collection comes with over 50 desk items including business cards, badges, envelopes, notepads and other stationery items. You can rapidly insert your own branding to the desk items via smart objects.
This free creative art scene generator includes 89 elements that you can combine in every mode you wish. Moreover, you get 3 pre-made stages PSD files and 6 ground textures.

These PSD mockup scenes are ideal for creating hero or header images for your website or graphic ads.  All elements included can be easily customized as well as the background.  It also includes smart-object layers.
This is a fabulous pack of 2 pre-made mockup scenes which can be used to showcase your food branding projects. Every PSD file comes with various items and fully customizable food packages.
This fantastic graphic pack includes 3 pre-made mockup scenes which are ideal for creating memorable presentations for your branding projects. To achieve the wanted result just add your design inside the smart objects and customize it.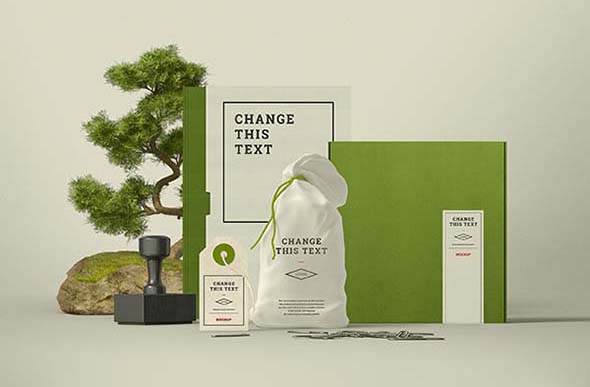 This mockup bundle comes with 12 PSD mockups chosen from different premium products. You can download it for free and create beautiful projects.
This incredible collection of desk items will help you design amazing hero images for your projects. These templates come in both PSD and AI formats and include smart objects.
With the help of this mockup scene creator, you can design your own scene in no time. This is the ideal method for any creative person to display their work.  Because it comes with smart objects you can create your own fully customizable desk environment.
This awesome graphic pack is perfect for creating environments which contain multiple features. The set contains 218 items in 12 packs and can be used for designing environments for various domains.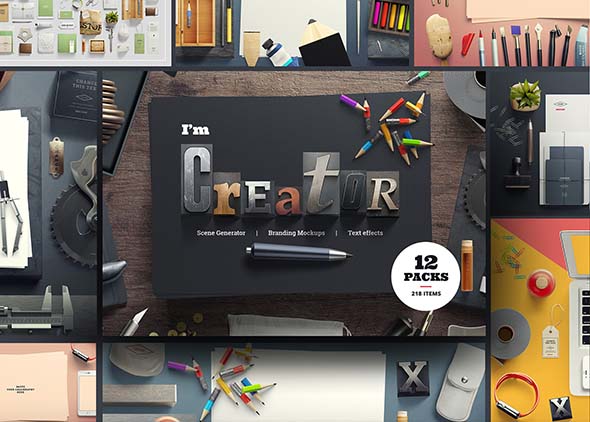 This completely free collection of 12 hero image is very elegant-looking. This pack is ideal for adding to pages, sliders and posts as a beautiful and modern background.
This free stationery mockup scene generator includes 21 movable objects and 4 amazing pre-made scenes in isometric view. This mockup allows you to edit each included element to create unlimited scene versions.
Premium PSD Mockup Scene Creators
This semi-flat-styled scene creator is suitable for any graphic project such as hero image for websites, workspace preview and more.
Scene Creator is a drag & drop .psd file that allows you easily build your own and unique Hero Banner in seconds. All of the items are vector smart objects.
This is a high quality and realistic mockup with items that will help you create an unlimited number of scene combinations.
This sketchbook / stationery scene creator / mock-up can be used to create landing pages, headers, hero images, backgrounds, adverts, billboards, posters, Facebook and Twitter covers, etc.
This is a great branding scene creator. All items and their shadows have been photographed, retouched and isolated. It contains 100+ items.
Breakfast Mockup Scene Creator is PSD Photoshop file with 85 + objects. This is a creative pack designed for food related projects.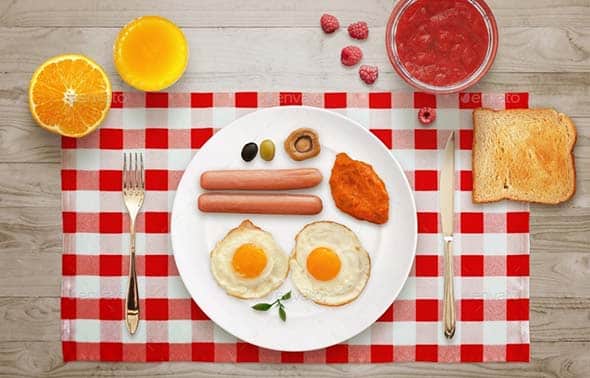 Use this hero scene creator / mockup for header images, presentation, product mockups, website previews and more.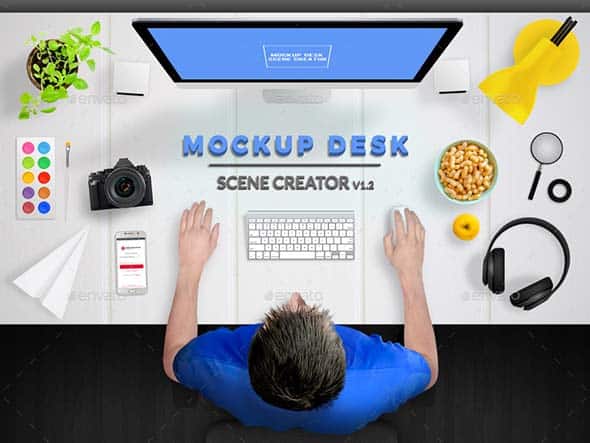 This responsive mockup scene creator is intended for the promotion of responsive web pages. This Photoshop file contains more than eighty isolated objects for scene creation!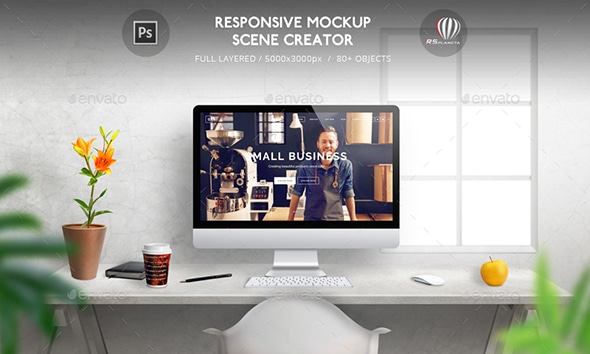 This is the scene creator for Valentine's Day projects which contains 64 items + 12 pre-set background colors.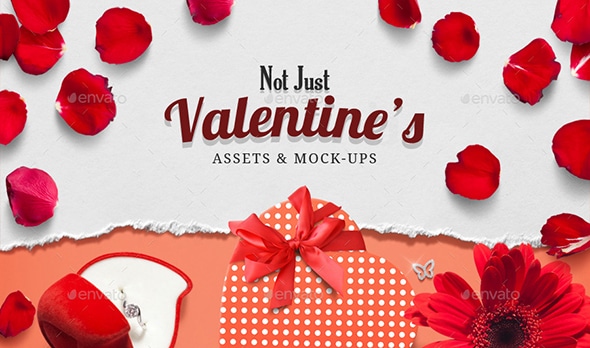 This great set contains 5 premade scenes and 60+ isolated objects.
This Summer-themed scene creator set comes with elements such as: bolster, towel, folded towel, cooler with champagne, sunglasses, bag, champagne glass, umbrella, drink, dinner plate, notepad/diary, table, flip-flops 2 types, lady in pool, lady on sunbed, plants, mattress, pool float, sunbed etc.
This scene creator can help to create a great scene and present your design in the best possible way, all in just a few minutes. This set comes with 1 PSD file with 30 items.

This set comes with 3 PSD files, 3 premade scenes and 34 isolated objects.
This is a great mockup scene creator which makes it easy to place your designs using smart objects.
Bon Appétit is a dynamic food scene and menu creator with each item as a smart object on its own layer. You can change the shadow, orientation, and arrangement of different items, with ease.
This mockup scene creator is made for your next presentation. Perfect for  web designers, graphic designers, photographers, video editors, animators, and more.
Create your own scene in seconds, with this Hero & Header Mock-Up Creator. All you have to do is just drag and drop any item into the Scene Creator.
This mockup creator makes it easy to place your designs using smart objects. Just double-click the Smart Layer, copy & paste your artwork, save and you're done!
Create a realistic display t-shirt hero image in a few seconds! Easy to use, this is great for you presentations for your clients or for online stores.
Get 250+ high res items and 12 scenes (5200×2880 pixel) with this great scene generator.
Get 100+ different items and 5 ready made scenes with this scene generator perfect for beauty or fashion websites and projects.
Create your own scene with this scene generator. It has many food-related isolated objects you can use.