Home » Articles »
Line25 is reader supported. At no cost to you a commission from sponsors may be earned when a purchase is made via links on the site. Learn more
Stock photos, freebies, and infographics are useful items in web design that help you showcase your ideas and data in a better way. This article gives you 20 absolute best design resources on which you can find free infographic resources, free stock photos and lots of design freebies.
These pre-designed elements help you save a lot of time and you can customize them easily. Simply replace the info from the template with your own data and you're done.
Also, you can download beautiful, free stock photos to use in various projects. There are excellent websites that offer lots of beautiful pictures that you can download at a high-resolution. These contain images from different categories such as architecture, technology, business, landscape, people, nature, sport, transport, animals, food, etc. Some of these high-quality elements can be downloaded and used for free, but please check their license individually.
Additionally, you will find here a list of websites that offer free graphics with stunning designs that you can use to create remarkable web projects.
Bookmark these websites! They will surely come in handy!
Stock photos
One of the best free stock photo websites, Stockio allows you to download not just stock photos, but also vectors, fonts, videos and icons. It's a great resources for digital marketers, bloggers, designers, and more.
Negative space is an excellent website where you can find lots of high-quality images that are available for free download.
This is an amazing website that contains many professional pictures. You can download and use images at a high-resolution from a variety of different categories.
Here is another reliable source where you'll find high-quality images from different categories. You can use them for free if you include a photo credit which links to the source, if possible.
This website offers many beautiful images to choose from. These professional pictures can be downloaded and used in various projects.
Fancy Crave is a great source to download stunning stock photos. These pictures were created by experienced photographers and can be used for free.
This is an amazing source where you can download beautiful free vector graphics. You can easily browse through a collection of over 150,000 vectors.
Here you can find lots of vintage vectors with outstanding designs. Also, the website has a creative theme which is a pleasure to browse through.
This is a very useful source of free stock vectors which you can use in both personal and commercial projects.
This beautiful website offers loads of high-quality stock items that you can download and use for free. You can find vectors, PNGs, PSDs, etc.
Freepik includes multiple vector artworks, illustrations, icons, photos, etc. This is a comprehensive website that includes lots of useful freebies.
Infographics
This is a neat infographic that gathers the best 100 tools which you can use to create stunning websites. It includes information about what fonts, colors, designs, etc. you can use to create successful sites.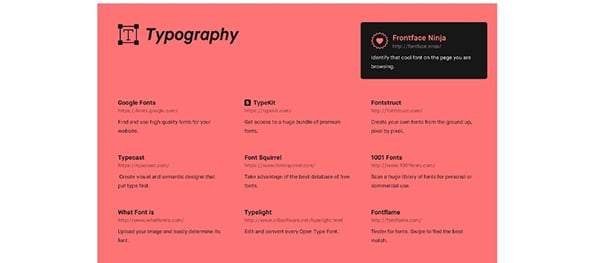 Here is a beautiful infographic that shows important information on how to master colors. This teaches you how to balance between different colors.
This is another wonderful infographic which showcases UI tiles with different designs that you can use for multiple reasons.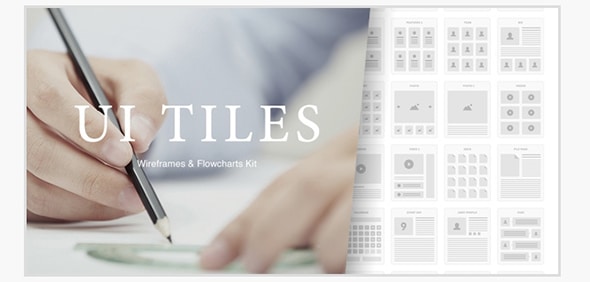 Here you have a beautiful display of useful information about how to successfully design an effective website. This is an amazing infographic with a lot of great information.
This infographic incorporates the most used commands when designing a new website. Here you have, in an organized manner all the commands that you need
This infographic displays various scenarios of how to build a powerful website. It has a complex design and offers a lot of information packed into just one image.
This is another wonderful infographic that gathers all the trends that you can use to build a professional website. See what's in and what's out and also the reason why it's not used anymore.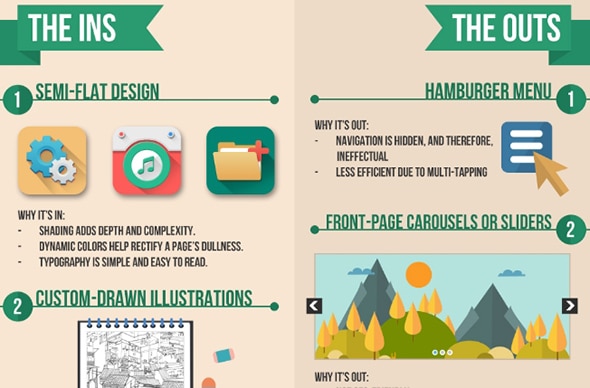 Designing a website is serious work and it requires much creativity. This infographic takes you step by step through 13 rules that you can use to create amazing sites.
A successful website demands a lot of work to make it visible to potential customers.  Users must be able to find your website in order to discover what you have to offer. See what you can learn from this infographic!
Learn more about how to make your website more successful from this amazing infographic. This item contains general principles which can be applied for any website.